Office of the President's website defaced by Anonymous Philippines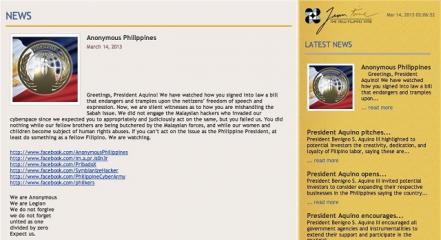 Anonymous PHL hits PNoy website. Anonymous Philippines bypassed high-level cybersecurity defenses and defaced the official website of President Benigno Aquino III early Thursday, March 14. The group criticized the president for his apparent inaction over the Sabah territorial dispute, in which dozens of Filipinos have reportedly been killed by Malaysian security forces.
UPDATED 10:30 a.m.
The Office of the President's website was defaced early Thursday morning by Anonymous Philippines over the government's apparent "mishandling of the Sabah issue."
"We did not engage the Malaysian hackers who invaded our cyberspace since we expected you to appropriately and judiciously act on the same, but you failed us," read Anonymous' message.
The hacker group was able to directly break into and deface the site's Latest News section despite earlier hacking countermeasures adopted by the Philippine government, including the use of
CloudFlare anti-DDoS software
.
Confirmation from Malacañang
Malacañang confirmed the attack at around 9:40 am, Thursday.
"At around 1:30 a.m. today, we detected a breach when an errant sentence critical of the government on the Sabah issue was found to have been inserted in one of the news items within the website," Communications Secretary Sonny Coloma said in a statement.
But Coloma did assure the public that the site will be up and running "in a few hours."
"We expect to resume public display of the President's website in a few hours after needed protection measures have been put in place," Coloma said, adding that the site was not compromised in any other way.
"No further intrusions were made as the internal security protocols were activated," he said.

However, the website of the Office of the President is still down as of 10:30 a.m.

Widespread cyberattacks
But the hit on the President's website was just the tip of the iceberg, as
Anonymous Philippines launched successive simultaneous attacks on at least half a dozen other government sites
in the hours that followed.
The last time that Anonymous Philippines conducted such a widespread attack was in October last year,
in response to the Anti-Cybercrime Act
.
This time, Anonymous Philippines accused Aquino of standing idly by as Filipinos were being "butchered" by Malaysian security forces, while Filipino women's and children's civil rights were violated.
The entry also had links to the Facebook accounts of phlhkrs, PhilippineCyberArmy, SymbianizeHacker and PribadoX.
— with Patricia Denise Chu, DVM/TJD, GMA News