Bloc Party's Matt Tong "excited to play" Manila show
The much-awaited first-ever Philippine concert of one of UK's most celebrated indie bands, Bloc Party, is slated on March 22, 2013 at the World Trade Center in Pasay City.
Bloc Party is known for their biggest hits like "Helicopter", "Banquet", their latest singles "Octopus", "Kettling", and "Truth" from their latest album "Four". Bloc Party Live in Manila is presented by Warner Music Philippines and Hostess Entertainment; also presented by Fox and Star World, and the official residence, Manila Diamond Hotel.
Tickets are available at Ticketnet outlets, or you can buy them online at www.ticketnet.com.ph. Standard ticket prices are: P3,800 VIP and P2,800 Gold.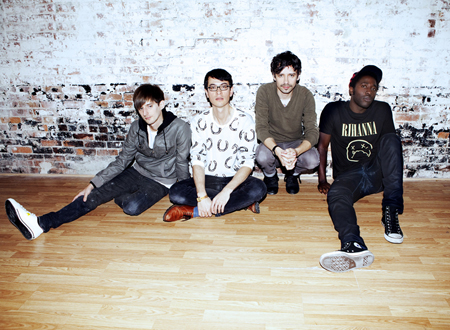 British indie rock band Bloc Party.
Matt Tong, drummer of Bloc Party, was on hand to answer some questions.
There is a huge difference in time from your hiatus after intimacy, how was this break contributed into building four.
Matt Tong: The break was instrumental in ensuring that we get to the studio and be decent human beings to each other. We all grew up during that time and being a couple of years away from the band helped us value "being in a band" and we value playing music for each other as well.
In four words describe FOUR

Raw, aggressive, heartfelt, uninhibited
How much did the break from the band factor in to your creativity

The break didn't really influence the way Four ended up sounding. It's more of a band-centric record as opposed to Intimacy which was very much more like a studio record and lots of programming involved
What was the writing and recording process of Four?

We probably spent about a month writing the songs. When we thought we were kind of ready, we moved to the next stage of the process, we spent another 2 weeks of rehearsal with our producer Alex Newport. We were just playing the songs over and over again and He would always stop at those points and add his thoughts and we discuss how it's supposed to sound and make changes. He would really make us think the way we were playing on those songs, think of the whole album, what the group is doing together and if certain parts are necessary. That's something we really haven't done before and that's the process commonly known as "pre-production."
We were completely ready to record when we go to the recording studio. Our roles were well-defined and each of us knew our roles within the song. It was very easy to record once we got going.
Your album Four was called "one of your most honest record with zero manipulation". What was the freedom like to go back to home base to just write songs with the four of you in the studio.
I think it's really liberating, we didn't have huge amount of equipment to hide behind. It was the four of us being together and nothing else or no else preventing us from asking questions and it made it easier for us to communicate what we were thinking. It felt empowering.
What are your preparations before a live performance?

When you're on tour it's sometimes hard to eat. You have to be inventive in getting a good meal. I tend to eat Japanese. I eat quite a lot of fish because omega 3 is good for my joints. In terms of exercise, I tend to swim when I have time. Sometimes I practice at home with drums, go through set lists and try to stay sharp. I don't really drink a lot, when I was younger I was quite excited now it's more harder to be hung over. 30mins before we go onstage, I drink a cup of strong coffee, stretching exercise and put towel on my legs and hit it with drumsticks. That kinda gets me limber and my heart rate up.
If you were to make a mix-tape to someone who doesn't know anything about bloc party, what are the 3 songs you will put in and why.

Pioneers- sums up all ideas in one song. It represents the record in many ways. It represents the idea of what we do and who we are as a band.
Mercury – one song I am proud of. It used a lot of programming. One of the "less" indie rock-sounding song that we have. I still think it sounds interesting and it's kind of a weird song.
Coliseum- It's a side of the band that people hadn't heard or should know about, the more aggressive side of the band.
How do you want Bloc Party to be remembered?

That we tried to do something different, that tried to do something that was unexpected and broke out of the mold of indie-rock band. The band that was passionate when performing in front of people.
What are you most looking forward to when you go to a new place? (ex: Philippines)

I'm always really excited to try the food or local cuisine. My dad used to be a chef so I'm kind of into going out to restaurants. I live in New York, there's definitely a lot of cultures there, you get to sample each. I don't think Filipino food is that well-represented in New York. I'm very excited in trying some of our food.
When you first started out you were looking for a spot as a guitarist, but ended up playing the drums. Do you think maybe one day we can see you on the strings. Like when a band does an acoustic version?

I can't see that happening anytime soon. I'm definitely competent enough as a guitar player but in terms of playing live I don't think it's something that I can suddenly be at the click of a finger. I am comfortable with my role as a drummer
I like the album art of Four. Was it partially inspired by Led Zep's ZoZo album wherein each member had a circle?

It was a bit. I would definitely say that it had an influence.
How do you feel about fan response in Side B? Could you run us through decision making process in what goes to the album?
Normally 2/3 along the way in making a record we have already an idea what goes into the album, what are the strongest songs. It becomes pretty obvious. The question then is how do we get the track listing correct for the record.
What are you most excited about the Manila show.

I'm excited to play for a new audience and see who shows up.
Go to comments