PBA
:

Caguioa drops 28 as Barangay Ginebra guns down Tropang Texters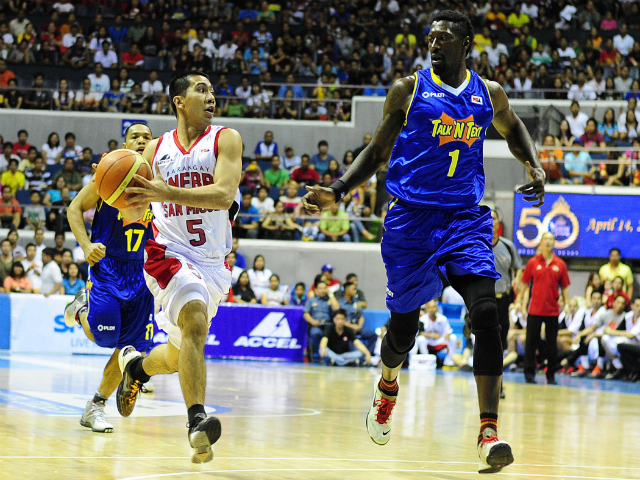 Ginebra's LA Tenorio (L) runs the break against Talk 'N Text's Donnell Harvey.
Photo by KC Cruz
(Updated 8:55pm)
Barangay Ginebra San Miguel relied on the spirited play of reigning Best Player of the Conference and MVP Mark Caguioa to defeat the Talk 'N Text Tropang Texters, 107-100, on Sunday at the Smart Araneta Coliseum.
Barangay Ginebra have gone 3-1 in their last four games, improving to seventh place (3-5) after a 0-4 start to the Commissioner's Cup, to knot the records of the Air21 Express and Barako Bull Energy Cola. Meanwhile, TNT absorbed their first loss since bringing back import Donnell Harvey, to fall back to .500 in the standings, tying the San Mig Coffee Mixers and the Meralco Bolts, with all three squads possessing 4-4 cards.
Caguioa had 28 points off an 11-of-20 shooting clip, along with five assists to lead the Barangay. Import Vernon Macklin added 24 points, nine rebounds and four assists. Point guard LA Tenorio notched 20 points and four assists, while rookie Chris Ellis had seven points and 12 rebounds.
Free throws from Ranidel de Ocampo and Jimmy Alapag cut Ginebra's lead to six at the 2:50 mark of the fourth quarter, but Caguioa responded with a split on the line, 99-92.
Alapag countered with another three with 2:25 remaining, slicing their deficit to four, but Ginebra found Chris Ellis, who only had Jayson Castro defending him down low. Ellis went for a jam and a six-point lead, as Castro missed a three at the other end.
Ellis was fouled in the rebounding battle, resulting in the high-flier making one-of-two for a 102-95 lead with 1:42 left. After a TNT timeout, the Tropa went to Alapag anew, and the Mighty Mouse did not disappoint as he connected on another three.
After a miss by Tenorio, Fonacier went for a three on the break, but he missed with 56 seconds remaining. Ginebra head coach Al Francis Chua called a timeout with only 11 seconds left on their shotclock, and the result was a Rudy Hatfield drive down the lane, before the veteran forward dished to Vernon Macklin for a slam and a foul, 105-98.
With 35 seconds remaining down seven, Donnell Harvey scored on an easy drive and dish, before TNT started to send the Gin Kings to the line to stop the clock. Tenorio sank two free throws, as Fonacier missed on a three to end the ballgame.
"I told them just to play defense. I didn't ask them to win," said Ginebra head coach Alfrancis Chua.
"[TNT] got confused with what we were doing on defense. We had three kinds of defense that we applied because of their pick-and-roll and drive-and-kick sets," he explained. "They didn't know if we were going under, if we were going to switch...thank God it worked."
The numbers backed up Chua's diagnosis. After shooting 28-of-59 (47.5 percent) in the first three quarters, the Texters' offense took a dive in the final period as they managed only 7-of-27 in the fourth period (25.9 percent).
Chua didn't share his outlook for his team in the postseason yet, but was satisfied with moving up the ranks. "At least wala na kami sa cellar. Pino-prove lang namin na kaya naming manalo, they're not going to give up," he said.
Both teams were not gun-shy in the first quarter, as they connected early from beyond the arc. TNT, which trailed early by six points, found themselves in front after back-to-back triples from Larry Fonacier and Jayson Castro, 14-12.
Ginebra turned their focus to attacking inside, as they scored six straight in the paint. LA Tenorio then nailed his second three-pointer to re-take the lead, 21-18, with under five minutes to play. Fonacier and Jimmy Alapag went on a 7-3 run to briefly go back in front, but a Rudy Hatfield put-back with 16 seconds to play gave Ginebra a 26-25 edge after the first period.
Mac Baracael opened the second quarter with a trey, and Ginebra's reserves gained some separation using a 9-3 run, 35-28. Ginebra and Talk 'N Text traded baskets on high-percentage looks, before TNT got within three as Castro got the strip and an open lay-up, 43-40.
With under four minutes to play in the first half, Ginebra posted a 7-2 run, highlighted by another triple from Tenorio, to give them their biggest lead thus far with eight points, but the momentum shifted when Castro completed an and-one in transition, as Fonacier added five points including a three-pointer with 26 seconds remaining to cut the deficit to one, 51-50, at halftime.
After two quarters, Fonacier had registered 15 points on 5-of-8 shooting, including 3-of-6 from beyond the arc. Tenorio led Ginebra with 11 points on a 4-of-9 clip, including 3-of-5 from three-point distance.
Ginebra outscored TNT in turnover points, 10-5.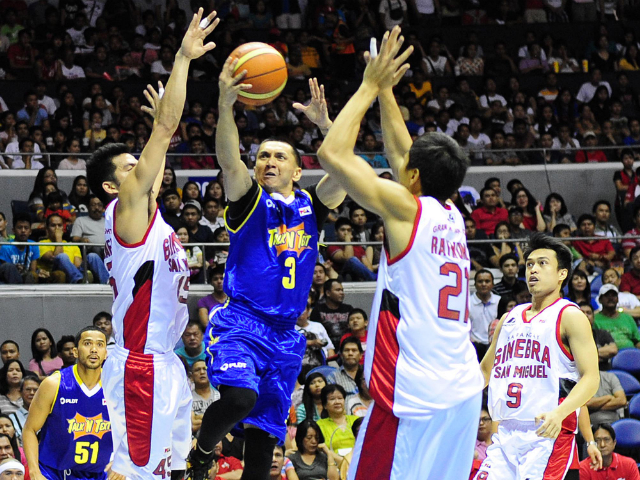 Jimmy Alapag (C) couldn't complete the Talk 'N Text comeback despite hitting some big shots.
KC Cruz
In the third, Donnell Harvey linked up with Castro as the pair produced a 9-2 run, but Caguioa and Macklin were primed and ready, the pair bringing Ginebra within one, 61-60, on a Macklin-Tenorio alley-oop. Much like the second quarter, TNT and Ginebra traded big shots, as the Texters leaned on Harvey in the post while Caguioa and Tenorio made it rain for Ginebra.
During the last three minutes of the period, Jimmy Alapag took control for the Texters down the stretch. The veteran registered eight points of Talk n' Text's last 10, including two triples. Caguioa matched him with eight of Ginebra's last 10 points, including the go-ahead bucket with 1.1 seconds left to give Ginebra a 78-77 lead heading into the final period.
Both teams shot the ball well in the third. Ginebra made 11-of-19 field goals (57.9 percent), led by Caguioa's 13 points on 5-of-8 shooting (62.5 percent). Talk 'N Text converted 10-of-20 attempts (50 percent).
Alapag tried to rally his team early in the fourth quarter with a triple, but Talk 'N Text struggled to hit from the field. Meanwhile, Ginebra electrified the crowd as Macklin made huge plays at the basket, helping them create an 88-84 margin.
Ginebra slowly pulled away in a 8-5 run that seemed to stretch forever. Talk 'N Text couldn't find a way to contain Caguioa, Tenorio, and Ginebra's tenacity on the offensive glass. To add to their worries, Castro and TNT head coach Norman Black received technical fouls after venting their frustrations, as Ginebra led, 96-89, with under five minutes to play.
Ginebra made 43-of-83 field goals (51.8 percent), as opposed to TNT's 35-of-86 mark overall (40.7 percent). However, the Texters were 10-of-33 from three-point territory (30.3 percent) against Ginebra's 5-of-16 mark (31.3 percent).
Donnell Harvey and Jimmy Alapag notched 23 points apiece for TNT, while Harvey also had 15 boards. Jayson Castro and Larry Fonacier added 16 points apiece and combined for 10 rebounds and eight assists, while Ranidel De Ocampo tallied 11 points.
- RAF / AMD, GMA News
The scores:
GINEBRA 107 - Caguioa 28, Macklin 24, Tenorio 20, Ellis 7, Raymundo 7, Labagala 6, Mamaril 6, Hatfield 6, Baracael 3, Jensen 0.
TALK N' TEXT 100 - Harvey 23, Alapag 23, Castro 16, Fonacier 16, De Ocampo 11, Williams 4, Dillinger 3, Al-Hussaini 2, Carey 2, Raymundo 0, Aban 0.
Quarters: 26-24, 51-50, 78-77, 107-100