10 LGU programs feted
Ten programs of nine local government units (LGUs) were recognized as the best local government programs as they were awarded the Galing Pook award Monday.
The LGUs that received a Galing Pook award included San Jose City in Nueva Ecija, Mandaluyong City (for two programs), Muntinlupa City, Valenzuela City, Dumaguete City, Iloilo City, the Municipality of Loboc in Bohol, Sarangani Province, and Brgy. Poblacion in Tupi, South Cotabato.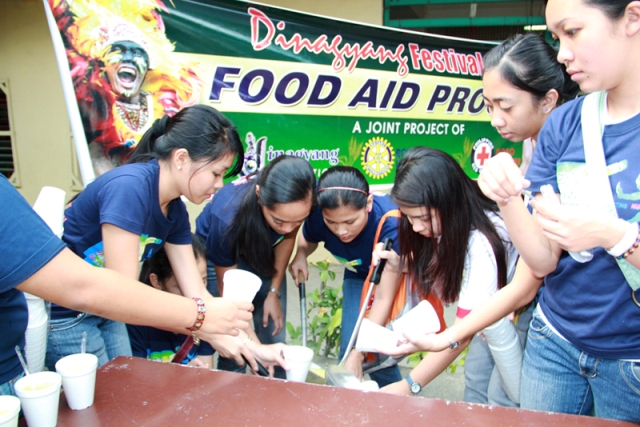 The Dinagyang Food Aid Program for School Children was jointly undertaken by the Iloilo Dinagyang Foundation, Inc., Iloilo Red Cross, and Rotary Club of Metro Iloilo in four elementrary schools in Iloilo City. Photo courtesy of Galing Pook Foundation.
San Jose City's program promotes farmer entrepreneurship and links San Jose onion farmers to Jollibee Food Corporation's supply chain.
Mandaluyong's winning projects include the Garden of Life Park, which combines a cemetery, columbarium, crematorium, and chapel in one eco-tourism facility; and Project TEACH, which provides special needs children from indigent families with access to free medical, rehabilitative, and educational services.
Muntinlupa City's anti-plastic initiative, Bring Your Own Bag, was also recognized, along with Valenzuela City's "3S in Public Service" program, which has streamlined government transactions allowing for easier procurement of business permits.
Dumaguete City was also awarded for its septage management system, as well as Iloilo City's tripartite management of the Dinagyang festival.
The municipality of Loboc was recognized for its initiative to improve its tourism facilities and services, while Sarangani province won for its QUEST program, which has improved the quality of education in the province.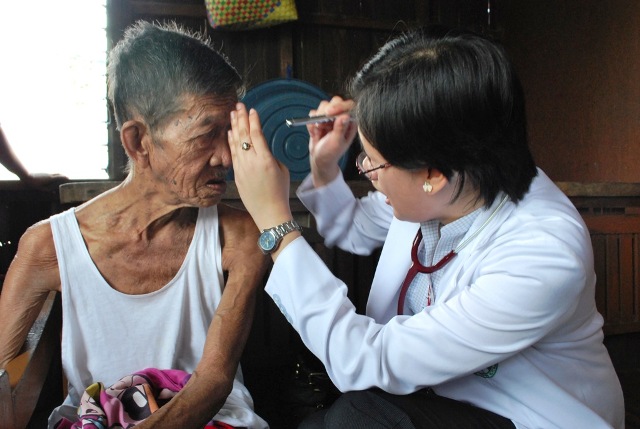 A doctor checks up a senior citizen as part of the Dalaw Ni Dok kay Lolo at Lola, which stemmed out by listening to the people's concerns. Photo courtesy of Galing Pook Foundation.
Brgy. Poblacion in Tupi, South Cotabato, was also awarded for its Barangay governance program, which allowed the LGU to bring their services to the puroks, establish a conservation area, mobilize their resources and increase their revenue, ultimately allowing them to finance other development projects such as the construction of a bigger barangay hall, and a day care center.
"Effective local governance initiatives have embraced the wisdom and confidence of communities to have the courage to create. Each award serves to accelerate the growth of more innovative solutions to the complex challenges faced by all today," says Galing Pook Foundation chair Nieves Confesor in a press release.
Launched in 1993, the Galing Pook awards recognize innovative programs of local government units that have displayed positive results, empowered citizens, and improved service.
The awarding ceremonies were held at Landbank Plaza in Malate, and the awards were conferred by Department of Interior and Local Government (DILG) secretary Mar Roxas.
— Amanda Lago/KBK, GMA News