'Bayan sa Gitna ng Sangandaan,' the new docu by Howie Severino
"BAYAN SA GITNA NG SANGANDAAN"Dokumentaryo ni Howie SeverinoMarch 25, 2013
Just a couple of hours down the highway from Subic is a town in Zambales that has recently loomed large in national affairs. Masinloc boasts of Panatag Shoal, or Bajo de Masinloc, which in the past year has been the site of an international standoff between the Philippines and China.
Travelling to Masinloc nearly a year after China took over its territory, Howie Severino and his documentary team discover that it is a town at a crossroads, like many others across the Philippines, facing choices between heavy industry and low-impact tourism.
They explore little known wonders in this coastal hideaway, but as they venture deeper into Masinloc they reach what appears like a ghost town.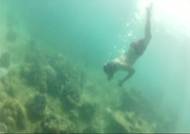 It is a ghost town like no other, because real people live there at the edge of a growing conflict that could erupt into violence at any time. Severino discovers that deep in the mountains of Sitio Coto in Masinloc, lies a mining site facing bitter dispute on the mining reserves of the area.
Join Howie Severino as he explores the depths of Masinloc's sea, and treks the mountains of Sitio Coto to uncover the varied stories of a town amidst a crossroads of development, in "Bayan sa Gitna ng Sangandaan" Monday night on I-Witness.