'Stella and Other Friendly Ghosts' takes you on a pleasurable trip
Half of the essays in Cristina Pantoja Hidalgo's "Stella and Other Friendly Ghosts" (University of Santo Tomas Publishing House, 2012) are described in the book's blurb as "travel memoirs," quotation marks included.
And they are, indeed, because aside from the factor of location and geography in the word "travel," the reader is transported to the setting of these tales' roots, many of which go years and years back.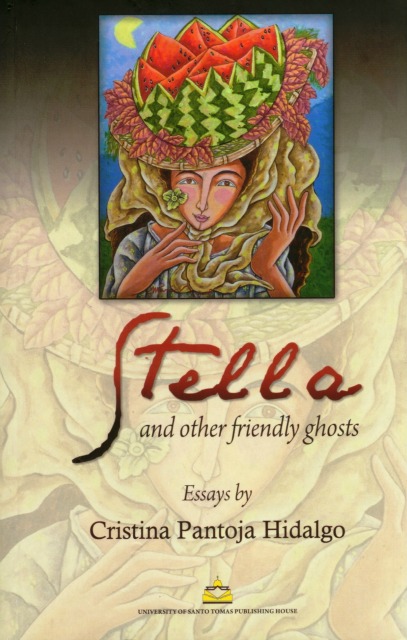 Whether the reader is taken to the streets of a more beautiful Manila gone by, led on a trail to seek quiet places in Thailand, Korea, or Myanmar, or simply invited to hunt unexpected treasures in a contemporary junkyard, the pleasures in reading about these are rewarding.
In them, the reader will feel the joy akin to the one that washes over a person who has just had a particularly enjoyable trip. No matter how short or near the destination was, there is simply nothing to complain about if the trip was fruitful.
The essay on which the book, Hidalgo's 10th book of creative nonfiction, bases its main title on is about an older Filipina diplomat whom Hidalgo befriends when she and her late husband Tony Hidalgo (who was also a writer) lived in Korea in line with her spouse's diplomatic duties.
Throughout their friendship in that country, Hidalgo only gets to have dinner with Stella once, but that memory has lasted with her throughout her life. She remembers how striking her friend lived her life through simple and elegant choices, despite the difficulty of being away from the Philippines and from the relative comforts that can be found easily here.
"Remembering her now," Hidalgo writes in that essay, "I realize that while it was from my mother that I learned to love and value old things, it was from Stella that I learned that things can be combined though they might not have originally belonged together."
"And from Stella that I learned that the secret to making them belong together is love," she continued.
Hidalgo in her essays is also particularly nostalgic and romantic about the Manila of her youth. She describes the city before it changed as something completely different, at least to the people now. Essays about this subject include "Getting Lost in My Own Back Yard" and "The Manila of My Girlhood."
Even Hidalgo's art and literature reviews do not escape her knack for narrative. Perhaps my favorite essay in this section is "Fire and Ice," which is supposedly a review of an exhibit by Filipino glass sculptor Ramon Orlina.
What ensues, though, is a recollection of, aptly, fragments of Hidalgo's life where glass is involved, from childhood fascinations to an encounter as a young woman with a manghuhula and a crystal ball in Quiapo, to a review of author A.S. Byatt's short story collection in which glass is used as an image or theme.
But then Hidalgo takes the reader back to her review of Orlina's "poetry" through his glass sculptures, and the reader finds that he/she is satisfied with the journey he/she was taken to just to reach that point.
Another essay in this part worth noting is the bittersweet "The Watermelon Vendor," in which Hidalgo recounts how she learned to appreciate and love the art of Mario Parial and, more personally, she tells the tale of how the painting the essay bases its title on was given to her by her husband before he passed away in 2011.
"It seems to me her smile has grown more tender. And it seems to me that it holds a promise... that someday the shadows will lift, the flowers will bloom, the fruits will ripen, and the sky will once again turn into the cornflower blue of the sapphires I have always loved," Hidalgo writes in the essay.
"Stella and Other Friendly Ghosts" strikes the reader as a series of vivid memories and projections, as a lane back to the past and the highways of the future, as a manifestation of finished things and of possibility, while amid all these contrasts the narrator is in the middle, scrutinizing all the changes that have happened and that might occur. That said, these are always reflected upon with optimism, though, always with a hopeful note.
Despite some essays in which Hidalgo recalls moments of sadness and hardship, the overall tone conveys anything but. The narrator can be called poignant or nostalgic or infinitely curious or bubbly or whatever, but she cannot be called weak.
It would have been better if all the essays in the second half would be like this, i.e., they fit with the narrative tone of the first half of essays. Even if the second half is categorized "Art and Literature," and delves on Hidalgo's reviews on the matter, many of the essays there are still told in the voice of the storyteller that Hidalgo primarily is.
On the whole, though, Hidalgo can successfully transport her readers to whatever locale and setting many of her essays—or tales—go to, and she will be there to act as a reliable, learned guide travelers would want to be by their side for the entire duration of the trip. —KG, GMA News