Views from the masses: The Philippines observes Holy Week
Holy Week leaves the normally busy, crowded Metro Manila quiet, with stores closed and the streets empty. People make an exodus to the provinces to visit family, have fun on the beach, and get away from the urban noise to reflect, as the religious holiday prompts.
Below, YouScoopers share their view of Holy Week celebrations from all over Philippines.
Palm Sunday to Holy Wednesday
Holy Week began with Palm Sunday (this year, it's March 24), with parishioners waving palm fronds for the priests to bless in commemoration of Jesus Christ's triumphal entry into Jerusalem.
In Camarines Norte, vendors lined up by the church to sell palm fronds to churchgoers at P20 each, according to YouScooper Danilo Deo Trinidad.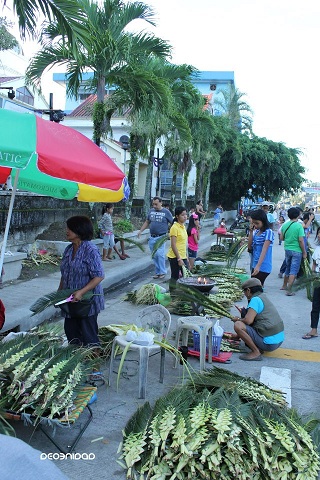 Palms were so in demand that vendors even went inside the church to sell them. "Maging sa loob ng simbahan ay patuloy ang paglalako ng mga itinitindang palaspas," Trinidad said.
In Marilao, Bulacan, a crowd of Bulakeños gathered at the Divine Mercy Church and started waving their palms at 6:30 a.m. YouScooper Linn Estopace was shocked when she saw the thousands of people who attended the event. "Halos makikipagsiksikan ka po para lang po ma-bless yung palaspas na dala mo," she said.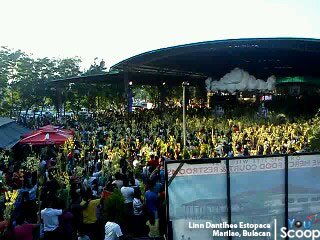 During Holy Week, altars in Catholic churches are stripped bare and if possible, crosses are moved from the church or veiled with violet covers.
In a photo taken by YouScooper Roland Roldan last Wednesday (March 27), the altar in Quiapo Church was covered with purple cloth.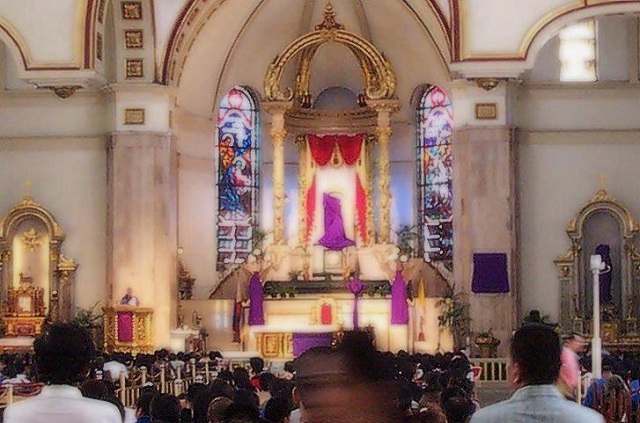 In some places, religious parades started early. In Paete, Laguna, children paraded at least 40 small versions of religious icons in a junior edition of a procession, YouScooper Idelberto Ebarvia said. The parade of life-sized icons was held the next day.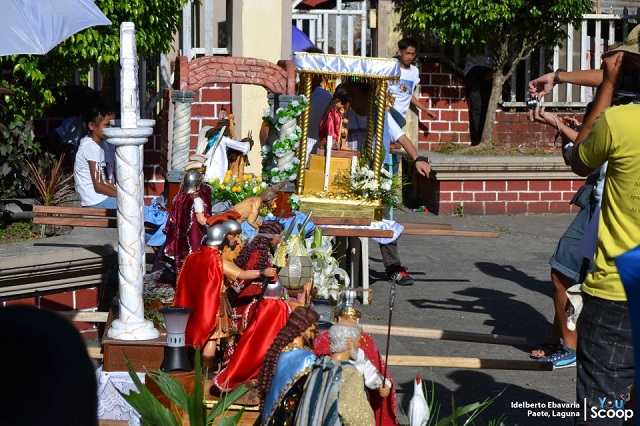 In Partas Bus Terminal in Cubao, YouScooper Remelyn Lumabao waited for more than five hours to board a bus to Laoag. "Naging congested sa terminal. Maraming bata at mga bagahe," she said.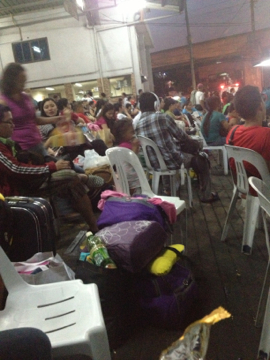 Maundy Thursday
By Maundy Thursday (March 28), there was already a steady stream of people out of the capital city leaving for the provinces.
One bus firm indicated an
"unusually high"
volume of passengers this year.
On the North Luzon Expressway (NLEx), northbound traffic was particularly heavy, as seen in YouScooper Eduard Solomon's photo: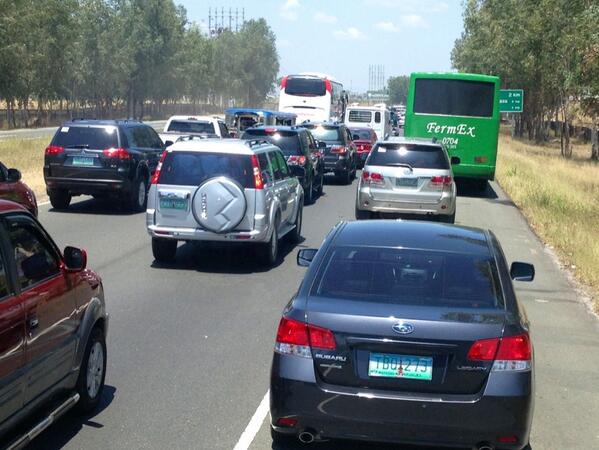 There are long lines for the bathrooms along the way as well, as seen in Solomon's photo of a men's bathroom with a queue of ladies waiting their turn: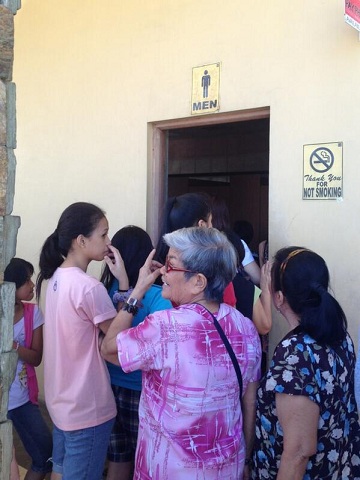 It's not just traffic congestion and multiple vehicles that are seen on the road. In Tarlac, YouScooper Maria Aurora Mon snapped a group of men practicing self-flagellation and carrying crosses as their penance.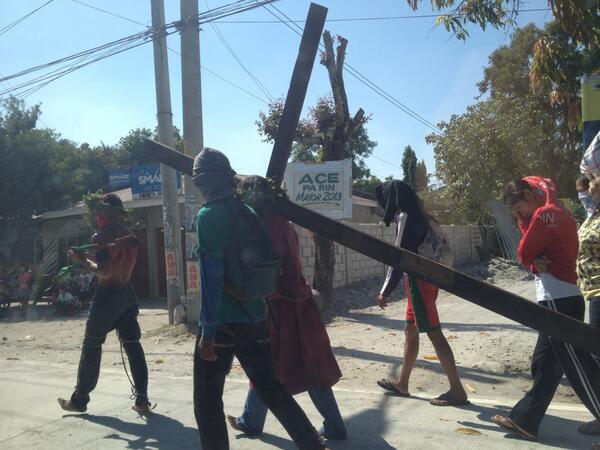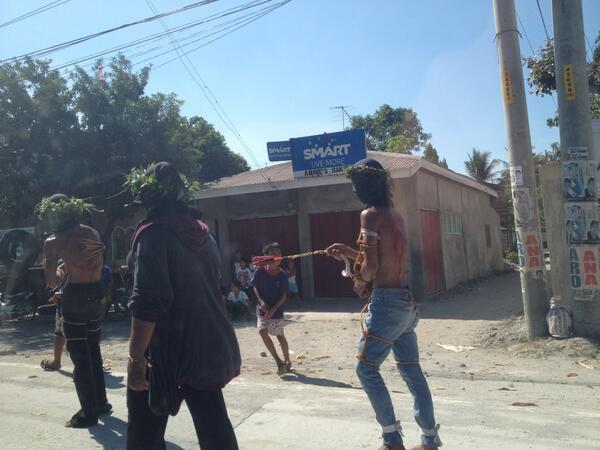 On Twitter, YouScoopers also shared their plans for the holiday:
@youscoop every year kaming pumunta ng antipolo church, at ngayong#SemanaSanta2013 sa holy friday nandun nanaman kami. :)

— Alvin Vander Woodsen (@iLoveAlbean) March 27, 2013









@youscoop "station of cross" w/ family, procession fri pm, Kissing of the feet of the sto. entiero, Salubong on Easter

— Ricardo A. Lopez (@riclopezPHILEX) March 27, 2013









Even though she's not going anywhere, Sarah dela Vega doesn't mind a "staycation" as long as she's with her family:
@youscoop ngayong #HolyWeek kahit #Staycation lang..oks lang. ang importante kasama ko ngayon family ko!

— Sarah Jane Dela Vega (@sarahdelavega29) March 27, 2013









YouScooper Daizery Cuison was one of the fewer than 100 people who went to Sta. Lucia Falls in Dolores, Quezon, believed to cure illnesses and rejuvenate the body. Cuison said she and her family go there every Holy Week to unwind and recharge. By Good Friday, the area was filled with vacationers.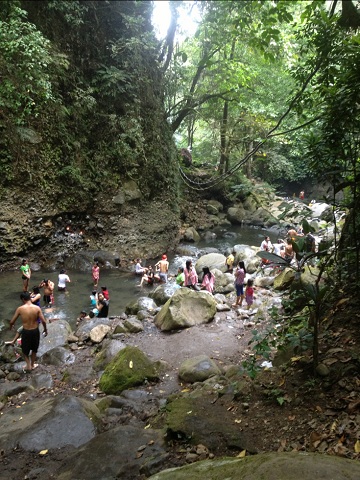 YouScooper Elaine Cadurnigara joined her friends and other devotees in an Alay Lakad to Antipolo Church. Cadurnigara and her group started the pilgrimage at 6 p.m. in Valley Golf in Cainta and walked back as well—a journey on foot that took four hours to finish in total.
There were water stations along the way. "May mga truck na namimigay ng libreng tubig sa mga naglalakad," she said.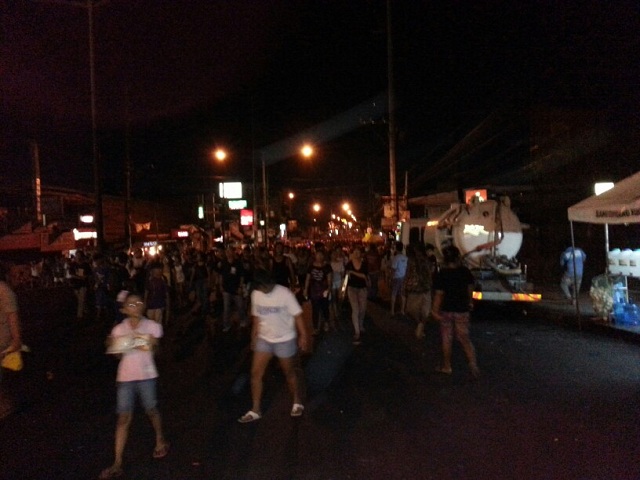 In past years, the pilgrimage left garbage along the trail to Antipolo. This caused an environment group to call for pilgrims to respect Holy Week and
to refrain from littering
.
Good Friday
The crucifixion and death of Christ is celebrated on Good Friday. Lenten plays are staged in streets and dedicated devotees perform self-flagellation to try to get close to Christ's suffering.
In Angeles City, Pampanga, the rituals started early. A group of devotees started their street march at 6:30 a.m., carrying wooden crosses barefoot and with their faces covered, as seen in Youscooper Roldan Becerra's picture.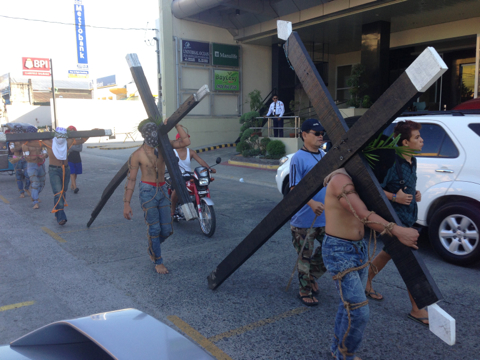 In Brgy. Poblacion East 2, Aliaga, Nueva Ecija, shirtless men whipped their backs until they bled.
"Ang Penitensya ay ang pagsugat sa kanilang likod at paghampas," YouScooper Ronnel de Jesus said. "Pinapakita doon ang debosyon ng mga tao."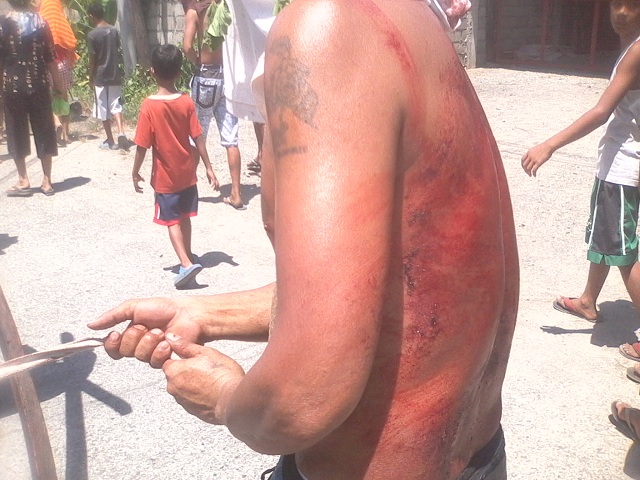 YouScooper Donald Roble and his family were riding a tricycle morning of Good Friday when they stopped because of a procession of men performing flagellation as penitence Capitangan, Abucay, Bataan.
"Pumunta kaming [mag-anak] ng Abucay. Nasa likod ako ng tricycle noong natraffic kami. Tapos nakita namin yung mga nagpepenitensya palabas ng isang kanto," he said.
In Brgy. Sta. Lucia, San Fernando, Pampanga, two penitents were nailed to crosses.
According to YouScooper Roldan Becerra, the men carried their own crosses, though crosses were also already in place at the site. With the penitents' hands nailed to the arms of the cross, the act lasted for 20 minutes.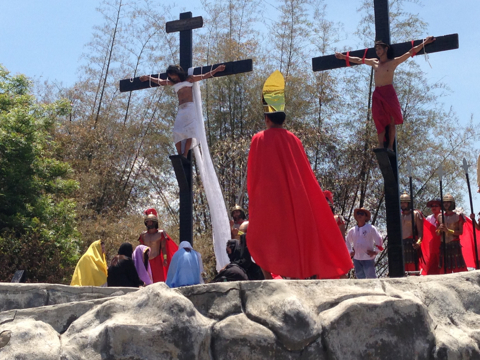 In Quiapo, at least 15,000 devotees took part in the procession of the Black Nazarene.
At least 145 people were injured.
But that did not stop some from getting close and wiping cloths on the icon for good blessing, @geoffbits shared on Twitter.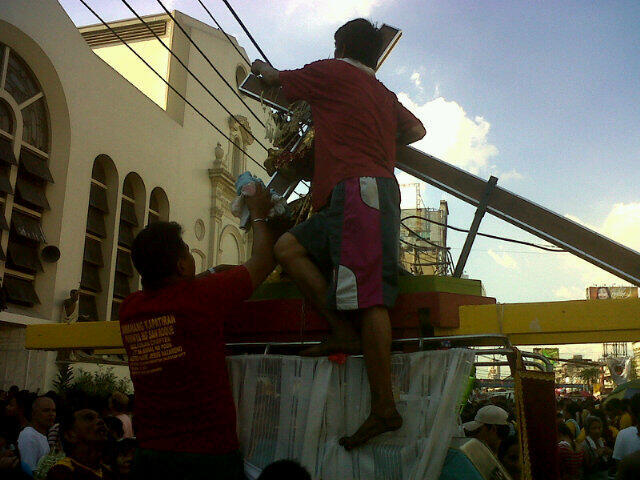 In Banga, Aklan, YouScooper Mark Anthony Padil witnessed devotees getting blessed flowers from the carriage of the image of Pieta evening of Good Friday.
"Taun-taon ito nangyayari pagkatapos i-prusisyon ang mga karo ng mga imahe at kapag igina-garahe ang mga ito sa isang covered court," he shared.
In Binangonan, Rizal, devout Catholics participated in a procession called "Gewang-gewang," which YouScooper She Olivares said is the procession of the statue of a dead Jesus Christ lying in a coffin.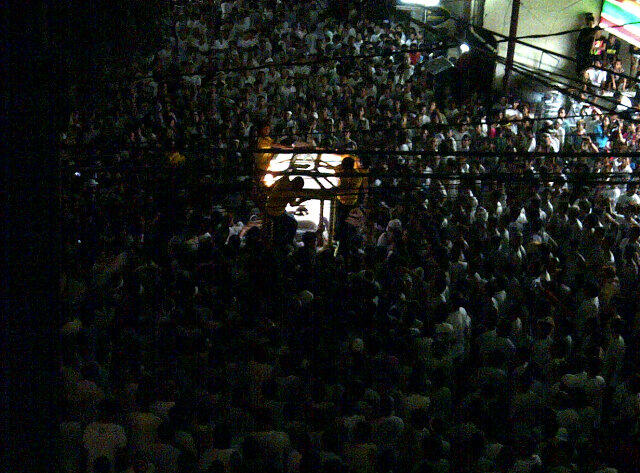 On the island of Marinduque, the Moriones Festival was in full swing, with men and women wearing intricate costumes that looked like the garb of Roman soldiers and masks.
YouScooper Rolan Emil Garcia took a photo of one of the highlights of the festival: the "Via Crucis," the re-enactment of the suffering of Christ on his way to Calvary.
"Napanood ko ang pagsasadula ng pagpunta ni HesuKristo sa Cavalry kasama ang dalawang magnanakaw na binabantayan ng mga sundalo. Maraming tao ang nanood dahil ito ang highlight ng pista," he said.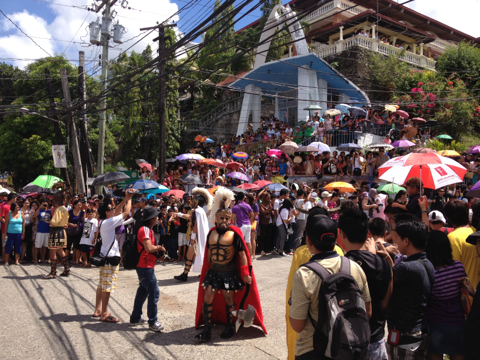 In Angat, Bulacan, devotees marched alongside religious statues in a three-hour-long procession. Becerra said 31 saints, each in a carroza, were paraded in Angat. The procession started at 7 p.m. in Sta. Monica Parish Church and ended at 10 p.m.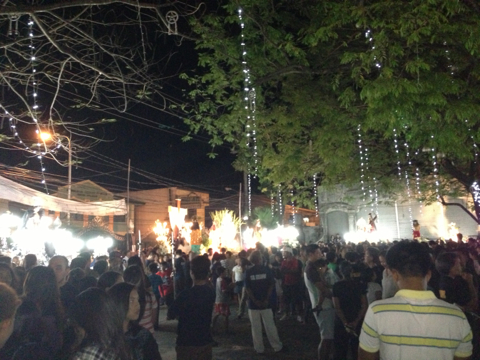 Black Saturday and Easter Sunday
Holy Week ends with Black Saturday, a day of mourning, followed by the celebration of Easter, the day of Christ's resurrection.
On this day, it is a tradition to perform the Salubong, the reenactment of Jesus Christ's Resurrection and meeting with His mother, Mary. An image of the Virgin Mary is veiled in a black cloth, which is lifted by a child dressed as an angel before it meets the image of Christ in the church.
YouScooper Abigael Lopez shared her photo of the event.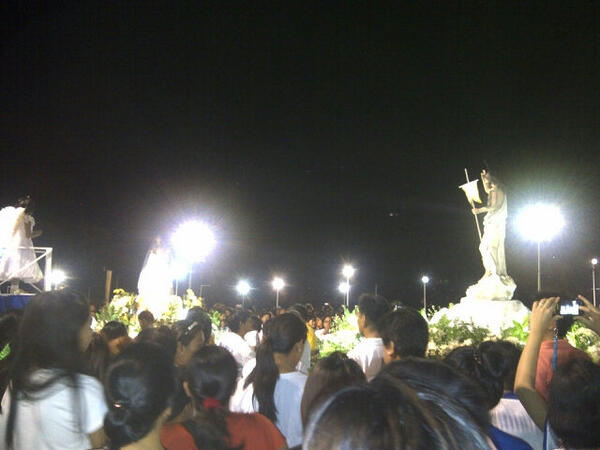 In Pateros, YouScooper Menchie Gonzales took a video of the Salubong in San Roque Parish Church.
She noted that Salubong was preceded by a three-hour High Mass that lasted until dawn.
— Justin Joyas, Audrey Domasian and Danessa Rivera/BM, GMA News