A glass of northern Italy with Il Biancorosso
There's history in wine and, if you look closely enough, wine has also spurred much of history.
It's like the drink that runs through the skein of commerce, motivating trade between empires in ancient Greece, Egypt, and Rome, as deep as the desire for conquest. Before the Romans became Christians, they acquired the phrase "drinking to one's health" from the Greeks—the dinner host for the night would take the first sip of wine to show guests the thing wasn't poisoned. Toasting with bread came later.
Back in antiquity, the Hammurabi Code (this was in 1800 BC, mind) included a harsh law that forbade the selling of fake wines; the punishment was being drowned in a river, and the Bible even has choice words for the drink under almost every chapter (look up the most popular one in Proverbs 31:6).
For husband and wife team Massimo Cavallon and Aisha Abbas-Cavallon, wine connoisseurs and importers of vino Italiano, wine is quite literally almost like family.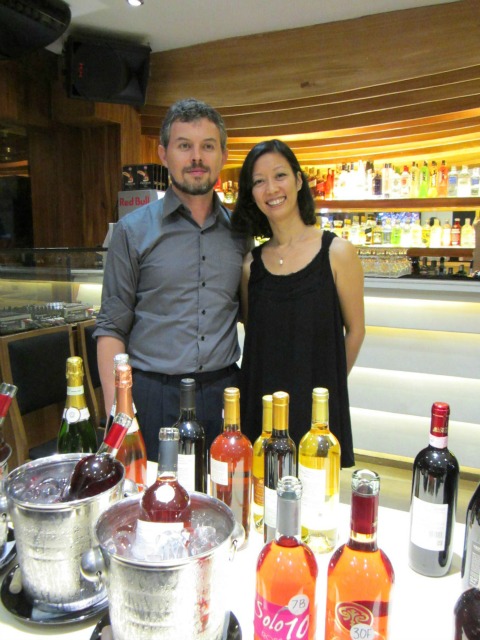 For Massimo Cavallon and Aisha Abbas-Cavallon, wine is quite literally almost like family.
"Back in Italy, I used to help my dad with the grapes. He was in charge of taking care of the plants in the vineyard," said Massimo. "Some of the wines we kept for ourselves but mostly we sold [the grapes] to producers. It's not just harvesting, it's our tradition, it's our culture. Usually the first workers you have in your vineyard is your family and then, as you expand, your relatives and close friends. It stays within a community."
Massimo's speech is heavy with accent, a mellifluous collision of Italian singsong trying to fit in the sharp consonants of English. Combine a wiry physique with grey eyes and his salt-and-pepper hair and you can more or less imagine somebody like him behind the counter of a provincial Tuscan winery.
Aisha, meanwhile, is a Pinay mestiza who's got various degrees from European University in Barcelona and University of Manchester, and the brains behind the local operations.
Together they run the first Italian wine service in Manila called Il Biancorosso. Aptly, it translates to "the white and red."
European wines are commonly named after their geographic locations (like Bordeaux and Champagne, named after provinces in France) while non-European wines are named after different grape varieties.
Wine tasting
Il Biancorosso recently held a wine tasting session, serving a variety of wines from the northern Italian regions, like the northwest corner in Piemonte (near France) and in the area of Friuli Venezia-Giulia, and Venetto (where Venice is). And some of these wines are definitely "not available here," exclaimed Massimo.
It's impossible to taste everything on the table and, even if you try, it's an uphill battle as noting down the taste, texture, color, and aromas of each before you get totally sloshed is like trying to dam the Roxas Baywalk as a tsunami comes in.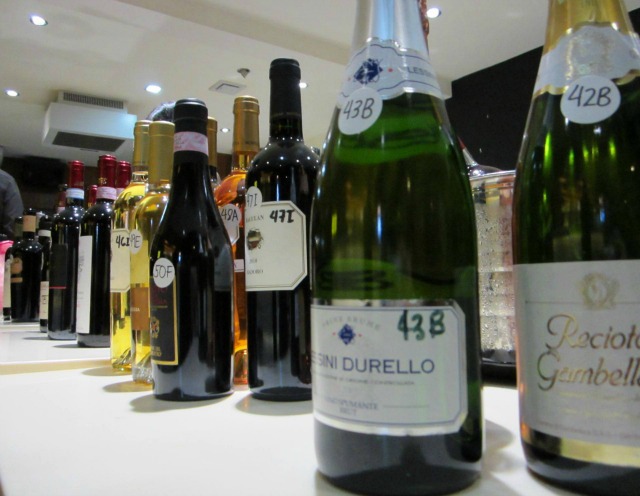 Affordable Italian wines
Notable though, among the northern products is that the climate in the regions is a bit cooler because of the mountains there. In some vineyards they grow nearer the top but most are at the foot of the range.
"The coldness affects the grape and they take longer to ripen," explained Massimo. "This affects the harvest season."
Some of the excellent ones are dry and extra dry, and even the Italian champagnes have a lasting aftertaste.
There's the full body of Pinot Rose (Valfonda brand, P500) which is like the taste of the fruits of the earth, a summer morning spent having a picnic under a tree, the drink of choice for a season in bloom. My fave though, as brutish as my palate is, is the sweetness and frolic of Spumante Bianco (made by Solo 10, P450), the palimpsest of tastes like a memory of childhood, a time of bliss and wonder—no wonder it's a dessert wine.
So note, you can only really describe the subtleties of wine in poetic overtones, but the good thing is, if you've been paying attention, is that Il Biancorosso are only selling these beauties at affordable prices.
Thus prices can range for a 750ml-bottle from as low as P300 (TV Litro's screwcap Merlot) to a high end of P2,950 (for the very choice Amarone della Valpolicella Classico by DV Cru). You can score a Cabernet Sauvignon (by San Nicolo) for just P575.
They say as much on their mission statement: "The company was created in early 2012 in light of the notion that wine is only good when the price is right, especially in non-wine producing countries such as the Philippines. Being wine enthusiasts, we decided that good wine should be more affordable and accessible to the Filipino wine drinker."
In a beer-drinking country like ours where San Miguel and its product lines reign like barley lords, wine offers a wealth of alternatives for discerning palates (read: the point isn't getting wasted but enjoying the drink). Massimo is a Red Horse man himself.
Health benefits
And certainly wine's got a plethora of health benefits attached to it, from studies confirming it lowers the risk of heart disease (a Queen Mary University in London study on red wine's tannins that contain procyanidins) to slowing down the decline of brain cells (a Columbia University study of 1,416 people, published in "Neuroepidemiology", 2006).
True to health trends, there's even a
diet plan
that advocates drinking a daily glass of wine for fitness and weight loss.
Absent among the offerings, declared Massimo, is the famous Barolo wine, named after the town it's from. Massimo, however, essayed that "we have other brands that are made with the same [Nebbiolo] grape, and from the same region. The thing is you can of course get Barolo from wine producers elsewhere but they don't call it that because it needs to be done in a certain way at a certain area."
Massimo is talking about the Protected Designation of Origin (PDO) law in Europe that, in Italy, gets even more specific with a four-class system of wine rankings.
Back in 1963, Italian winemakers met to find a way to raise the quality standards for their wines and classify regionals as well, following local wine making traditions. It's all very complex and can often be confusing even to amateur wine enthusiasts.
What it simply means is that "when it's out of that area you will have to change the name because of copyright law. If you step out of a street, like one meter after, you can't call your wine that." Massimo shrugged, "This way the unique locality of the wine is assured even if they have the same grape [at] another place. But it doesn't mean [these other wines are] not 'good,' just different."
Based on past wine tastings the couple are of the opinion that Pinoys are definitely opening up to the wine market. OFWs and travelers from Europe are usually the first to buy the wines because they've developed a craving for it after getting used to the wine-drinking culture.
I'm all for it, but don't listen to me. Listen to Cardinal Richeleu, a man of the cloth who toasted to it with nail-on-head brevity: "If God forbade drinking, would He have made wine so good?" —KG, GMA News
Contact Il Biancorosso at their website or send them an email at wines@ilbiancorosso.com.