PBA
:

PJ Simon jumper lifts San Mig Coffee over Talk 'N Text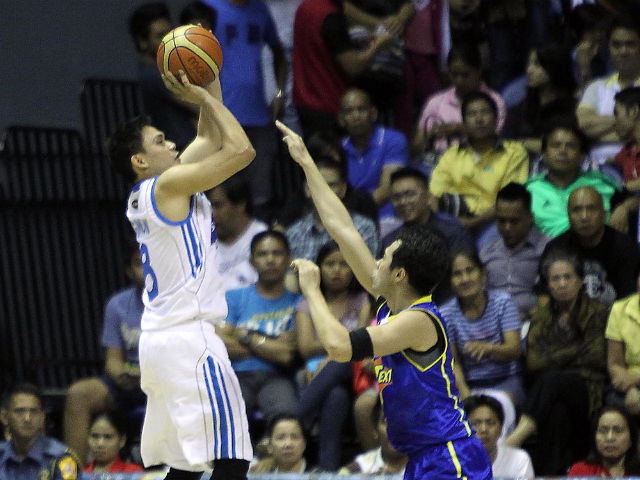 PJ Simon came up big, with James Yap misfiring, canning the game-winner against rivals Talk 'N Text.
KC Cruz
(Updated 10:03pm)
Make it two in a row for the team formerly known as the BMEG Llamados, versus the squad they defeated en route to their 2012 Commissioner's Cup crown.
PJ Simon and the San Mig Coffee Mixers simply seem to have the number of the Talk 'N Text Tropang Texters, escaping with an 83-82 victory, Wednesday at the Smart Araneta Coliseum, after trailing for most of the game.
Earlier in the conference, SMC had survived TNT 90-82, last February 24.
The Mixers (6-6) return to .500 and temporarily hold the fifth spot in the rankings, separated by half a game from Ginebra at fourth and Meralco at sixth. Meanwhile the Texters have lost their second game in a row, including three of their last four, and slump to 5-6, tying Air21 at seventh place. Barako Bull (4-7) lurks below at ninth, just a game out of the playoffs.
Talk 'N Text were without rotation players Kelly Williams and Jared Dillinger, due to injuries.
After trailing for most of the game, San Mig Coffee closed the third quarter on a 12-3 run to briefly lead, 66-65. Talk 'N Text recovered though, early in the fourth, as they killed the Mixers from outside. Jimmy Alapag buried pull-up jumpers, and Ranidel De Ocampo swished his third triple of the game as the Texters took a 77-69 lead.
With six minutes to go, the Mixers went on a 13-3 run, as they strung together several defensive stands to make it a one-point game with over a minute to play. PJ Simon then stabbed through the lane with a driving lay-up, giving the Mixers an 83-82 lead with 40 ticks remaining.
Talk 'N Text had a chance to come back, but consecutive attempts from the right corner rimmed out, as time expired on a potential-game winner.
"Don't ask me how we did that, I honestly don't know. I'm just happy we were able to do it," said San Mig Coffee head coach Tim Cone about his team's victory. "We needed the win for our confidence. We've been so up and down with wins and losses, and we've been inconsistent even in games."
Cone also praised his players for fighting through their health issues, citing Alex Mallari's and Joe Devance's lingering injuries, and said James Yap was coming from a fever the previous night.
"Consistency is greatness," said Cone, quoting the NBA's Miami Heat coach Erik Spoelstra. "It's been very, very frustrating for all of us because we know we're capable of reaching great heights."
Denzel Bowles led San Mig Coffee with 18 points and eight rebounds. Devance and Simon had 15 markers each and combined for nine rebounds and seven assists. Mark Pingris added 11 points, 10 rebounds and four assists.
In the first quarter, the Texters played unselfish basketball in the first quarter, swinging the rock from side-to-side for consecutive treys by Ryan Reyes, The Mixers settled down eventually and got straight looks at the rim. But despite a triple by Joe Devance, the Mixers trailed, 21-14.
San Mig Coffee's defense tightened up in the last four minutes, allowing TNT to score only once in the halfcourt while they went on a 9-5 run. The Texters countered late, as Rabeh Al-Hussaini nailed a 16-footer with a minute to play, and Jayson Castro beat the final buzzer with a fallaway shot along the baseline, 30-23.
TNT was 13-of-23 from the field (56.5 percent), including 3-of-7 from three-point distance (42.9 percent). In contrast, San Mig Coffee trailed with 9-of-18 from the floor (50 percent).
The Mixers played good defense to start the second quarter, and foiled the Texters multiple times in the paint. But they had trouble scoring on the other end, as Denzel Bowles couldn't complete his isolation sets, 38-31.
With five minutes to play, San Mig Coffee tried to get something going to the rim, as Marc Pingris and Bowles converted on three straight possessions. But Talk 'N Text countered as they moved the ball and cut around the paint, maintaining at least four-point margin.
Again the Texters closed the half strong, as Ranidel De Ocampo nailed a trey with a minute and a half remaining to gain some separation. Castro shortly added a fast break lay-up, and TNT took a 49-40 lead after two quarters.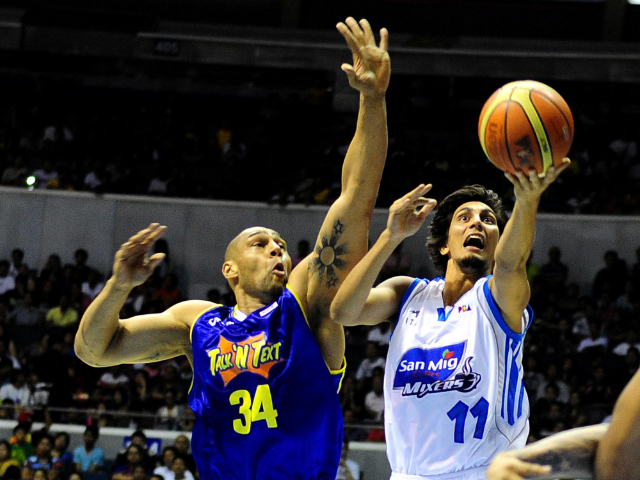 The return to the line-up of Ali Peek (L) was not enough as the Texters couldn't stop Alex Mallari and the SMC Mixers late.
KC Cruz
San Mig Coffee tried to push the ball in the third period and were rewarded on a couple of occasions, as Bowles split from the line after drawing a foul in transition, 53-50. Castro countered for TNT on the other end, as his penetration led to buckets for himself and his teammates, as the Texters posted a 9-4 run, 62-54.
The Mixers strung consecutive fast breaks with two and a half minutes left. Mark Pingris slammed one home and PJ Simon nailed a tough leaner, forcing TNT to call a timeout. But SMC powered though and racked up a 12-3 run. Mark Barroca connected on a clear-out three-pointer with 16 seconds remaining to give his team a 66-65 lead heading into the payoff period.
San Mig Coffee shot 10-of-19 from the field in the third period (52.6 percent) against TNT's 6-of-22 (27.3 percent). Talk 'N Text made only one field goal in the final four minutes, a three-pointer by Ranidel De Ocampo.
Overall, the Mixers made 32-of-68 field goals (47.1 percent), while the Texters were 35-of-84 from the field (41.7 percent).
Talk 'N Text was a bit trigger-happy from deep, making only 7-of-26 (26.9 percent). Jayson Castro and Ranidel De Ocampo combined for 5-of-9 from that range. In contrast the Mixers were conservative from outside with a 3-of-12 clip (25 percent).
TNT was 8-0 in second-chance points, with all of them coming in the first period.
Donnell Harvey led all scorers with 19 points and eight rebounds. Jayson Castro added 17 points, four rebounds and six assists. Ranidel De Ocampo had 13 points and eight boards, while Ryan Reyes added 12 points.
- AMD, GMA News
The scores:
SMC 83 - Bowles 18, Simon 15, Devance 15, Pingris 11, Barroca 7, De Ocampo 7, Yap 3, Reavis 3, Mallari 2, Gaco 2, Alvarez 0, Najorda 0
TNT 82 - Harvey 19, Castro 17, De Ocampo 13, Reyes 12, Al-Hussaini 8, Fonacier 5, Alapag 4, Aban 2, Carey 2, Gamalinda 0, Peek 0
Quarter scoring:
23-20, 40-49, 66-65, 83-82