PBA: Hontiveros heats up to give Alaska another win against Rain or Shine in OT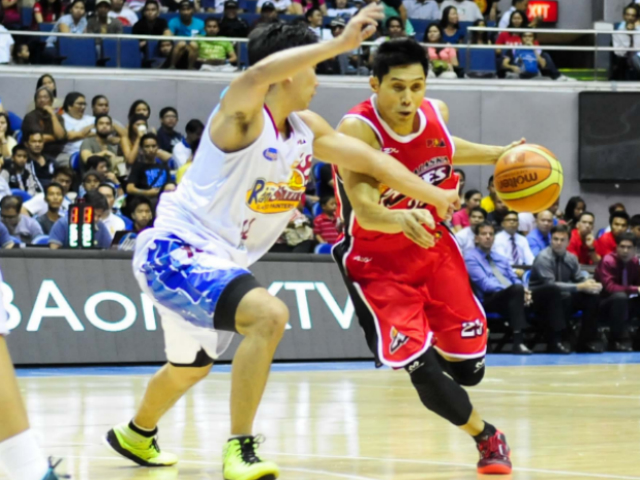 Sniper versus sniper: Rain or Shine's Jeff Chan (L) tries to contain fellow sharpshooter Dondon Hontiveros of Alaska.
KC Cruz
Dondon Hontiveros hit crucial three-pointers in the fourth and the extra period to give Alaska another victory against the Rain or Shine Elasto Painters, 89-84, on Friday at the Smart Araneta Coliseum.
Alaska (9-3) now takes the solo lead in the league standings. Rain or Shine on the other hand moved a step back to second place with an 8-4 mark, a game and a half above Petron, Ginebra and Meralco (6-5).
Hontiveros was the best player of the game with 22 points, 18 of them coming in the fourth quarter and in overtime. The Cebuano hotshot had a 7-of-10 shooting clip from beyond the arc. Import Robert Dozier poured in 23 points and eight rebounds, while Cyrus Baguio added 12 points and six boards.
"He's like our Ray Allen," said Alaska head coach Luigi Trillo, comparing Hontiveros to the NBA sharpshooter. "We wouldn't go this far without leaders like him, Tony [dela Cruz] and Jvee [Casio]."
"We were just trying to keep the game close. They got big leads in the second and third quarter and I said we just want to focus and play out on a positive note," Trillo added.
"I thought this game was lost,"
The Aces were able to cut Rain or Shine's 22-point lead to just five halfway through the fourth after a jumper by Rob Dozier. Another Dozier drive made it a three-point game, but Bruno Sundov and Gabe Norwood created some separation, 75-69, with 2:49 remaining.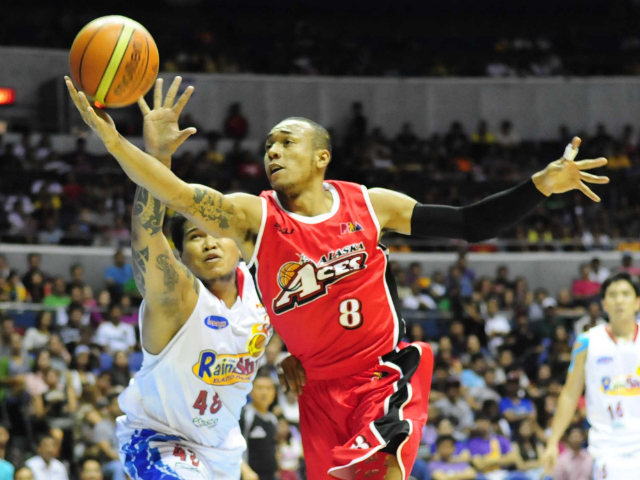 Calvin Abuea (R) beats JR Quinahan to a rebound.
KC Cruz
Alaska would respond with back-to-back hits by Calvin Abueva, before Dondon Hontiveros hit the go-ahead three to take the lead for the Aces, 76-75. Rain or Shine went to Sundov anew, and the import did not disappoint, scoring from the paint, 77-76.
After misses from Jvee Casio and Beau Belga from beyond the arc, Hontiveros rang in another trey with 32.1 remaining to give Alaska a 79-77 advantage. Dozier ended up fouling Sundov with 15.7 remaining, as the latter sank both from the line to tie the game at 79-all.
With the chance to win the game, Abueva went for glory, but his shot from the baseline went long. The Elasto Painters were given 1.3 seconds to set up for a final play, but Jeff Chan missed an open three as the game went to overtime.
Cyrus Baguio was first to hit in extra time to give Alaska the lead, while Paul Lee split from the stripe at the other end, 81-80. Lee added another basket, while Chan netted Dozier's final foul while getting two more for Rain or Shine.
Gabby Espinas drove in to cut the lead to one, before Hontiveros hit another three to give the Aces a two-point lead, 86-84, with two and a half minutes remaining. After two misses by Sundov from the line, Hontiveros sank another trey with 1:33 to go, to up the lead to five, 89-84.
The Aces sent Beau Belga to the line with 19.7 remaining, where the big man missed both. Chan had the chance to ring in a three, but his shot failed to find the bottom of the net.
Trillo was proud of the way his players performed in the second half, saying "It's one thing as a coach when you say things, it's another when the players take it in and focus.
"We scratched and clawed again and we came back in this one."
Aces Casio and Sonny Thoss, who had previously been sidelined with injuries, checked in for duty tonight. Trillo said that Thoss had not fully recovered however, while Baguio played with a bad back.
The Elasto Painters jumped on a groggy Alaska squad that couldn't take care of the ball following tip-off. The Aces gave little resistance on the other end of the floor as Gabe Norwood found a couple transition buckets, while Beau Belga and Bruno Sundov carved out space in the paint, 14-2.
Alaska got its first field goal with five minutes to play from Calvin Abueva, but turnovers kept the Aces from getting into their offensive flow. A three-pointer by Dondon Hontiveros allowed them to break into double digits with around 10 seconds remaining, but Ryan Araña split from the line after drawing a foul with 0.3 on the clock, as Rain or Shine ended the first period with a 20-11 lead.
Rain or Shine connected on 9-of-17 (52.9 percent) field goals in the first quarter, a far superior clip than Alaska's 4-of-21 mark (19 percent).
In the second quarter, Rain or Shine shook off a slow start and played unselfish basketball, hitting Alaska on successive baskets in transition, 30-16. Cyrus Baguio nailed a three-ball midway through the period, but the Aces couldn't make inroads against Rain or Shine's up-tempo attack.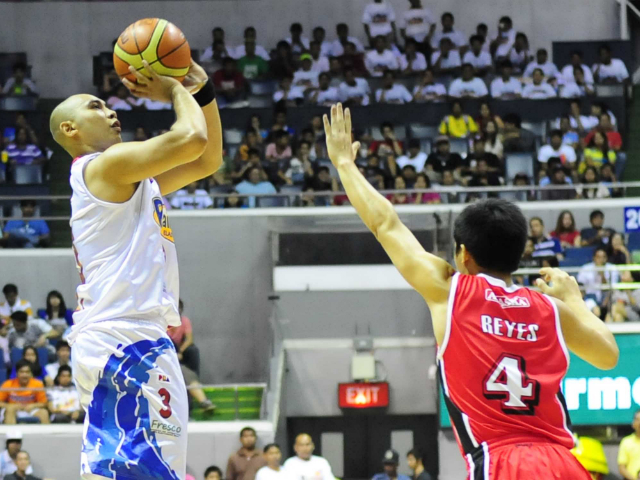 Paul Lee hits a jumper over former UE teammate Raffy Reyes.
KC Cruz
Jeff Chan was fouled on two three-point attempts and made five from the line, en route to scoring seven of their last 14 points. The Aces saved some face as they closed the quarter with a Robert Dozier and-one with 24 seconds remaining, only his second basket of the game, to trail 44-27 after two quarters.
By halftime, Rain or Shine churned out an efficient 16-of-33 mark from the field (48.5 percent), while the Aces coughed up only 9-of-43 (20.9 percent), with Dozier, Baguio and Casio combining for 5-of-22 attempts. The Elasto Painters also had a 9-2 advantage in fast break points.
When play resumed, Alaska got going as their perimeter penetration opened up shots for everybody. Baguio and Dozier also scored on put-backs to help their squad, but defense remained an issue, as the Elasto Painters scored right at the rim. A pull-up jumper by Paul Lee gave Rain or Shine a 59-39 lead.
Play got chippy between both teams with four and a half minutes left on the clock. Abueva taunted Sundov after he blocked the latter's shot, while Gabby Espinas shoved former PCU teammate Belga after a hard foul by the latter. The Aces channeled their frustrations on the defensive end while working on an 8-3 run punctuated by a Casio trey. Rain or Shine had the final say though, as they fed Sundov for a windmill jam in transition with 19 seconds left to keep a 64-47 lead after three quarters.
Alaska won despite shooting 32-of-90 from the floor (35.6 percent). They made 11-of-28 (39.3 percent) from beyond the arc, led by Hontiveros' 7-of-10. In comparison, Rain or Shine made 32-of-80 attempts (40 percent) but was trigger-happy in the second half, especially from downtown. The Elasto Painters were 1-of-24 from deep from the halftime break until the final buzzer.
Alaska had a 14-17 margin in turnovers that led to a 26-13 difference in turnover points.
Bruno Sundov scored 23 points, 13 rebounds and five assists. Paul Lee, Gabe Norwood and Jeff Chan added 12 markers apiece and combined for 17 rebounds. Norwood also registered four steals.
-RAF, GMA News
The scores:
ALASKA 89 - Dozier 23, Hontiveros 22, Baguio 12, Casio 9, Abueva 8, Espinas 6, Reyes 4, Jazul 3, Belasco 2, Eman 0, Thoss 0, Dela Cruz 0.
RAIN OR SHINE 84 - Sundov 23, Lee 12, Norwood 12, Chan 12, Belga 6, Tang 4, Quinahan 4, Ibanes 4, Arana 3, Tiu 2, Cruz 1, Matias 1, Rodriguez 0.
Quarters: 11-20, 27-44, 47-64, 79-79, 89-84