How women leaders engage communities in winning ways
More and more Filipinas are seen in top positions, but there are plenty of women leaders in less visible areas, such as agriculture and education. With a bundle of fresh vegetables, or a piece of chalk in hand, they make a difference in their communities, learning important lessons along the way.
Treat everyone equally
For Limpin, the most important thing is to treat everyone equally, regardless of gender.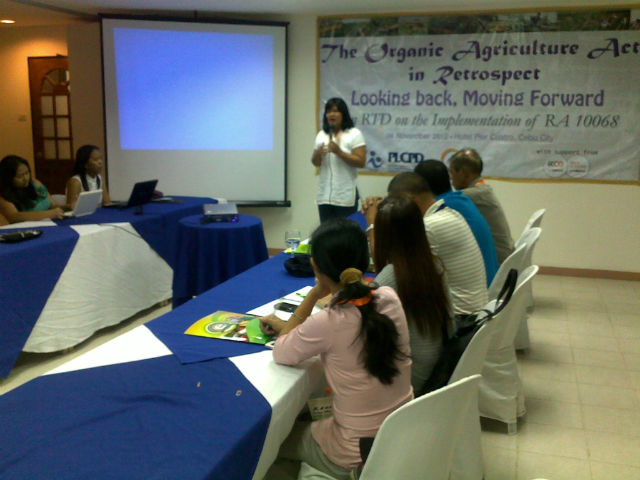 Executive director of Organic Certification Center of the Philippines Lani Limpin during organic consultation.
"Kasi, once we look at gender differences, that's where discrimination comes in. Kapag nagkaroon ng discrimination, doon din nagkakaroon ng pagbabago sa orientation natin on how we decide things," she said, comparing gender discrimination to racism.
"The color of the skin doesn't tell you anything. We're still all people. We can all think, we can all decide," she said.
Learn to be hands-on
Limpin recommended learning through interaction, based on her own experience doing fieldwork, instead of the usual desk or laboratory jobs that many female agriculturists prefer. According to Limpin, doing fieldwork allows you to interact more with people, which allows you to gain more knowledge.
"'Yung pagkuha mo ng info sa books, sa internet, anybody can do that. Everybody can read, and relatively everybody can access that information. Pero bihira yung kukunin mong information direct sa farmer, and that's what excites me most," she said.
Before joining OCCP, Limpin was engaged in NGO work, implementing organic agriculture in the early 1990s.
"Wala pa siyang hype noon, sustainable agriculture ang talagang pinopromote at that time. It was only in the late 1990s when organic agriculture started in the country," said Limpin, whose work wioth OCCP involves formulating organic standards, inspection procedures, and training.
Partnership and openness
By working with women in a rural setting, she realized that women should become more involved in the farm, in terms of decision making as well as active control over resources. Limpin recalled that when it came to teaching the farmers about new technology, it was mostly the men who would be around, and women would only come in when the men were absent.
Realizing that the women were not always able to transfer the information to the men, they began to analyze gender roles in farming.
"Who does what, babae o lalake? Pareho ba sila? And then we processed that to come up with who can decide over what," Limpin said, adding that it would take at least a year before they could see changed in the decision making process.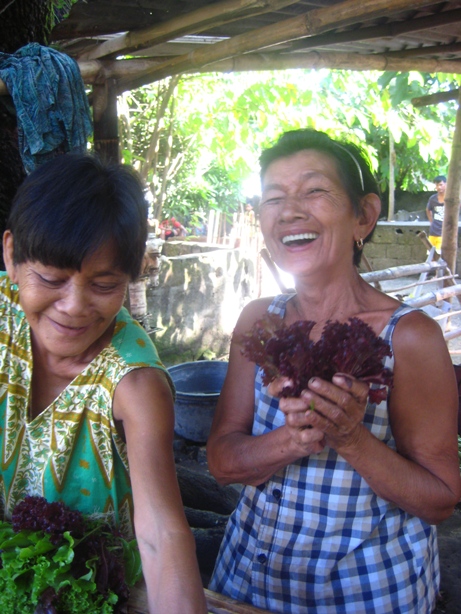 Nanays at the farm. (Photo from Good Food Community)
"First gather the women, and after mo sila ma-process, you gather them both. And then you process again, para pareho nilang naiintindihan na hindi ka nandoon para sabihin na 'Hoy! Magaling din ako.' Kasi they have to view themselves as partners," said Limpin, who did a study on gender relations, which served as a guide for future projects.
Limpin was also a member of Sarilaya, a women's organization, before joining OCCP, which began its certification business in 2005. Based on her experiences, Limpin said that when it comes to women empowerment, it is important that the male partner is also open to learning.
"Kung hindi open ang lalaki o kung sino man ang partner niya, mahihirapan siya to exert effort na 'karapatan ko na makihalo sa desisyon, karapatan ko na magkaroon ng access sa pera natin, 'di lang ikaw dapat ang nagsasabi kung anong gagastusan, karapatan ko na ano yung puwede ko namang bilhin para sa sarili ko,'" she said, noting that women commonly think of others, but forget to take care of themselves.
"Kung magkakaroon ng women empowerment na hindi open si partner, magkakaroon ng power play sa loob ng pamilya, and that will not be healthy. Maghihiwalay naman," she said.
Nature and nurture
For Char Tan of
Good Food Community
, working with farmers, teammates, and the people who subscribe is a gift. "I think to be able to build a culture that nurtures people has been most meaningful to me," said Tan, who started the community with her teammate, Tricia.
Good Food Community was built on the concept of community-shared agriculture, which creates a relationship between the people who grow the food and the people who eat the food. Households pledge to support farm operations, and in turn receive a share of the harvest. On the other hand, farmers can rely on a stable demand.
"For the nanays, what is most apparent is the income that they get every week from the sale of veggies, which does help a lot in household, educational and medical expenses. I also hear that they're getting a lot of exercise tending to the veggies -- waking early, watering the plants, preparing the soil, harvesting and preparing vermicompost or other natural fertilizers," shared Tan.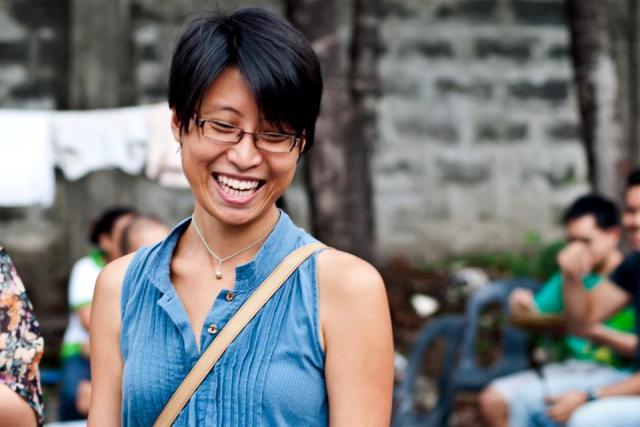 For Char Tan of Good Food Community, being "able to build a culture that nurtures people has been most meaningful." (Photo from Good Food Community)


She added that the community has also made those involved more aware of their health in general.
Engage and just do it
For Tan, being female was not an issue in building the community. For women who are inspired to start something on their own, her advice was to just do it. "Whatever obstacles will be there whether or not you engage them so you might as well blaze the trail, scale the thing. Show it can be done," she said.
She also recommended keeping in touch with like-minded individuals. "I've had the gift of great friends to journey with. Many great women, come to think of it. I guess that's one reason why I haven't felt much gender-related resistance. The women around me take all that as traction for whatever it is they're moving towards," she said.
Lastly, Tan agreed with having "a room of your own." "That is, I suppose, to listen carefully to your truth before others' ideas of who or what you should be," she said.
A different kind of leadership
One doesn't have to be in a high position to make a difference. As a B.S. Biology graduate, Sabrina Ongkiko discovered she could lead others by serving through downward access. Ongkiko had wanted to become a doctor, but decided to become a public school teacher.
"Teaching gave me a different view on leadership. Teaching is all about standing there in front of your students and guiding them towards their dreams, their goals. That's a different kind of leadership," Ongkiko said in
a video by Teach for the Philippines.
She explained that instead of pitying her students, she began to understand where they were coming from: "Because when you pity them, it's like you're telling them you're still above them. But as their teacher, if I am above them, I can't help them move up. I need to go down lower so I can push them up," she said.
Although it was not the return on investment that her family had counted on getting by sending her to an expensive school, she realized that going into teaching resulted in a different kind of wealth.
"When I stand there and look at the faces of these kids, that for me is very powerful. Hearing their dreams and working with them to reach those dreams. That's really what I want my life to be about," she said. – KDM, GMA News