Poaching charges filed vs. Chinese fishermen in Tubbataha incident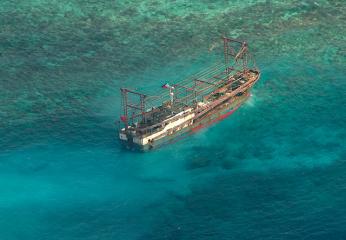 Chinese fishing vessel causes damage to Tubbataha Reef . An aerial photo taken on Wednesday, April 10, shows the Chinese fishing vessel that ran aground in Tubbataha Reef, a UNESCO World Heritage site, on Monday. Twelve Chinese nationals on board the ship were arrested by the Coast Guard and brought to Puerto Princesa City in Palawan to face charges for alleged poaching. Reuters/Naval Forces West
Philippine authorities on Wednesday afternoon lodged poaching charges against 12 Chinese fishermen whose vessel ran aground in Tubbataha Reef before midnight last Monday.
The Tubbataha Management Office plans to lodge at least three more charges against the fishermen on Thursday, radio dzBB's James Viernes reported.
The charges were based on Section 27 of
Republic Act 10067, the Tubbataha National Park Act
. Under Section 27 of the law, "poaching by foreigners" involves the entry of any foreign fishing vessel in the Tubbataha Reef area "shall constitute prima facie evidence that the vessel is engaged in fishing in the area."
It is punishable by imprisonment of six to 12 years in prison, and a fine of $100,000, as well as the forfeiture of the catch, fishing equipment and fishing vessel.
Republic Act 10067 mandates the protection of Tubbataha Reef, a UNESCO World Heritage Site and popular diving destination.
During the inquest proceedings at the provincial prosecutor's office in Puerto Princesa City in Palawan, the Chinese fishermen appeared hungry and munched on crackers, the report said.
Representatives from the Chinese Embassy were present during the proceedings.
After the inquest proceedings, the fishermen are expected to be detained at the Palawan Provincial Jail, the dzBB report said.
Second grounding incident
Shortly before midnight Monday, the Chinese fishermen's vessel ran aground at Tubbataha Reef, three months after a similar incident involving the US Navy minesweeper USS Guardian.
The US vessel was finally extracted two weeks ago and four of its crew members were relieved of their duties for failure to follow standard US Navy navigational procedures, but the Philippine government did not press charges against the ship's sailors.
In a separate report, radio dzBB's Palawan affiliate James Viernes said the
Chinese fishers admitted that they were on a fishing venture
at the time they entered Tubbataha Reef, after coming from Malaysia.
Speaking with the aid of an interpreter, the fishermen identified the boat captain as Ki Jian Ji but declined to give further details about their intrusion, the report added.
Buffer zone expansion
In a related development, the Philippines is studying the possibility of
expanding the area in Tubbataha Reef
that is considered restricted after the latest grounding incident, President Benigno Aquino III said Wednesday.
"Ang bottom line diyan, meron tayong batas, it's Republic Act 10067. 'Pag pumasok ka within sa zone, may presumption na agad na poaching ang pakay mo, may kaukulang mga penalties—may imprisonment, may fine—and our job as the executive department is to execute this law," Aquino told reporters on the sidelines of the groundbreaking of the Roxas Airport Development Project in Roxas City, Capiz.
"There is contemplation to add more lighted buoys and to expand the so-called buffer zone," Aquino added.
— KBK/YA, GMA News