Coast Guard beefs up teams in Tubbataha to remove grounded ship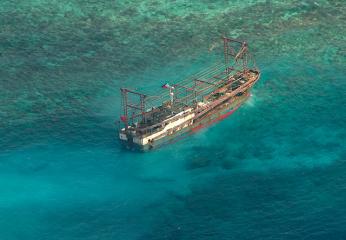 Chinese fishing vessel causes damage to Tubbataha Reef . An aerial photo taken on Wednesday, April 10, shows the Chinese fishing vessel that ran aground in Tubbataha Reef, a UNESCO World Heritage site, on Monday. Twelve Chinese nationals on board the ship were arrested by the Coast Guard and brought to Puerto Princesa City in Palawan to face charges for alleged poaching. Reuters/Naval Forces West
The Philippine Coast Guard on Thursday sent additional teams to Tubbataha Reef to help remove a Chinese fishing vessel grounded there since Monday night, and to prevent any oil spill in the heritage site.
Coast Guard spokesman Lt. Cmdr. Armand Balilo said the teams included divers from the special operations group, and environmental protection unit personnel looking out for oil spills, radio dzBB's Carlo Mateo reported.
Balilo said the Coast Guard teams will help out in efforts to remove the Chinese fishing vessel, initially by lightening its load.
The Coast Guard aims to remove at least 8,000 liters of fuel as well as fishing nets and water from the ship's cargo hold so it can retract from the reef on its own.
"Once na gumaan siya, baka on her own she can retract from the reef," Coast Guard commandant Rear Admiral Rodolfo Isorena said.
In a separate interview on "State of the Nation," Isorena said the fishing vessel's engine did not appear to sustain any damage.
"Walang damage sa engine so probably the
ship can run on her own,
" he said.
The Chinese vessel with 12 fishermen aboard ran aground at Tubbataha Reef before midnight Monday.
Monday's incident occurred three months after the minesweeper USS Guardian ran aground on Tubbataha Reef. The USS Guardian was removed from the area only last March 30.
On Wednesday, the 12 fishermen were charged before the provincial prosecutor's office with poaching. Added charges are to be filed against them on Thursday.
Meanwhile, the Tubbataha Management Office sought the help of the Department of Transportation and Communications in removing the fishing vessel, according to a separate report by dzBB's James Viernes.
The report also said the Philippine government will coordinate with the Chinese government in looking for the owner of the ship so he or she will shoulder the expenses for salvage operations.
— LBG, GMA News