'Biyahe ni Drew:' Pagudpud for every budget


To the uninitiated foreigner, Pagudpud sounds like a dirty word—but it's not. In fact, it's actually one of the most accessible places to travel to in the Philippines, especially if you're on a budget. What sights and sounds can you expect, without shelling out an amount that will make you swear?

Here are three 'Biyahe ni Drew'-approved itineraries to fit whatever budget you're working with:

The Basics: How to get there
By private car: It's a 10 to 12 hour land trip from Manila to Ilocos Norte.
By bus: Hop on a bus from the main terminals at Cubao. Any bus liner will do—the ride from Manila to Pagudpud is pegged at P700.
By plane: It's a 45-minute flight from Manila to Laoag City, Ilocos Norte.

Itinerary #1 - High-end Budget
The Royal Pagudpud Experience: "Basta masaya, go!"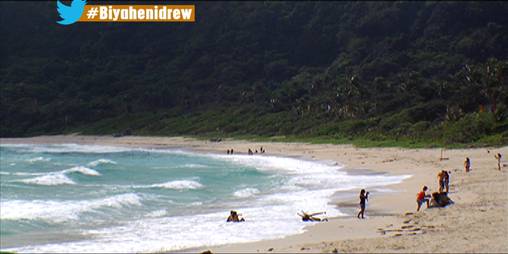 Where to stay
Hannah's Beach Resort and Convention Center | Brgy. Balaoi, Malingay, Pagudpud

Hannah's is one of the newest and most luxurious resorts in Pagudpud. The beach front hotel's clean and newly painted rooms range from P3,000 to P20,000 a night.

During the summer peak season, though, a standard room starts at P4,000 a night. This comes with a bed for two people and a sofa, so technically you can squeeze three people into the room. Other standard amenities: air conditioning, a private bathroom, a refrigerator.

Drew's verdict: "Medyo mahal siya para sa design pero baka ang binabayaran mo yung totality ng lugar. Marami ka kasing pwedeng gawin."

What to do
Open water zip line
Within the grounds of Hannah's, you can try the longest zip line over open air in the country. The 1-km long ride costs P600 per person if you're staying in the hotel. For walk-in guests, it's P700/person.

Kitesurfing at King Fisher | Sitio Ayoyo, Brgy. Caparispisan, Pagudpud
Did you know that Pagudpud is one of the top kitesurfing destinations in the world? Kitesurfing is like wakeboarding but instead of being pulled by a cable within a controlled water park, you're being pulled by the wind and a giant kite over the open seas. The wind and water is free, but the gear is not. A one-and-a-half-hour introductory lesson costs P2,300.

As a beginner, the instructors will teach you to "surf" on the sand before hitting the waves. It'll take a while to get a hang of this sport, but once you do, it's worth it. If you're not the sporty kind, you can enjoy "daredevil" stand-up paddling for P600.

Where to eat
Evangeline Beach Resort | Brgy. Burayoc, Pagudpud
Budget: P300-500 per dish, good for 3 people
The beach resort's restaurant is worth a visit: bulalo, calamares, pinakbet, and—their specialty—grilled chicken with mango and apple. "Naalala ko parang Hawaii kasi grilled meat," said Drew. "Tapos naririnig mo yung waves habang kumakain. Life is good!"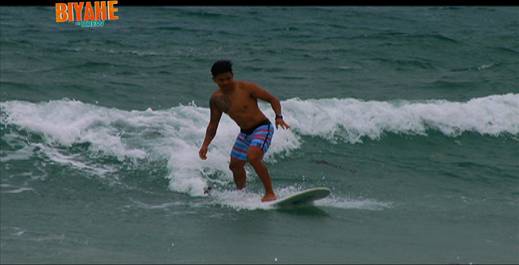 Itinerary #2: Mid-range budget
Pagudpud Escapades: "Pinag-ipunan ko itong trip na ito!"

Where to stay
Kapuluan Vista Resort | Sitio Banlaran, Brgy. Balaoi, Malingay, Pagudpud
Rooms here go for P1,300 to P4,750 a night. The rooms are spacious and well-decorated; best of all, Kapuluan Vista Resort will throw in a surfing lesson for an extra P400 per head.

Pagudpud is one of the best surf spots in the Philippines, with the highest waves coming in between November and April. "It's probably one of the best ways to spend your vacation here in Pagudpud," said Drew.

What to do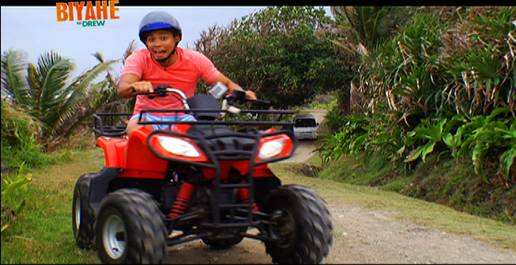 Seaside ATV ride
Hannah's Beach Resort and Convention Center | Brgy. Balaoi, Malingay, Pagudpud
Looking for a different way to enjoy the sand and the wind?

Drop by Hannah's Beach Resort for a day trip (P50) and hop on one of their all-terrain vehicles for P250.

Where to eat
BergBlick Deutsches Restaurant | Brgy. Burayoc, Pagudpud
Budget: P120-460 per dish, good for 3-4 people
This fine dining resto serves both German and Filipino fare at reasonable prices. Because their executive chef is German, you can bet it's authentic—down to the German wheat beer. Refreshing!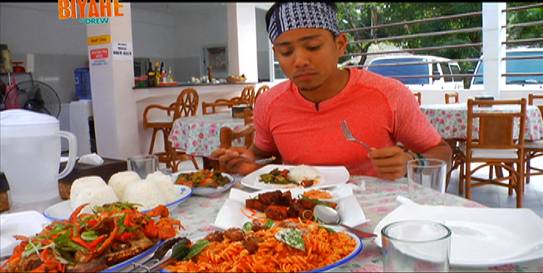 Tartaruga's Hotel and Restaurant | Brgy. Saud, Pagudpud
Contact number: 0947-5429521, 0905-2869987
Budget: P200-300 per dish, good for 2 people
Apart from Ilocano favorites like pinakbet, Tartaruga's serves Italian fusion cuisine. The house specialty: Chili Honey-glazed Lechon Kawali. "Binigyan nila ng added flair, added libog, added kick ang lechon kawali na usually kinakain natin," shared Drew. "Hindi mo na kailangan ng extra sauce kasi may chili honey sauce that comes with it."

Itinerary #3: Ultra-Tipid travel
The Pagudpud Getaway: "Bakasyon tayo, hati tayo sa ulam!"

Where to stay
Shallen Arron Homestay | 0999-6785995
Resorts aren't the only place you can stay in Pagudpud. There's also a homestay community that lets tourists rent a room with one of the local families. For around P250 a head, you can get an airconditioned room all to yourself. You'll have to share the bathroom with the family, though.

What to do
The longest zip line over open water
Hannah's Beach Resort and Convention Center | Brgy. Balaoi, Malingay, Pagudpud
The money you saved on accommodations can be used for other activities! Pay Hannah's P50 day trip entrance fee. "Sa dinami-dami ng mga zip lines na nasubukan ko these past seven years, this is my first time to try a zip line over a body of water," Drew said before take-off. The zip line runs for a little over one kilometer, over the sea.

Visit the Kabigan Falls | Brgy. Balaoi, Malingay, Pagudpud
P20 environmental fee and P50 for the tour guide
Thirty minutes off the national highway by tricycle and a short hike, Kabigan Falls is a popular swimming spot for those tired of the beach. Here, the tour guides double as caretakers, cleaning up the falls after each day. Half of their earnings goes to the tour guide's cooperative, while the other half goes to the local government.


Visit the Bangui Wind Farm | Brgy. Baruyen, Bangui, Ilocos Norte
Budget: Absolutely free!
Did you know that the first power generating windmill farm in Southeast Asia is found in Ilocos? The windmills of the Bangui municipality provide 40 percent of the area's electricity. Tourists are welcome to come close to the giant windmills—take as many pictures as you like! Entrance is free, but you might want to buy a cup-sized windmill at the nearby shops as a souvenir.

Where to eat
Kangkang Coffee Shop and Resto | Brgy. Baruyen, Bangui, Ilocos Norte
Budget: P200-300, good for 3-4 people
After visiting the Wind Farm, fuel up on pinakbet, lechon kawali and a cold buko shake. Seriously—try their buko shake. Drew loved it!

Roadside eateries
Budget: P100
Roadside eateries like Casa Consuelo, Ayuyang Balay Panganan and Papa Nard's are all over Pagudpud. For P100, you can have a homestyle meal of tapsilog—or, longsilog, or whichever "logs" you like!


| | |
| --- | --- |
| | Biyahe ni Drew on Facebook |
| @biyahenidrew | Biyahe ni Drew on Twitter |