PBA
:

Meralco Bolts shock San Mig Coffee Mixers, one win away from semis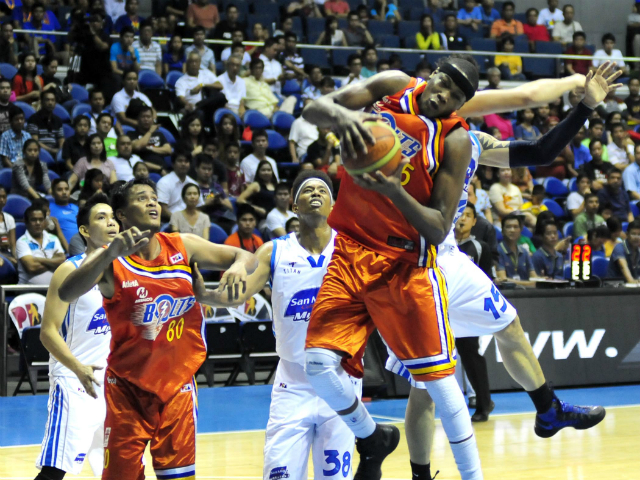 Meralco's Eric Dawson snares down one of his 18 rebounds to lead the Bolts past the San Mig Coffee Mixers
KC Cruz
(Updated 7:37pm)
The Meralco Bolts just know how to get the win when it matters the most.
After a big triumph over the Rain or Shine Elasto Painters on the final day of the elimination round last Wednesday, the Bolts took Game 1 of their best-of-three quarterfinals series against reigning champions San Mig Coffee Mixers, 88-85 Friday at the Smart Araneta Coliseum.
While most pundits expected the Bolts to struggle this season after trading away Sol Mercado, they are now a win away from making it to the Commissioner's Cup semifinals thanks largely to the efforts of their import Eric Dawson. The Best Import of the Conference candidate did not score 50 points this game, but he scored crucial free throws and grabbed rebounds down the stretch to seal the victory for the Bolts.
Dawson scored 25 points, grabbed 18 rebounds and added four assists and two steals.
With 20.9 seconds left in the fourth, San Mig had a chance to win the ball game, but Mark Barroca missed a three-point attempt, with Eric Dawson cleaning up the miss. He then scored two charities to make it a three-point lead, one that stood until the end of the game.
The San Mig Coffee Mixers started the game well with an early 8-3 lead, capped by a triple basket from Mark Barroca. Dawson's SMC counterpart, Denzel Bowles, dropped 13 points in the first quarter, to lead the Mixers to a 26-13 advantage.
In the second, two free throws from Bowles gave the Mixers a double-digit advantage at 30-20. However, rookie Vic Manuel trimmed the San Mig Coffee lead down to two with four straight points, with less than eight minutes remaining in the first half.
Ronjay Buenafe sliced the lead further, down to a single point, with a triple, 36-35. After San Mig scored on the other side, Sunday Salvacion knotted the game at 38-all with a trey of his own.
Dawson scored on back-to-back jumpers with a minute left in the first half to give the Bolts their first taste of the lead at 45-43. He then added two free throws with 3.6 seconds left to make it a 47-43 lead for Meralco, heading into the half.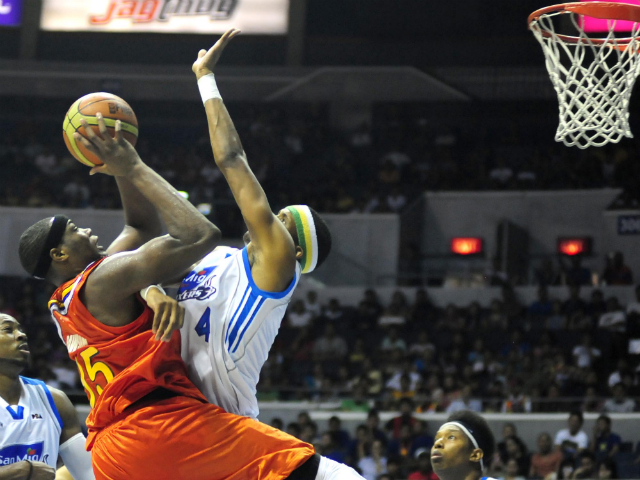 Dawson aims a touch jumper against Rafi Reavis, who is all over the Meralco import.
KC Cruz
In the third, Meralco was led by Dawson, who had 14 points, while Manuel and Buenafe added eight points each. San Mig Coffee, on the other hand, relied heavily on Bowles, who had 21 points while James Yap added eight.
San Mig retook the lead early in the third quarter care of a Barroca trey and a Bowles deuce. However, Salvacion sank back-to-back three point shots to establish a 53-48 buffer for the Bolts.
Another Meralco triple, this time from Mac Cardona, gave the Bolts their largest lead of the game at 58-51. Salvacion then made it a nine-point Meralco advantage on their next possession with a baseline drive.
Bowles and Alex Mallari combined to bring the Mixers closer, but they just could not seem to tie the ball game or take the lead. Two free throws from Buenafe at the 2:47 mark kept the Bolts ahead, via a seven-point advantage, at 67-60.
Mallari, the third overall pick in the 2012 draft, then closed out his high-scoring quarter with a triple to bring down the Meralco lead to four at 70-66 to end the third quarter.
Buenafe opened the fourth quarter with a three to bump their lead up to seven, but Bowles and PJ Simon conspired to trim it down to just two points at 73-71, with less than 10 minutes remaining in the game.
Cliff Hodge and Chris Ross scored on back-to-back three-point play opportunities for Meralco, but they both failed to convert their free throws. In response, a short stab by Simon and a mid-range jumper from Bowles once again got the Mixers within two at 79-77.
A lay-up from Mallari tied the game up at 79, but it was quickly taken back by Dawson. A push shot from Devance knotted the game anew at 81-all, with less than six minutes remaining in the game.
The Bolts then got in some breathing room as a Dawson free throw and a Salvacion put-back gave them a three-point lead. But a Bowles basket and a free throw from Devance tied the game up again at 84-all, with 3:25 left in the game.
The Bolts got to the line multiple times to establish a comfortable lead, but Dawson missed two of his four free throws. Still, Meralco held an 86-84 lead heading into the game's final two minutes.
Bowles got a steal off Ross, who gave up a duty foul, but the reigning Commissioner's Cup Best Import only converted one of his free throws for a 86-85 count in favor of Meralco with 1:17 left in the game.
In support of Dawson, Ronjay Buenafe fired in 13 points, while Sunday Salvacion matched his output. Both snipers also converted three triples apiece.
Denzel Bowles paced SMC with 37 points, 15 rebounds and four blocks. Alex Mallari though was the only other Mixer in double-figures, as PJ Simon (nine points) and James Yap (eight points), combined for an 8-of-23 clip that produced 17 points.
Though the Mixers finished shooting better from the field, 44.7 percent versus 34.6 percent, all but five of the Bolts' 28 field goals were assisted.
- RAF, GMA News
The scores:
Meralco 88: Dawson 25, Buenafe 13, Salvacion 13, Manuel 8, Cardona 8, Ross 7, Hugnatan 6, Hodge 4, Reyes 3, Artadi 1
San Mig Coffee 85: Bowles 37, Mallari 12, Simon 9, Yap 8, Pingris 7, Barroca 6, Devance 6, Gaco 0, Najorda 0, Reavis 0, De Ocampo 0.
Quarter scores: 16-26, 47-43, 70-66, 88-85