FilOil
:

Growling Tigers Mariano, Ferrer snap Ateneo's unbeaten run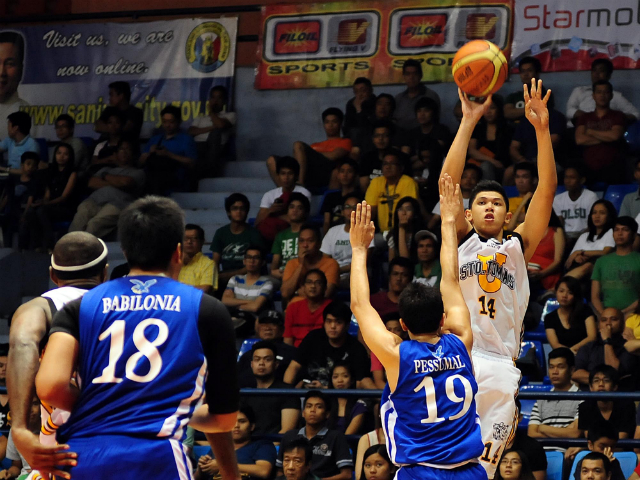 Kevin Ferrer (R) showed just how deadly he can be from long-range versus Ateneo.
KC Cruz
(Updated 6:33pm)
In a rematch of the UAAP Season 75 Finals as well as the 2012 PCCL championship series, the University of Santo Tomas Growling Tigers were able to down arch-rivals Ateneo De Manila University Blue Eagles, behind clutch play from Aljon Mariano and Kevin Ferrer, 63-57, Saturday at the FilOil Flying V Arena.
Mariano scored six straight points, including the go-ahead basket, while Kevin Ferrer drained the dagger triple off a Jeric Teng assist to give UST an insurmountable lead late in the game after Ateneo flashed their strengths in the first half.
UST evened their record at 1-1, following an opening day loss to DLSU, while Ateneo took a 3-1 card after four FilOil assignments in a seven-day span, including back-to-back assignments after defeating the EAC Generals 80-67, Friday.
After scoring just 23 points in the first half, and finding themselves down seven in the third, the Growling Tigers suddenly roared to life, chipping their way back into the game behind dynamic scoring forward Aljon Mariano, who had seven of his team's 22 third-quarter markers, good for a 45-42 lead entering the final canto.
The game then turned into a shooting melee in the fourth period, which UST won early after reserve guard Ed Daquioag and Ferrer connected on back-to-back triples, for a 51-45 UST lead.
Chris Newsome, who started the game with a steal that turned into a dunk, ignited a Blue Eagles comeback, slamming home a second basket, to give Ateneo the lead again, 53-52, with 3:48 left.
Two more baskets by the Fil-Am swingman made it 57-53, 2:22 remaining, but that's when Mariano took over.
The versatile senior zig-zagged through Ateneo's transition defense, scoring six crucial points in the last two minutes to put UST on top anew, 59-57. Kiefer Ravena had a chance to equalize the game late, but he missed a turnaround with 35 seconds left on the clock.
On the next play, Jeric Teng, who had struggled all game, opted not to force things, kicking the ball out to Ferrer, who was wide open in the opposite corner for the clinching trey.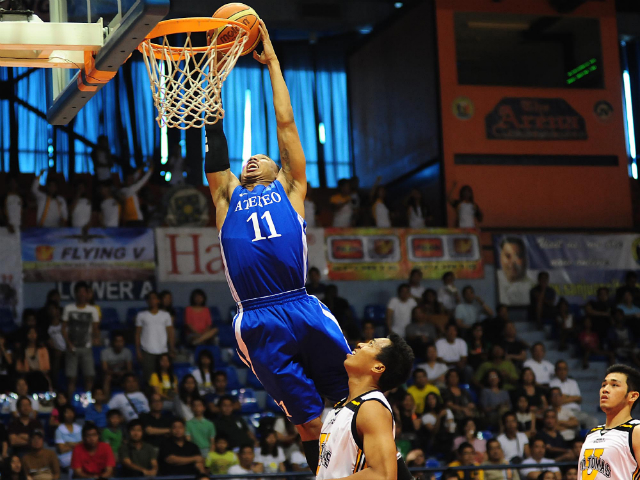 Chris Newsome got Ateneo fans out of their seats with a steal and a dunk early in the game.
KC Cruz
Two new Blue Eagles, the athletic Chris Newsome and Earl Murphy, combined for the team's first nine points. The Tigers struggled putting up points in the board, with the one-two punch of Jeric Teng and Aljon Mariano on the wings scoring a combined three points early on. UST struggle with its jump shooting, but prevented easy baskets on the break for Ateneo.
UST crept closer later in the quarter, using an 11-2 run to get the lead at 14-13. A put-back by swingman Von Pessumal gave Ateneo back the lead though, 15-14.
Both teams' offensive lethargy continued in the second quarter until Ateneo swung the ball to Pessumal on the left corner, as he connected on a brace of triples. Also making two free throws, Pessumal scored a quick eight points in a matter of two minutes to give ADMU a steady lead at 24-18. Free throws by Tiongson locked-in Ateneo's advantage at the break, 30-23.
Ateneo went 11-of-34 from the field at the half, while UST was 8-of-24. The disparity in shot attempts came from 14 Growling Tigers turnovers, which the Blue Eagles converted into 12 markers.
Pessumal led the way for the Blue Eagles in the first half, scoring 12 points, followed by Ravena and Newsome with five points and four rebounds apiece.
Karim Abdul led the Tigers with six points at the half, followed by Mariano and Clark Bautista with five apiece.
UST managed to get their offense going in the third, unreeling a 14-2 run in the early stages of the quarter. The Tigers forced the Eagles into halfcourt sets, none of which yielded them anything. The quarter even ended with a missed lay-up from Ravena.
UST finished shooting 42 percent from the field, including 42 percent from long-range, as compared to Ateneo. The Blue Eagles were just 33 percent on field goals, 28 percent on three-pointers.
Just as important was the disparity in free throw shooting. The Tigers got 26 attempts at the line, making 14, while the Eagles settled for a 6-of-11 clip.
Aljon Mariano was UST's top scorer with 19 points on 7-of-14 shooting, followed by Abdul with 14 points and 11 rebounds. UST's slotman however missed most of the fourth period due to a knee injury.
Kevin Ferrer managed 13 points, including that critical triple late, while Jeric Teng had a quiet night, with three markers on 1-of-9 shooting.
Von Pessumal logged 15 points in a losing cause, while Chris Newsome put together a double-double of 14 points and 12 rebounds. Ravena added a measly seven points, going 3-18 from the field.
- AMD, GMA News
The scores:
UST – Mariano 19, Abdul 14, Ferrer 13, Bautista 8, Daquioag 4, Teng 3, Pe 2, Vigil 0, Lo 0, Hainga 0, Tan 0
ADMU – Pessumal 15, Newsome 14, Ravena 7, Tiongson 7, Elorde 6, Golla 4, Murphy 4, Babilonia 0, Tolentino 0, Asistio 0
Quarter scoring:
14-15, 23-30, 45-42, 63-57