PBA
:

Ginebra outlasts Rain or Shine in do-or-die battle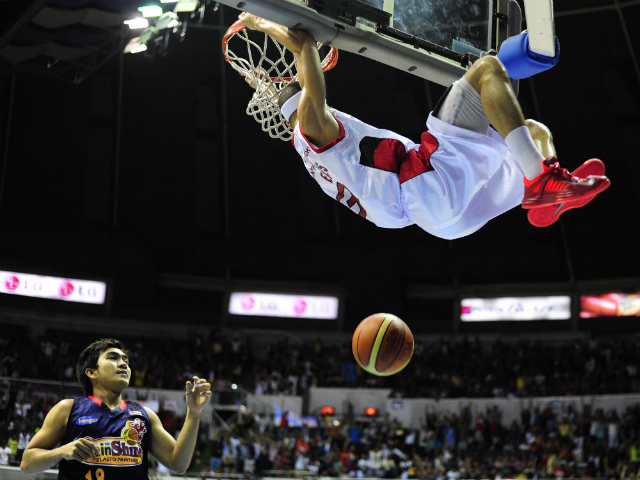 Ginebra's Chris Ellis completes a slam dunk as Ryan Araña (R) of Rain or Shine looks on
Photo by KC Cruz
(Updated 9:08pm)
The never-say-die kids of the PBA are taking their act to the PBA Commissioner's Cup semifinals. Facing a twice-to-win disadvantage against the Rain or Shine Elasto Painters, the Barangay Ginebra San Miguel dug deep and won out, 81-79, Monday at the Smart Araneta Coliseum.
Last Saturday, Ginebra gutted out a 90-83 come-from-behind win to force this match. This time around, the hero was import Vernon Macklin, who made two free throws with 11.1 seconds left in the game to put Ginebra ahead for good.
Macklin scored 24 points and grabbed 16 rebounds in 47 minutes of play to lead the Kings to an improbable upset victory over the second-ranked team.
"I knew he can make his free throws," said Ginebra head coach Alfrancis Chua said. "Nung dati nagmimintis si Macklin, all of the guys told me to take him out. Nung si Jackson Vroman, nilabas siya kaya nawalan ng kumpiyansa. I told Vernon na 'I'll stick with you. If you miss your free throws, you miss your free throws but I trust you.'"
Ginebra had control of the ball game in the fourth quarter until the Elasto Painters unleashed a barrage of three-point shots to crawl back into the game. Jeff Chan gave Rain or Shine a 77-76 lead at the 3:21 mark of the payoff period with a big-time trey shot. Paul Lee then added two points to their lead as he drove to the lane and sank a banker.
Chris Ellis was fouled on the next play, but he only converted one of his free throws. Luckily for Ginebra, Lee then missed on a lay-up try. With the seconds ticking away, Jayjay Helterbrand failed to connect on an outside shot that bounced towards Kerby Raymundo and Ellis. Though the two chased the ball, it went out of bounds.
On their next possession, Raymundo missed a banker but Macklin tipped the ball in to tie the game anew at 79. After another miss by Lee, the Barangay got the chance to take the lead with only 31.6 seconds in the game.
Mac Baracael found himself open for a three-point shot, but his attempt sailed long. Macklin then grabbed a crucial offensive rebound and was fouled. The Ginebra import sank both free throws with 11.1 seconds left in the game.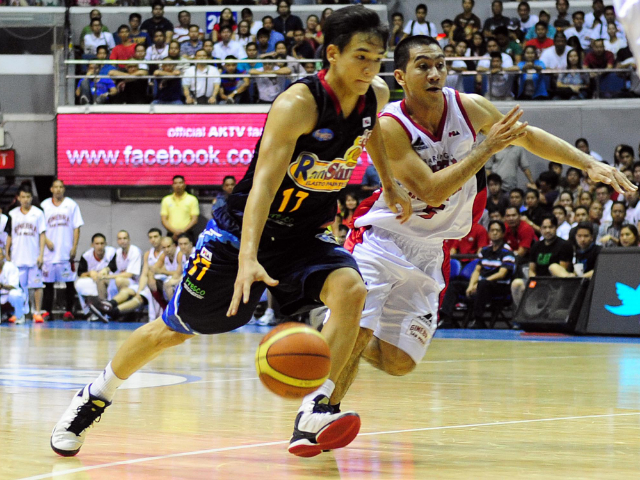 Chris Tiu (L) brings the ball up against the pressure of LA Tenorio.
KC Cruz
Chan drove to the lane with 6.2 seconds remaining, but his shot was swatted by the Ginebra import. The Elasto Painters kept possession and then went to Lee for a corner pocket three. Though it missed, Ginebra failed to box out Chan, who found himself alone underneath to grab the rebound. The 2012 Governors' Cup Finals MVP put too much muscle on a possible game-tying shot though. Two-tip in tries by Gabe Norwood also failed to fall, as the buzzer expired to the delight of the Barangay Ginebra faithful.
"They underestimated us," said a victorious Chua. "You can tell by the way they talked after we beat them, parang kayang-kaya nila mag-adjust.
"They underestimated our players kasi pilay-pilay kami pero hindi dila na-anticipate yung puso ng mga bata."
Ellis and Raymundo added 13 points each while Baracael scored 10 in just 16 minutes of play. The Elasto Painters, on the other hand, were led by rookie Chris Tiu with 15 and sophomore Lee with 14.
Ginebra did not get a good game from point guard LA Tenorio, who scored only two points in 40 minutes of play. New recruit Josh Ubiztondo and Jayjay Helterbrand picked up the slack though for their their struggling star guard.
Mac Baracael opened the game's scoring with a corner pocket trey off a Vernon Macklin pass. After a Ronnie Matias free throw, the two imports exchanged baskets at the 10:01 mark for a 5-3 count in favor of Ginebra.
After Matias tied the game at five-all, Ginebra went on an 8-0 run, prompting Rain or Shine head coach Yeng Guiao to call an emergency time out.
Slam dunks from Macklin and Chris Ellis gave the Kings a 19-13 advantage, but Chris Tiu scored six straight points to tie the game at 19-all, while a Jervy Cruz lay-up gave them the lead. Josh Urbiztondo connected with a three-point shot to reclaim the lead for Ginebra, but Ryan Araña stole it back via a layup, for a 23-22 Rain or Shine lead at the end of the first quarter.
After falling slightly behind, the Barangay tied the game at 28-all. Paul Lee and Jayjay Helterbrand then exchanged three-point baskets to knot the game anew, before Beau Belga scored down low at the 6:53 mark for a 33-31 Rain or Shine lead.
Another dunk by Macklin gave the Kings a 39-37 lead, but a Paul Lee lay-up at the 1:53 mark knotted things up. Ginebra however would enter the half up 44-41.
Macklin led all scorers in the first half with 14 points. He was backed up by Ellis who scored nine points on 4-of-7 shooting from the field. The Elasto Painters, on the other hand, banked on Lee and Tiu, as each scored eight points apiece.
It was a tightly-contested half that saw nine deadlocks and four lead changes. Both teams had 24 rebounds and Rain or Shine led by only one steal and one assist in those respective categories.
The game became more physical at the start of the second half ,as Belga and Raymundo got entangled and fell to the floor. Sundov conspired with Tiu to tie the ball game at 47-all, but the Rain or Shine import had to step out of the game due to four fouls.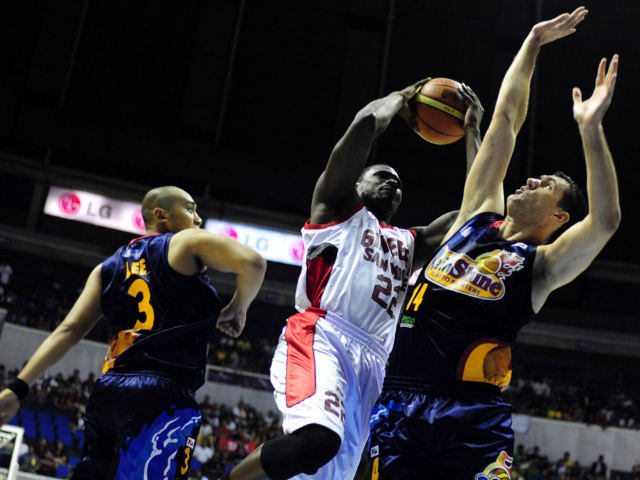 Vernon Macklin (C) dodges a double-team attempt by Paul Lee (L) and Bruno Sundov. GMANews.TV
Ginebra regained the lead, 57-56, after a Baracael one-hander was followed by a Helterbrand three. LA Tenorio finally scored with a minute left to give BGSM a two-point lead, but Tiu took it right back with two free throws. Raymundo however scored off a post-up move on Jervy Cruz to give Barangay Ginebra a 63-61 lead heading into the payoff period.
Raymundo caught fire early in the fourth quarter as he scored six early points to give the Kings a 70-65 lead. The Elasto Painters could not catch up with Ginebra though, as they kept missing their three-point shots. Barangay Ginebra also kept missing shots, but they were grabbing offensive rebounds to run down the clock and hold on to their lead.
Rain or Shine's drought finally ended with three straight triples from Lee and Sundov that tied the game at 74-all with less than five minutes remaining in the game. However, Macklin scored down low to regain the lead for the Ginebra at 76-74.
Raymundo, a former Purefoods player, posted a double-double with 13 points and 10 rebounds in 31 minutes of play. He carried the the scoring load for Ginebra to bridge the third and fourth quarters.
Offensive rebounding was key for Ginebra, as they got multiple cracks at the basket by crashing the boards. BGSM got 18 offensive rebounds, compared to only 13 for Rain or Shine. They also held a 58-50 advantage in total rebounds.
With their big win. Barangay Ginebra climbed up from seventh place and a 1-4 record to start the conference, to arrange a duel against the Talk 'N Text Tropang Texters. The two split their series during the elimination round.
- RAF/AMD, GMA News
The scores:
GINEBRA 81 - Macklin 24, Ellis 13, Raymundo 13, Baracael 10, Helterbrand 9, Hatfield 6, Urbiztondo 3, Tenorio 2, Taha 1.
RAIN OR SHINE 79 - Tiu 15, Lee 14, Sundov 12, Cruz 10, Chan 9, Belga 5, Norwood 4, Matias 3, Araña 3, Rodriguez 2, Quiñahan 2, Ibañes 0.
Quarter scoring: 22-23, 44-41, 63-61, 81-79