Marine battalion deployed to Misamis Oriental after Guingona ambush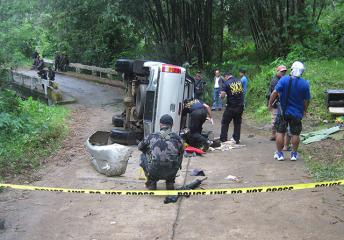 PNP, Army probe NPA ambush of Gingoog Mayor . PNP investigators inspect one of the vehicles used by Gingoog City Mayor Ruthie Guingona when her convoy was ambushed by New People's Army rebels in the outskirts of the city on Saturday night. Two of the mayor's aides were killed while Guingona was wounded. GMA-CDO/PNP-SOCO Misamis
A battalion of Marines has been deployed to Misamis Oriental to help secure the area in the wake of
the attack on Gingoog City mayor Ruthie Guingona Saturday night
by the New People's Army.
According to the Army's 4th Infantry Division spokesperson Maj. Leo Bongosia, the battalion's deployment was ordered by higher headquarters Monday night.
On Monday, the mayor's son, Senator Teofisto Guingona III, asked the Armed Forces of the Philippines why the rebels were allowed to set up checkpoints in the provinces, and requested the deployment of additional forces to Misamis Oriental, not just for the elections.
The Marines are due to arrive in the province Wednesday or Thursday, with part of the unit already having arrived in Butuan City from Metro Manila around 8:30 a.m. Tuesday aboard a C-130 transport plane, said Bongosia. The troops will undergo orientation before their actual deployment.
The presence of the Marines "will assist the Army troops in maintaining peace and order," said AFP Eastern Mindanao Command chief Maj. Gen. Ricardo Rainier Cruz.
They will be placed under the operational control of the 4th Infantry Division. According to Bongosia, 4th ID commander Maj. Gen. Nestor Añonuevo described the deployment as a "big boost to the present troops in the conduct of security operations."
There is currently only one Army battalion in Misamis Oriental: the 58th Infantry Battalion. Bongosia said there are few soldiers stationed in the province, "so we have to fill in that gap."
Roadblock, not a 'checkpoint'
Cruz also declared that what the rebels put up in Gingoog City was not a checkpoint—which is put up by the military and/or the police—but a roadblock.
"What the NPAs did was a deliberate roadblock. These are designed to harass or ambush certain targets, whether politicians or military. They know who are passing in a certain area at a certain time so they put up the roadblock," he said.
Cruz added that this was the case with Mayor Guingona's convoy. She had been on her way to the city proper after attending a fiesta that night. "They knew that she was going to pass again in that area so they waited for her," he said.
Cruz said that politicians should inform the military if they are going to certain areas "so that we will provide area security and route security in the area where they will pass."
— BM, GMA News