Solusyon o Ilusyon? Netizens weigh in on 4P's conditional cash transfer program
Is the government's biggest poverty alleviation program, Pantawid Pamilyang Pilipino Program or 4Ps, an effective tool in solving the multi-faceted issue of poverty? This was the question posed by GMA News TV's Investigative Documentaries in their episode "4Ps: Solusyon o Ilusyon?" last April 11.

The Pantawid Pamilyang Pilipino Program, a conditional cash transfer program designed to assist extremely poor households, was launched in 2008 by former president Gloria Macapagal-Arroyo and now continued by President Benigno Aquino III. Since its launching five years ago, the budget allocated to 4Ps has already grown to P120 billion. This year alone, the program has received a budget of P44 billion.

Under the supervision of the Department of Social Welfare and Development, the 4Ps program would give poor families cash support of P1,400 per month or P15,000 per year. Ideally, the program aims to improve poor families' health, nutrition, education, and livelihood.

But can the 4Ps program really improve the lives of the poor? Or is this program just another band-aid solution? Netizens and viewers of "Investigative Documentaries" weighed in on whether they think 4Ps is "solusyon" or "ilusyon." Is the program indeed a solution to the problem, or is it just another ineffective dole-out?

Solusyon

Facebook user Sheryl Cuezon Delara believes that the 4Ps program is a big help to families living in poverty, but hopes that the recipients are truly deserving. "Solusyon po iyan," she says. "Malaking tulong sa pamilyang naghihirap. Sana lang mapunta sa tamang tao."

("It's a solution. It's a big help to families living in poverty. Hopefully, the money goes to the right people.")

Delara's sentiments are echoed by fellow Facebook users Leez Lauron and MJ Tan Teo. Lauron says, "Sana pananaw ko po, pangtulong ang perang ito sa mga pamilyang kapos pero naghahanapbuhay naman kahit papaano."

("In my opinion, this money can help families who don't have much but are still working hard.")

As for Teo, "In a way, nakakatulong ito sa mga tao na nakatira sa remote areas, 'yung lugar nila halos walang hanapbuhay na available kasi napakalayo nila sa siyudad."

("In a way, it helps people who live remote areas, areas where there are almost no available jobs because they're too far from the city.")

Ilusyon

The majority of netizens who answered the poll, however, considered the 4Ps as a band-aid solution and suggested long-term alternatives. Facebook user Jae Lumagbas says, "Ang dapat diyan ay livelihood programs ang ibinibigay ng gobyerno. Hindi pera. It's not a solution to eradicate poverty and other social problems in our country."

("What the government needs to do is come up with livelihood programs. They shouldn't give out money. It's not a solution to eradicate poverty and other social problems in our country.")

Echoing Lumagbas, Facebook user Ricky Legaspi Sanchez says, "CCT fund will not be able to sustain the needs of millions of poor Filipinos. The government should generate as many quality jobs as possible to allow parents to earn their family's sustenance and live the life they wish to live instead of accepting charity and welfare from the government."

Aside from livelihood, education was also seen as a possible solution. "Ang magandang gawin dapat may libreng edukasyon," says Aguilar Narisa Cosme on Facebook. "Para ito sa mga taong mahirap, iyong mga gustong mag-aral pero walang magawa dahil sa walang pera at hirap sa buhay."

("A good thing to do is to offer free education for the poor people who want to study but can't do so because they have no money.")

The same sentiments were also abuzz on Twitter. Users called for sustainability in development projects.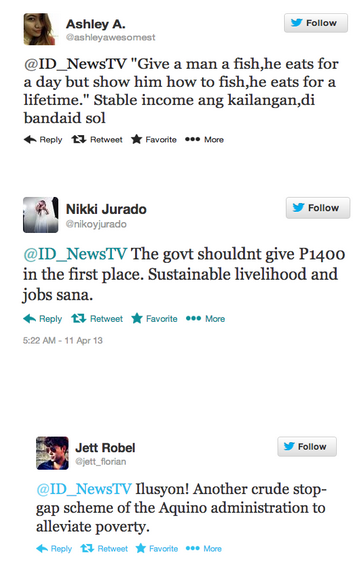 An immediate solution with long-term impact

Others, however, believe that the 4Ps shouldn't be perceived as the be-all and end-all, but rather a potential springboard for sustainability.

"People have to understand that the conditional cash transfer (CCT) is a social protection mechanism whose main objective is to help the poor lower their opportunity costs in sending their children to school," says Jose Ramon Gatmaitan Albert on Facebook. "The impact of CCT isn't short-term but long-term, when children from poor families who managed to study get better incomes that they would have gotten without the CCT years from now."

As for fellow Facebook user Leez Lauron, "'Yung perang makukuha every month puwede na nila pangsimula ng maliit na negosyo. Puwede itong gawing puhunan upang makaahon sa kahirapan."

("They can use the money they get every month as a capital for a small business. They can use it as a capital to rise above from poverty.")

–PF, GMA News


---
Selected comments do not reflect the views of GMA News and Public Affairs

| | |
| --- | --- |
| | Investigative Documentaries on Facebook |
| @ID_NewsTV | Investigative Documentaries on Twitter |