Inside the Antipolo 'Tahanan' of craftsman Benji Reyes
"Sabi nila sira ulo lang magtatayo dito. Sabi ko, ako yun, eh!" Benji Reyes said, his eyes crinkling in a smile as he walked through his home with a quickness of step that belied his 54 years on earth.
Tall and bald, with two earrings on his left ear and Baybayin tattoos on both his ankles, the man is a picture of effortless cool—much like his house, come to think of it. It's a sprawling oasis in the intense summer heat.
Reyes' declaration of his own craziness came after he explained the lay of his land and how the slope of the property made it difficult, impossible even, to build a home on it.
"Walang nakatayo dito, talahib lang lahat, bangin. Bangin ito kasi," he explained.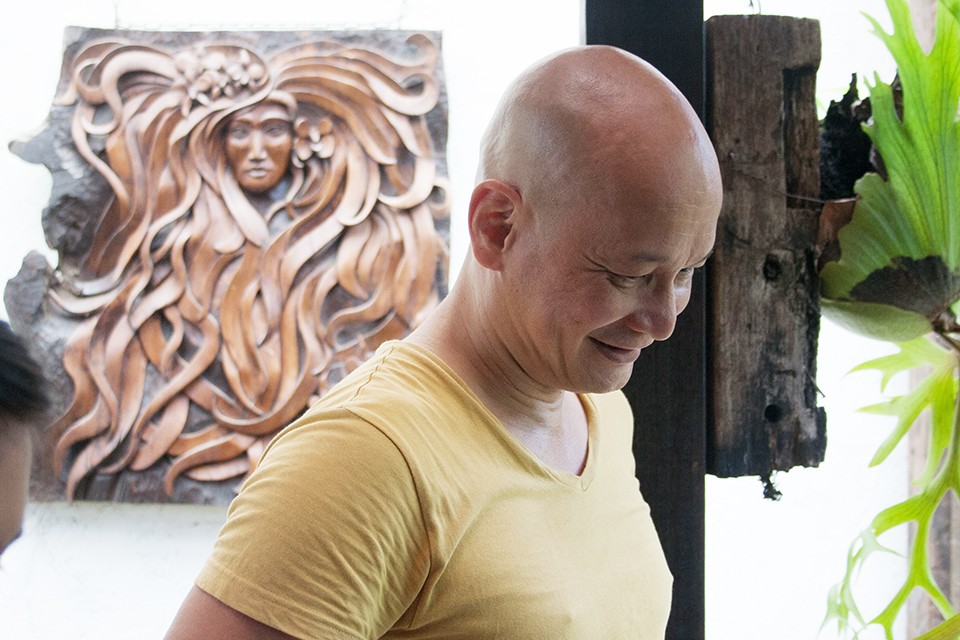 Artist, furniture designer, and craftsman Benji Reyes at his famed Tahanan in Antipolo that serves as home, workshop, and product gallery. (Photo by Roehl Nino Bautista)

He set a house on it anyway, and magnificently so, building not only a home but a veritable work of art.
That is how artist/ furniture designer/ craftsman Benji Reyes is. Crazy, yes, but only because he refuses to do things by the book. He refuses, in fact, to be discouraged by difficulty.
A design for life and the earth
Now an esteemed designer with clients from all over the world, two daughters living independently abroad, a beautiful home, and a growing collection of expensive toys, it would appear that Reyes is living the high life. But that wasn't always the case for him.
"Kailangan humalik sa lupa," he said. "300 pesos, that's how we started" he shrugged, sharing that when he and his wife got back from their honeymoon in Baguio, they realized that they only had that much money left to their name. "Lagi kong sinasabi na nothing is impossible. Kaya lang kailangan kasi, humalik ka sa lupa. Kailangan makatikim ka ng hirap. You won't know what is valuable if you don't understand," he explained.
His wife cried upon learning about the size of their financial purse, but Reyes reassured her. "We'll get by," he said. When asked how, Reyes answered with a laugh: "Gapang. Gapang talaga."
As a student who shifted from architecture to fine arts, Reyes made ends meet by working through school, sculpting and designing. With very little budget, he used the cheapest material he could find at the time: wood salvaged from demolished houses and structures.
"Noong araw kasi, ang kahoy naman, yan ang murang kahoy eh. Kasi hindi pinapansin yan. basura lang yan, panggatong sa mga gotohan and pandesalan. That was what was readily available for me, so that was what I started working on," he shared.
Years later, and with more materials available, Reyes still uses salvaged wood, and what was once his only resource has now become his trademark and advocacy.
According to him, aside from being easier on the environment (because no new trees are cut down), these woods--molave, dungon, yakal--are stronger and sturdier, a rarity in these days when lumber is harvested from trees that have barely matured.
His house is the best example of his work, a tapestry of resurrected wood. The result is a masterpiece of a house, with polished wooden beams and walls and doors and chairs and tables, even kitchen countertops that gleam subtly in the sunlight. Thematerial leaves a nice smell too—a lingering earthy scent reminiscent of forests and all things flora.
This visual feast
To enter his home, which he has named "Tahanan," is to enter a different world where it feels like everything is upside down and yet makes utter sense. Carvings in Baybayin line the main door frame. Overhead, the beams undulate, and you find yourself thinking that wood is stiff and graceless, that it isn't supposed to look like flowing water—and yet here it does.
Intriguing shapes and structures accost you every few meters: a sinuous door, a rippled cabinet, a curved lounge chair called the "Juan Tamad," a wavy banister, colorful tapestries, strange-looking masks, a whimsical sculpture of children holding glass balloons. . .
His home is, simply put, a visual feast, no wonder it's been featured over and over in magazines and newspapers here and abroad. And yet for Reyes, what makes his home a home is not the furniture, nor the doors, nor the sculptures--not even the family heirlooms.
"If I see and hear children laughing, masaya 'yung bahay, that is what completes a house" he said.
A family man, a man for nature
Laughter and warmth are certainly in abundance at Tahanan. It is quiet when you first walk in—only the sound of birds and rushing water. The further in you go, you realize how much love is shared by the people who live on the compound.
His house help and workers invited Reyes to join them for lunch as he walked by. Their children smiled shyly as they touch his forehead to their hands in that traditional gesture of respect. In one of the rooms, another group of his workers' children gathered with a teacher for games and storytelling, giggling all the while.
"We provide them with that, para yung mga bata, yung environment nila, maganda. When they grow up, hindi aasa yung mga anak sa magulang. Yung mga magulang nila, inaayos namin yung buhay, para di sila umasa sa mga anak nila."
He and his wife Carina shared a happy exchange as they showed off their shared toy collection. Even in the physical absence of their daughters, Reyes spoke of them endlessly, clearly a proud father.
"I designed the house built around my family, my three girls, my wife and daughters para ma-achieve nila yung dreams nila, and para ma-hone din sila, mahugis din yung mga kinabukasan nila," he shared.
"That's why they're free-spirited, strong-willed and everything. I think the house did that to them."
Later, he revealed that his tattoos are his daughters' names in Baybayin—explaining that he got the tattoos so that his daughters are with him wherever he goes.
Art, nature, wood, whimsy, laughter, family—these are the elements that make up Benji Reyes' beautiful home. Just add a little dash of crazy. Not much, but just enough to find art in discarded planks of wood, paradise in a sloping cliff, hope in the greatest of struggles, and happiness just about anywhere. – KDM, GMA News