SM Foundation introduces 17th batch of SM scholars
SM Foundation, Inc., the socio-civic arm of the SM Group of companies, is celebrating 30 years of commitment to its philosophy of "People Helping People" by welcoming 340 new scholars under its SM College Scholarship Program.
"SM Foundation has always been driven to serve the communities where its department stores and supermalls operate from," said Linda Atayde, executive director for Education at SM Foundation. "Through the SM College Scholarship Program, SM Foundation has been able to help realize thousands of dreams for a better future through education."
Now on its 20th year, the SM College Scholarship Program continues to provide quality education to bright yet underprivileged students of our society. The program aims to create avenues in further advocating education as a priority and a right to every child, despite their social standing.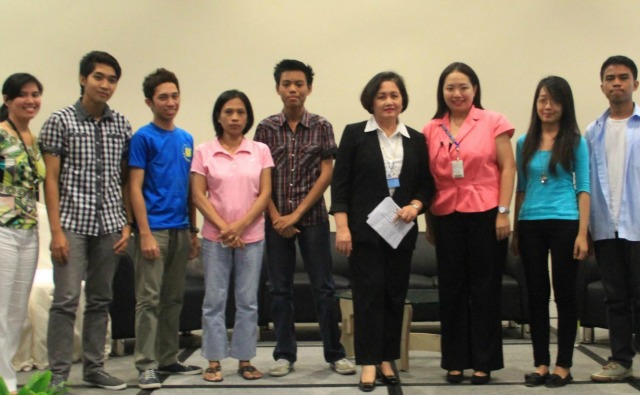 SM Foundation officials and SM scholars: (L-R) SM Foundation-Education project coordinator Valerie Lapid-Ramos, current SM scholar Ian Dela Cruz, graduating SM scholar Cedric Baybayon, Herminia Katigbak and son SM scholar Ervien Ace Katigbak, SM Foundation Executive Director for Education Linda Atayde, SM Foundation-Education program manager Lingling Lansang, and new SM scholars Bernadette Narciso and Christian Emmanuel Lucenario.
"The last four or five years of education is crucial in terms of career pathways. Despite not being able to be given the same privileges as most of us, these students have worked hard to achieve academically all throughout their high school years. It's now our turn to support them as they take one step further in securing a better future for themselves," said Atayde.
One hundred seventy scholars signed their contracts with SM College Scholarship program in SMX. The rest of the 340 scholars from Baguio, Pangasinan, Tarlac, Olongapo, Pampanga, Batangas, Lipa, Lucena, Naga, Cebu, Iloilo, Bacolod, Davao, General Santos, Cagayan de Oro, Cauayan and Tacloban simultaneously signed their contracts in select SM malls.
As scholars under the SM College Scholarship Program, they will receive free tuition and miscellaneous school fees and monthly stipend. They will also be given opportunities to work during summer and Christmas breaks in SM malls and Department stores and obtain possible employment under the SM Group of Companies after they graduate.
According to Atayde, SM Foundation remains committed in giving back to the community and providing more to our less fortunate brothers and sisters. "In the future, we will continue to create more avenues to bring in more deserving young men and women into the College Scholarship Program," she said.
The SM College Scholarship Program has 1,200 college scholars at any time nationwide. To date, 1,500 scholars have graduated from the program and many of them are gainfully employed with the SM Group of Companies and other companies here and abroad.
SM Foundation takes pride in its scholars' achievements. Last year, the 2012 batch of graduates composed of 164 scholars yielded 76 who attained Latin Honors and Academic Distinction: 3 summa cum laudes, 13 magna cum laudes, 45 cum laudes, and 15 with academic distinction.
Press release from SM Foundation, Inc.
Go to comments