Comelec releases video on dos and don'ts during Election Day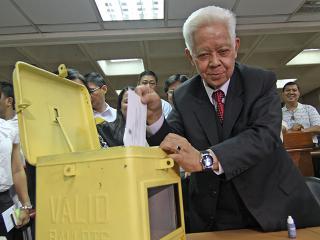 Poll chief Brillantes casts vote 14 days ahead of Election Day. Comelec Chairman Sixto Brillantes Jr. casts his vote on the second day of the local absentee voting at the poll body's head office in Intramuros, Manila on Monday. Government officials and workers, including police and military personnel, and, for the first time, approved, media practitioners who will be on duty on Election Day, are allowed to exercise their right of suffrage in advance. Danny Pata
The Commission on Elections released Wednesday its third voters' education video – this time it is about what voters should do on Election Day.
Tina Tama and Boy Bawal, the two main characters in the voters' eduction video, joined forces in informing the voters what they should and should not do before, during and after voting.
In the four-minute video, Tina Tama initially told a lady voter to check her name on the list of voters and locate her voting precinct. The voter was also told to bring a valid identification card but not cedula and barangay certificate.
The voter should then present herself to the board of election inspectors who will give her the ballot, marker and ballot secrecy folder.
The voter told to shade the name of 12 senatorial candidates and one party-list organization only because over-voting will invalidate the vote for that position.
Tina Tama said the voter should use the secrecy folder when bringing her ballot to the PCOS (precinct count optical scan) machine and while feeding it to prevent other people from peeking into her ballot.
When the voter successfully feeds her ballot to the machine, she will return to the BEIs who will put indelible ink on her finger.
Boy Bawal said it is prohibited to peek into the ballot of other voters.
He also reminded voters not to bring water or other materials that could smear the ballots.
He added that voters should not put drawings and other marks on their ballots.
Also, voters can bring their cellphone but will not be allowed to take a picture of their ballot.
Boy Bawal also asked the voters to leave the precinct after casting their votes.
In an interview, poll chairman Sixto Brillantes said only a limited number of people are allowed to stay inside the precincts and they are the BEIs, a technician and watchers.
"Very specific kung sino ang pwede pumasok sa presinto," he said.
He also said media people are not allowed inside the precinct.
"Media, no way. Sa premises lang, hindi pwede sa loob ng presinto. Not inside the precinct, the room itself," he said.
Brillantes said the video was the culmination of their voters' education project.
"Ipinakikita lang natin what are the correct things to do and what you are not supposed to do on election day. These are just simple reminders on the voting process. Kailangan paulit ulit," he said, even as he acknowledged media's help in thepoll body's voter education project.
"Media has been very helpful, naririnig ko palagi 'yan, kung paano bumoto," he said.
In the first video where
Boy Bawal was introduced
, he informed the public the prohibited acts and materials during the campaign period and on election day.
In the second video,
Tina Tama taught the people the legal and proper way of campaigning
.
— LBG, GMA News