CSI: Philippines —Why not?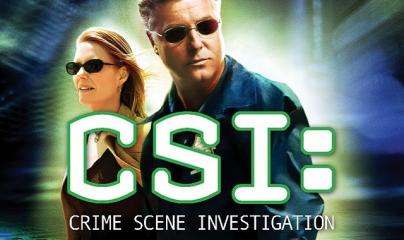 Crime Scene Investigation. Since its first episode in 2000, the hit television show has brought the idea of forensic science out of relative obscurity into the popular consciousness. Can the Philippines catch up? CBS
Thanks to the hit US television series Crime Scene Investigation (CSI), forensic science is now a part of pop culture around the world —and the Philippines is no exception.
But how far away are our real-life crime labs from the reel-life CSI?

Deplorable state of local forensics

"We are very much behind compared to first world countries and even behind some of our contemporaries in Asia," forensic pathology expert Dr. Raquel del Rosario-Fortun told GMA News Online, lamenting what she sees as the country's deplorable state of forensics technology.
A pioneering Filipino forensic pathologist, Fortun is currently a professor at the UP College of Medicine. She is sometimes commissioned as a consultant for high-profile crime investigations.
"Forensic science provides you with very clear tools to answer questions that will help you in your investigation," says Dr. Maria Corazon de Ungria, director at the University of the Philippines-Diliman's DNA Analysis Laboratory and founder of
the Innocence Project Philippine Network (IPPN)
.
De Ungria's credentials are certainly dead serious: she was named Outstanding Young Scientist in 2003 by the National Academy of Science and Technology and was inducted to the UP Gawad Hall of Fame for Best Research Extension and Professional Staff (REPS) in Research in 2005.
In essence, she says, forensic science is the application science to matters of law.

Forensics makes for better informed judges

"For DNA forensics, we provide the tool to answer your question on who, for forensic pathology, we'll be able to answer the question of the cause of death, and for forensic entomology, we may know when is the time of death," de Ungria explained.
"The judges will be able to make better informed decisions," she added.
The IPPN aims "to bring hope to the wrongfully convicted and to empower law enforcement to leverage the power of DNA, in order to give a broader impact on the judicial system."
According to the organization
, in the United States alone, there have been 306 post-conviction exonerations using DNA testing, according to Innocence Project US Chapter. On average, these prisoners served about 13.6 years behind bars before they were acquitted.
DNA Testing —arguably one of the best weapons in any CSI lab's arsenal, used to positively identify a person based on biological evidence at a crime scene— has been available in the Philippines since 1999. But it is not a standard procedure for all cases, not the least reason being its prohibitive cost: at least P45,000 for the most basic procedure.
Since its inception 14 years ago, in 1999, the University of the Philippines–Diliman's DNA Analysis Laboratory has performed just over 500 DNA tests for criminal, civil, or private cases.
Testimonial evidence: Leading cause of wrongful conviction
According to the Innocence Project, eyewitness misidentification testimony is the leading cause of wrongful convictions.
The same is true in the Philippines, Fortun and de Ungria both concurred.
"I think from my experience, reliance on testimonial alone [ang dahilan ng pagkakaroon ng maling hatol]… you need testimonies... ang mahirap lang sa atin, we stop there," de Ungria said. "Paano 'pag bumaligtad ['yung eye witness mo?], where is you credibility?"
"Physical evidence is more reliable than circumstantial evidence. [Philippine cases are usually] based on circumstantial evidence and witnesses pointing to people. Kapag tinuro ng isang witness, positive identification, 'yun na 'yun [tapos na ang kaso]. Sa ibang bansa, hindi pwede 'yan. Hindi porke tinuro mo, ay tama ka," Fortun added.
In a court ruling in 2004
, the Supreme Court disclosed that or 71.77 percent or about 651 out of 907 convicts on death row (from 1993 to 2004) had been saved from lethal injection after their cases have been reviewed by the High Court.
At present, the Innocence Project Philippine Network is currently reviewing 37 cases, which could contain cases of wrongful conviction.
Lack of archived evidence from past cases
Although forensic technology is available, Fortun lamented that there is little material to go on.
"Even if we have the technology now, the problem is we do not have evidence from old cases," she said. "As crimes are committed now, ganun pa rin ang nangyayari, walang kinukuhang ebidensya. Very minimal sa mga krimen na nangyayari ngayon [ang kinukunan ng ebidensya]."
De Ungria concurred, saying: "The biggest limitation of DNA testing is we need to have biological samples to get a DNA profile… I can't do DNA profile from thin air."
DNA evidence should be collected in cases of rape and homicide, she said, but this is not a standard procedure in the country.
The key to forensic science: Law and Education
A systemic change in laws and education needs to happen for forensic science to become an integral component of the Philippines' judicial system, Fortun and de Ungria believe.
"In the first place our laws are deficient," the forensic pathologist said. "There is no system by which you automatically have these deaths investigated… Kung maibestigahan man, ang quality rin ay questionable."
For her part, Dr. De Ungria said: "We really need more support from government. We've got technical expertise. Financial [challenge] nandyan na. But the system don't allow us to push."
"With these developments in science, we need to revisit and see our laws to adopt those," she added.
On education, Fortun noted that aspiring police officers should pursue courses related to physical and applied science rather than social science like B.S Criminology.
"Take B.S. Criminology, that very notion shows how dated [our] thinking is because when you say Criminology that is social science, behavioral science 'yan e: the study of criminal behavior. 'Yun 'yung luma na concept to be a criminologist," she explained.
"Naiiwan na tayo," she added. "Ang tinitignan mo na 'yung mga physical evidence -- buhok, fiber, shoe print, shoe impressions, fingerprints. Ang tawag na dyan Criminalistics, physical science na. 'Yun yung pinapanood niyo sa tv na imbestigador sa CSI," she added.
Sadly, Fortun said that no university in the Philippines currently offers a Bachelor's degree in Forensic Science.
Also, apart from policemen, there is little forensic science training for lawyers and doctors.
Still, Fortun noted that she is hopeful that the status of forensic science will improve in time.
"Everyday lumalabas ang kapalpakan [sa sistema], walang pagbabago. What does this mean, mataas ang threshold natin for indignation? Ganun ba tayo as a people, tanggap na lang ng tanggap? But, I am thinking that with the improved economy, baka sakali [magbago ang ating estado]." — TJD, GMA News