Among the pawikans and dugongs of Dahican Beach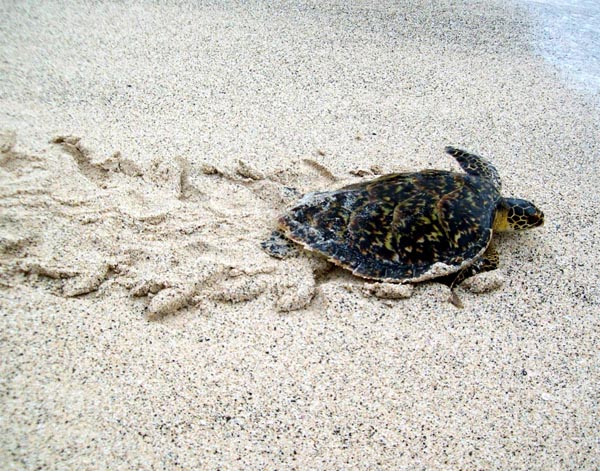 Newborn pawikan. During the months of May and June, two marine turtle species come ashore to Dahican Beach, dig holes in the sand, and lay their eggs there.



Dahican is a local term which means "to come in from the sea." The beach is not only known for its white sand and surfing activities, but also for the marine wildlife that thrive in its waters.

These include the pawikan, the local term for marine turtles. Hawksbills and Olive Ridleys are the turtle species that have made Dahican's shoreline their nesting site.

These two species are listed in the International Union for the Conservation of Nature and Natural Resources as endangered. What this means is that "they are in danger of extinction and whose survival is unlikely if causal factors continue operating."
During the months of May and June, the two marine turtle species trudge ashore to dig holes in the sand and lay their eggs there.
"If you're lucky, you can swim along with the pawikan in the waters," said George Plaza, the leader of the Amihan Boys, a group of local skimboarders and surfers.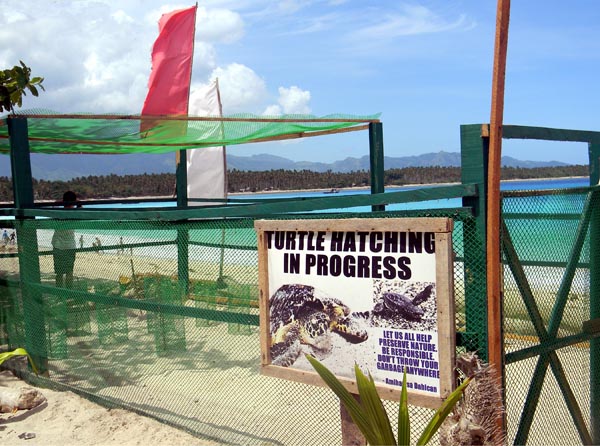 Being a protected marine reserve, don't think it strange if you find two cordoned-off areas of sand on Dahican Beach with the sign: "Pawikan in Progress."
Marine turtles are just one of the wildlife species found in the waters of Mayo Bay, though. Dugongs also thrive there. They used to abound in Philippine seas but their numbers, according to the Protected Areas and Wildlife Bureau, have since dwindled in some parts of Mindanao as disturbances in their habitat increased.
Dugongs in danger
A few years back, the authorities of Mati were alarmed when several dugongs died, caught in a fisherman's net.

"The marine turtles and dugongs have been around for millions of years and have been important players in the balance of the marine ecosystem. If we lose them, there will be some serious effect on the ecosystem which provides us with so many benefits including water, oxygen, food, and even medicine," noted Dr. AA Yaptinchay, a veterinarian and head of the Marine Wildlife Watch Philippines.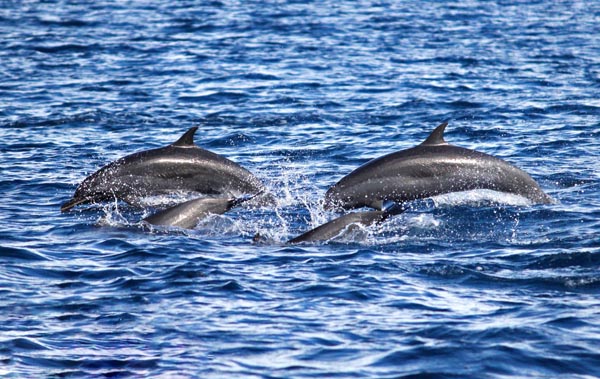 Thar they blow! Go out the coast far enough and pods of dolphins may be spotted cavorting in the waters. (Photo courtesy of Richard Villacorte)
In one of my recent visits to Mati, I joined the city administrator Richard Villacorte for a round of dolphin watching.
Watching the pods
At an early 5 a.m., before sunrise, we sailed into Dahican waters in a tiny outrigger. After an hour, the first dolphin showed up. Then another. We shut off the boat's engine and silently bobbed around for a while. But no fin showed up again.
A bigger boat approached us, and its captain told us that he had just passed a large pod cavorting nearby a few minutes ago. We started with the chase anew.
Jojie Alcantara, a fellow journalist whose fascination with sea creatures started when she read, "A Field Guide to Whales and Dolphins in the Philippines," penned this observation after our trip:
"It was a remarkable day for us. We ended up coming across different species, ones I have to look up on my field guide book again. Normally, the long-snouted Spinner and bottlenose dolphins were the most familiar ones the locals would see, but for them the new pod was unfamiliar, shiny black or dark gray in color, bigger and slower than the usual spirited and bouncy ones. They were around us, fins protruding, and disappearing underneath our boats (my wild guess is that they are short finned pilot whales, but judging from the varied fin shapes there could be a mixed pod of sorts)."
Mati City is about three- to four-hours drive from Davao City, while Dahican Beach is easily accessible by any means of transportation through mostly paved roads. It's about 15 minutes away from Mati's downtown city proper. – KDM, GMA News