Namfrel reports switched ballots, defective PCOS machines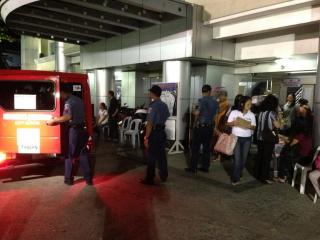 Election materials being sent to various poll centers in Taguig. Comelec election paraphernalia are being distributed to different schools serving as voting centers in Taguig City. Steve Dailisan
Just a few hours after voting started Monday, Election Day, reports of switched ballots and vote-counting machines that were either missing or malfunctioning have reached a citizens' arm group of the Commission on Elections (Comelec).
National Citizens' Movement for Free Elections (Namfrel) council member Dammy Magbual told GMA News Online that they have received reports of malfunctioning Precinct Count Optical Scan (PCOS) machines at a precinct in Daraga, Albay.
Also, no PCOS machines have been delivered to Sumisip, Basilan, in the Autonomous Region in Muslim Mindanao (ARMM), he added in a phone interview.
"Another fatal blow in the logistics of Comelec is… some ballots in Antique were shipped to Romblon," he said, adding the ballots were sent to a public elementary school in Odiongan, Romblon.
"If you sent the ballots to Romblon intended for Antique then you are disenfranchising practically the voters there," Magbual noted.
Namfrel has yet to issue a complete list on election glitches reported on Election Day.
GMA News Online was still trying to reach another citizens' arm, the Parish Pastoral Council for Responsible Voting (PPCRV), for updates on the conduct of elections as of posting time.
Cesar Flores, president of PCOS supplier Smartmatic Asia, said he expects around 200 to 300 PCOS machines that need replacing on Election Day. Some 78,000 machines were distributed around 40,000 locations nationwide for the elections.
The country is having its second automated national elections on Monday. Voting started on 7 a.m. and will last until 7 p.m.
— Marc Jayson Cayabyab/KBK, GMA News