1 dead in Sulu province poll violence; armed clashes noted in some towns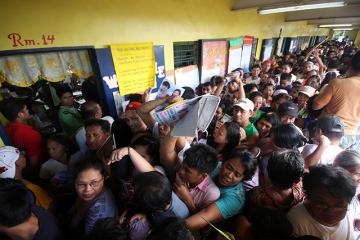 QC voters endure 'discomfort' just to cast votes. Voters push and shove each other as they overcrowd a corridor leading to a polling precinct at the Corazon Aquino Elementary School in Quezon City on Monday, May 13. Asti Flores
One was killed and four others were wounded when armed men attacked Monday morning a group of supporters of a mayoral candidate in Panglima Estino town in Sulu, even as military sources noted armed confrontations had also taken place in other towns in the province.
Citing military sources, GMA New's reporter Chino Gaston said armed men ambushed a group of supporters of mayoralty bet Munib Estino.
The four who were wounded were rushed to Sulu Integrated Provincial Hospital, the report said, adding military personnel rushed to the area to de-escalate the tension there.
Meanwhile, tension also gripped Tongkil town residents when a firefight erupted between the group of mayoral candidate Hadji Abdullajid Alih and Sulu gubernatorial candidate and incumbent Mayor Wahid Sahidullah, Gaston said.
Military personnel were deployed in the area to contain the situation, he added.
In Omar town, some PCOS machines were damaged and ballots were splashed with water in an attack on a polling precinct there, Gaston said.
Gaston, however, said elections in Jolo town was peaceful, but a few children were seen handing out campaign materials and candies bearing senatorial candidate Tingting Cojuanco's name.
Despite armed confrontations in some towns, "elections continue in Sulu province," Gaston quoted local Comelec officials as saying.
Sulu province has been included on the list of "
areas of concern
" being monitored by Comelec.
Earlier, the Armed Forces of the Philippines spokesman Brig. Gen. Domingo Tutaan Jr confirmed that police personnel on poll duties in Tongkil have been
replaced by troops from the Philippine Marines
to protect the cops from partisan political influence.
— LBG, GMA News