Divisoria mall fire under control, damage pegged at P250M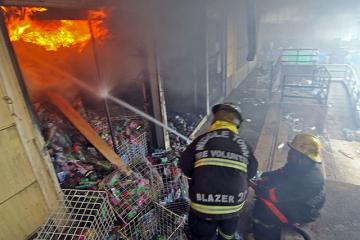 Fire razes Divisoria Mall. Firefighters from various Metro Manila cities train their hoses on a burning stall during a fire that razed the Divisoria Mall in Manila on Thursday. Firefighters said thick smoke continued to come from the mall's basement, which contained tenants' merchandise such as textiles and toys. At least 45 fire trucks had arrived at the scene to help contain the blaze. Danny Pata
Some 39 hours after it started, the fire that hit a mall in Manila's Divisoria district was finally placed under control Friday afternoon.
But firefighters are still unsure when the fire at the New Divisoria Mall will finally be put out, radio dzBB's Roland Bola reported early Saturday.
Senior Superintendent Anderson Comar, Bureau of Fire Protection Metro Manila deputy director for operations, said they estimate the damage to property so far at P250 million.
Comar said the rain Friday helped cool the area.
At least nine people had been injured since the fire broke out shortly after midnight Wednesday, he added.
The dzBB report said the firefighters declared the fire under control at 3:37 p.m. Friday, even as firefighters started entering the building to battle the flames.
Initial investigation showed the fire started at the basement of the mall and spread to the upper floors.
Firefighters had been shuttling between the site and water sources since Thursday to put out the fire. — ELR, GMA News