Movie review: Lifestyles of the rich and infamous in 'The Great Gatsby'
Leo DiCaprio needs another acting vehicle like he needs a blood diamond trepanned into his head.
Still, it is what it is. Baz Luhrmann brings to life another period piece after "Moulin Rouge" and "Romeo + Juliet". And in 3D, no less. Which is to say that, while I did see this on 3D, its uses are about 50/50 in terms of a movie that actually needs it—like a CGI-heavy hitter, let's say. So it's more for the benefit of young viewers who've gotten used to visual dazzle accompanying every big budget Hollywood release. Not bad, but the 2D version is nothing to snort at, either.
Just to get things out of the way, this movie is the fifth adaptation of F. Scott Fitzgerald's 1925 novel. There's the 1926 silent film (good luck getting copies), the 1949 Alan Ladd-starrer (ditto), and a 1974 adaptation with Robert Redford in the title role (watch it on DVD!).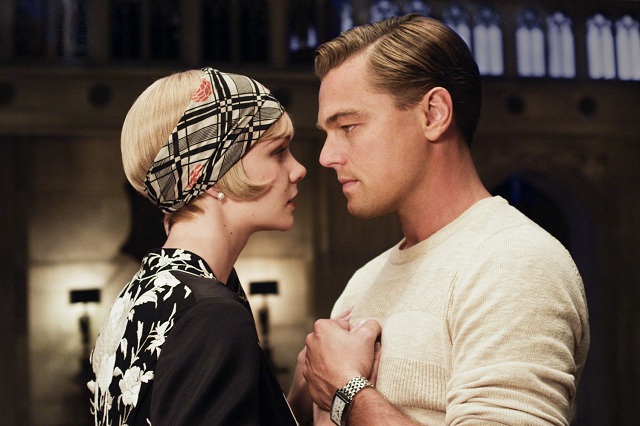 Jay Gatsby (Leonardo DiCaprio) seeks out his old love, the beautiful Daisy Buchanan (Carey Mulligan).
It's an unwritten rule in criticizing adaptations not to hold up the movie too much against the light of the literary material's accomplishments or said previous attempts at shooting it. Classics, especially, are tricky since authors tended to take more time in establishing characters and atmosphere in line with being the dominant form of entertainment back then.
It'd be wise to keep an open mind with medium-to-medium loss of material. Luhrmann, however, has opted to be almost word-for-word (and story arc) faithful to the original novel that Fitzgerald's estate should get co-screenwriting credits as well as royalties.
That's where similarities end, though. Which also makes it fair game.
See, in many places—I dare say 80 percent of it—it truly is a triumph of sparkle over substance. But before we get to that I assure you that, yes, eye candy this truly is.
The Roaring Twenties is brought to life with
flapper fashion and dapper men
, from New York's coal sprawl dubbed the "valley of ashes" to the gazillion
-
dollar lifestyles of all tomorrow's parties at Gatsby's sprawling mansion.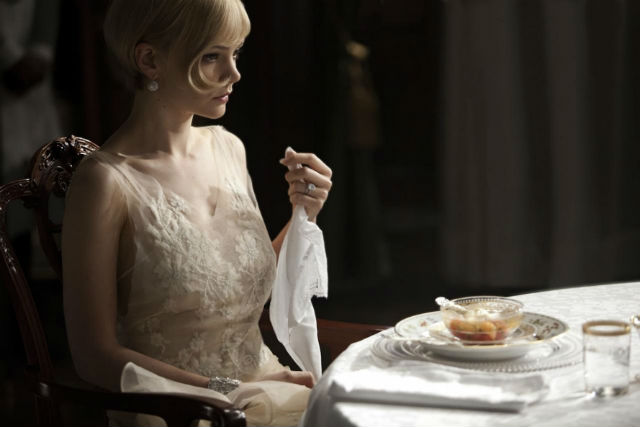 Daisy Buchanan (Mulligan) vacillates between adorable and callous.
The dazzle is just about everything you'd expect from it: over the top and, like Jay Gatsby (Leonardo DiCaprio) himself, hungrily ambitious. You've probably seen the trailer where an ecstatic Gatsby flings shirt after expensive shirt to drown a delighted Daisy (Carey Mulligan)? That scene was done with dizzying, emotive camera work.
The cast also do their best to embody Fitzgerald's tropes: Tobey Maguire as Carraway is a great third man, and Mulligan as Carraway's cousin Daisy Buchanan, the beautiful woman with a voice "full of money", aptly vacillates between being adorable muse and callously shallow bitch.
With DiCaprio's Jay Gatsby, Mulligan and Maguire fill out a great triad of flirtatious spectacle and chaperone, where the star-vexed lovers act out, at times, for the benefit of Carraway as much as themselves. But yet again with intensity, discipline, and sheer thespian focus Leo breathes life to the titular character and hits it out of the ballpark.
A notable performance in the A minus cast is Joel Edgerton's Tom Buchanan. His arrogant blueblood is so smug and entitled, his villainy is easily hateful yet imbued with sympathy—you understand that brutish stupidity in rich people isn't something to envy, it's to be pitied since they can't help themselves. As a runner-up, Isla Fisher's Myrtle really does come through with what we'd term today as ghetto sexy.
The dances, the spectacle, the fireworks are all here with a very contemporary, well-chosen soundtrack that includes Adele and Jay-Z. It's everything you imagined from Fitzgerald's book, only magnified through a Luhrmannesque circus.
More so since it's filtered through the eyes of Nick Carraway (Tobey Maguire), the Yale University graduate and World War I vet who gets drawn into the mystery and entangled lives of Long Island's high society. He's already left the Midwest to come to New York City in the spring of 1922 to go sell bonds and find himself.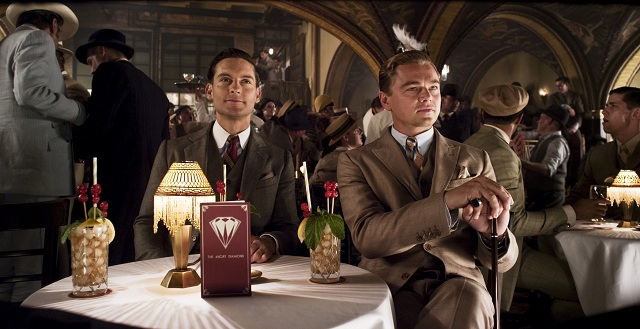 The divide between old-money East Egg and upstart West Egg is seen through the eyes of ex-soldier Nick Carraway (Tobey Maguire, left).
It's an era of loose morals, jazz on the ascent, bootleg booze kingdoms, and soaring stocks. But Carraway is just a depressed alcoholic who's just visiting his psychiatrist. As he recalls his exploits, he talks about his next door neighbor, the mysterious millionaire Jay Gatsby. Struggling to articulate his thoughts, his doctor suggests writing it all down, and so a journal of his years in the suburban world of East and West Egg islands unfolds.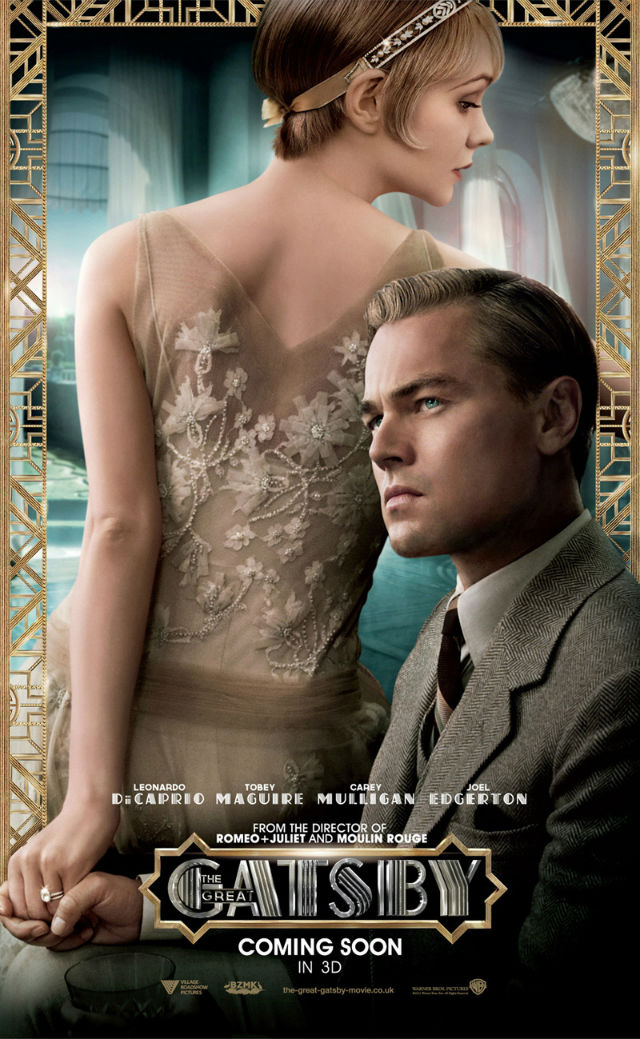 Luhrmann's The Great Gatsby: Mostly sparkle over substance.
Who is Gatsby? Notorious party-thrower? Yes. Decorated former soldier? Yup. Then we find out that the truth is way more complicated.
"Romeo + Juliet" will always loom large in any of Luhrmann's period movies, but like the epic fail of "Australia" (the running joke is that not even Aussies liked it), "The Great Gatsby" goes overboard with the visuals and still manages to crash and burn in the attempt to translate the spirit of Fitzgerald's novel onto celluloid.
Whereas F. Scott's work—albeit a hard read with the sentences trying to mimic odd time and the free-form riffs of jazz—was filled with subtle layers of commentary on post-War respectable society, as well as the emotional power play that sneered at the attempts of a self-made man to somehow buy himself into blue-bloodedness as the last dismissive wave of dynasties against rising capitalism, Luhrmann's movie inflates everything into absurd enormity.
It even manages to drown out the actors' attempts at inhabiting the period playground. In places, and especially in the long, drawn-out scenes intended to be Carraway's struggles in internal monologue in the novel, you can't help but question the showing AND telling aesthetic.
Like the floating text (you'll see what I mean). I found that more than a tad bit disturbing. We're already paying homage to the novelist as meta voice, do we need to see his words too? It's unnecessary. It distracts from what we're watching. It also makes the film hard to take seriously. I mean, floating text: seriously? Why hire these actors if you're literally going to spell out their thoughts?
This should have been an Op-Ed piece on the follies of class and the perils of slumming it (or vice-versa, yeah, Fitzgerald got the reverse covered, too); especially if it's a game to everyone else except Gatsby. Instead it's mostly flash. Calculated peacocking.
The tragedy at the end hits hard. Just not as viscerally hard as all the previous hype to it would merit. It ends in murder, the indignity of a bullet from which there is no final indignity. Oh, these "beautiful fools."
Watch it with patience. Watch it for Leo. Expect no miracles.
— BM, GMA News
The Great Gatsby is rated PG-13 and is currently screening in all major theaters.

All photos courtesy of Warner Bros. Pictures