PSG insists morale 'never been higher' despite rob mess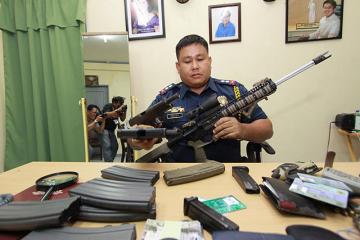 QCPD busts two PSG for alleged rob job. Quezon City Police District Station 5 chief P/Supt. Eleazar Matta inspects the high-powered firearms and ammunition seized from two members of the Presidential Security Group after a concerned citizen called up the police. The two were believed involved in a robbery at an auto supply shop. GMA News
Despite the arrest of two members of the elite Presidential Security Group over their alleged link to a robbery incident in Quezon City, the head of the PSG insisted the presidential guards' morale has "never been higher."
PSG head Brig. Gen. Ramon Dizon said the PSG's members realize the case involving Marvin Gaton and Bobby Atis is an "isolated case" and does not involve the entire unit.
"The morale of the PSG has never been higher. Even this incident... this is an isolated case. It does not involve all of us, maybe one or two individuals," Dizon said on government-run dzRB radio.
He added the incident "does not affect" the work of the other members of the PSG, an elite presidential security unit with members from the country's various armed services.
"This is an isolated case and does not affect the whole organization," he said.
On Friday, Gaton and Atis were placed in police custody after they were linked to the robbery of an auto detailing shop in Quezon City.
Dizon said an investigation is still ongoing, but if the two are later found liable, they may face criminal charges along with administrative sanctions, including demotion and discharge from the service.
But he also reiterated his appeal to the public to wait until the investigation is over, before passing judgment on the two. He also said the PSG is monitoring developments on the case.
— LBG, GMA News