Many Pinoys still want to work in Taiwan despite hiring freeze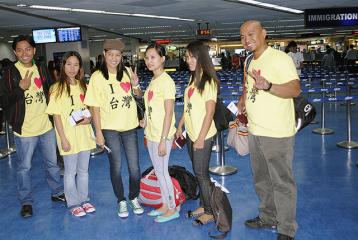 Taiwan-bound OFWs in 'I Love Taiwan' shirts. Taiwanese may think twice before harassing these Pinoys, who are migrant workers returning to Taiwan while sporting 'I Love Taiwan' shirts. Photographed while waiting for their flight at NAIA , the returning OFWs, who work at an electronics factory in Taipei, said they bought the shirts from their recruiter for P150 each. Ariel Fernandez
Even after Taiwan stopped the hiring of new overseas Filipino workers (OFWs) early this month, many Filipinos are still seeking work there.
According to a report of Jam Sisante for GMA Network's "24 Oras" newscast, the freeze hiring failed to discourage Filipinos like Marilou Bongcalos, a factory worker in a Philippine province.

"Sana po matanggap kami kasi yung sahod dito mababa. Kung baga nasa probinsya ka, provincial rate talaga yung pinaka ano nila [sweldo]. Pinaka minimum P325," Bongcalos told Sisante.
However, workers like Bongcalos would have to be more patient because the Taipei Economic and Cultural Office (TECO) imposed new requirements to secure a working visa, such as an NBI clearance and birthday certificate authenticated by the Department of Foreign Affairs (DFA) and the TECO which may take up to five days to process.
Applicants are now also required to have a unified multi-purpose SSS identification card which may take from two weeks to a few months to obtain.
Once an applicant completes all the requirements, he will have to wait for 14 working days for the processing of his application when previously, this only took three to five days.

Expediting the process
Amelita Guinto, marketing consultant of AU Management Services Inc. said they are working out ways to expedite the process for jobseekers.
"Ang dami-dami and it takes a lot of time bago makakumpleto [ng requirements] ang isang aplikante," Guinto said.
Due to this, Guinto said that our competition will definitely get the best of us.
"May ibang countries tayong competitiors like Indonesia, Vietnam and Thailand," Guinto explained adding "Yung employers dahil may production period na kailangan punuan yung mga yan hindi siyempre sila makakahintay."
Meanwhile, the Palace said the Department of Labor and Employment is already looking for alternative countries for Taiwan-bound jobseekers.
Taiwan-Philippines row
The row between Taiwan and the Philippines stemmed from the alleged shooting of Taiwanese fisherman Hung Shih-cheng, who was suspected of poaching by the Philippine Coast Guard (PCG) on May 9.
The PCG claims that the incident occurred in the Balintang Channel but Taiwan said satellite records show that the fisherman was within Taiwanese territory.
After saying the initial apology of the Philippines for the incident was insincere, the Taiwanese government issued an order freezing the hiring of new Filipino workers.
Taiwan demanded for an apology from the Philippine government, compensation for the family of the slain fisherman, impartial investigation on the incident, and bilateral talks between Taiwan and the Philippines to avoid similar incidents.
Taiwan also recalled its envoy to Manila in protest of the killing.
The death of the fisherman has caused public outrage in Taiwan with some Filipinos bearing the brunt of their anger.
Taiwan's president has already called out to his countrymen not to involve Filipinos who have nothing to do with the incident.
- Andrei Medina, VVP, GMA News