Filipina dancer in Joffrey Ballet comes home for a show
As a dancer with the Chicago-based Joffrey Ballet – dubbed as "America's premier ballet company" – Christine Rocas has graced countless stages across the United States, taking the lead roles in classical and modern pieces.
Despite her extensive experience with the Joffrey, however, the Filipino ballerina admits to feeling nervous about performing in a Philippine production for the first time in eight years.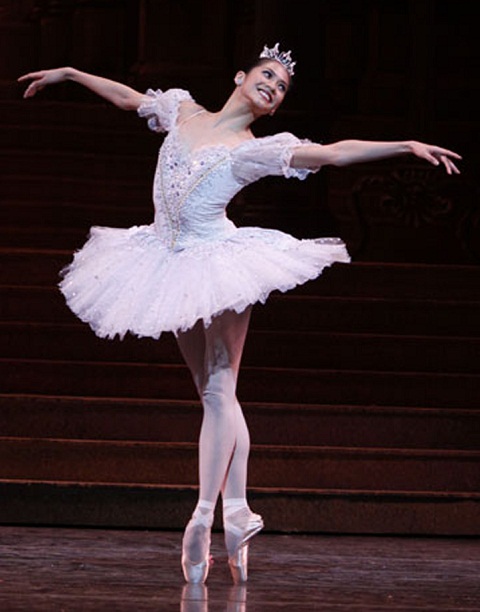 Rocas is in Manila to dance in the Stars of Philippine Ballet gala, a rare gathering of the finest Filipino ballet artists here and abroad led by prima ballerina Lisa Macuja-Elizalde, which will go on stage on June 1, at the Aliw Theater in Pasay City.
"It almost feels like I have something to prove but at the same time, no, because why think about that? Why not just dance? I feel a lot of pressure going into this performance but it's exciting. It's nice to be back," Rocas said.
The 27-year-old ballerina is eager to also watch the performances of other Filipino talents featured in the Stars of Philippine Ballet, among them her former mentor Lisa Macuja-Elizalde, Candice Adea of Hong Kong Ballet, Aileen Gallinera and Eduardo Espejo of Ballet David Campos, Marcelino Libao of Hamburg Ballet and Jared Tan of Atlanta Ballet, along with local groups Ballet Manila and Philippine Ballet Theatre.
"It's a good learning experience to see what others will be sharing artistically, the steps, the techniques. I'm looking forward to the other pieces that the other Filipinos who are coming will bring," she said.
Rocas will be performing with perennial Joffrey Ballet partner Mauro Villanueva, who recently turned freelance. They will dance two pieces from the Joffrey Ballet repertoire – Reflections by Gerald Arpino and Bells (Pas de Deux) by Yuri Possokhov.
A former rhythmic gymnast who was already part of the Philippine national team, Rocas initially enrolled in ballet to supplement her skills in gymnastics but eventually decided to take up ballet full-time.
As a student of the Ballet Manila School, she was trained in the Russian Vaganova technique which she credits now for her being a strong dancer.
"Ballet Manila helped me get a solid foundation as a dancer. The classes are so difficult, but that's what has gotten me so strong. Of course, I'm always pushing to be better technically, but for the most part, it's already there. Like even on my off day, it's still there. It's almost second nature now, the simple steps that we do everyday."
As a dancer with Ballet Manila, Rocas took on roles in The Nutcracker (Sugar Plum Fairy), Le Corsaire (Medora), La Bayadere (Nikiya), Swan Lake (Odette/ Odile), Sleeping Beauty (Bluebird pas de deux) and Don Quixote (Dryad Queen).
She competed and won various awards in international competitions, most notable of which was the silver medal at the New York International Ballet Competition in 2005 which came with the Arpino Award – a one-year contract with the Joffrey Ballet. She was eventually offered to join the Joffrey as a company member.
"It was a difficult decision, but I have no regrets," said Rocas, whose performance schedule with the Joffrey fills 38 weeks of the year. Aside from three seasons of 10 performances each at their Chicago base, she also joins the company on several tours in venues across the United States.
Rocas was given lead roles with the Joffrey starting with Giselle in 2008. She has also performed in Cinderella, Romeo and Juliet, Age of Innocence, After the Rain and Stravinsky Violin Concerto.
"Christine Rocas was last seen by Manila audiences in her debut as Odette/Odile in the full-length Swan Lake. I am very excited to see these dancers who are like our children come home to dance," said Macuja-Elizalde.
She added that Filipino dancers based abroad need to be seen by their countrymen, the reason she decided to produce Stars of Philippine Ballet.
"Dancers have such short careers as active performers and it is important that we watch and be inspired by each other's successes in this extremely challenging field of the performing arts," Macuja-Elizalde said.
For ticket inquiries to Stars of Philippine Ballet and other information, please contact Ballet Manila at telephone numbers 525-5967 or 400-0292 or Ticketworld at 891-9999 or ticketworld.com.ph.
- Press release from Ballet Manila
Go to comments