NU Bulldogs and UE Red Warriors seek second FilOil title
The FilOil Flying V Hanes Premier Cup has come a long way from being a mere warm-up tournament. More than ever in its eighth year, teams have used the tournament less as a proving ground for their own players, but more as a grand podium from which to make statements to both their supporters and their rivals.
Nobody knows this right now more than the National University Bulldogs and the way they've approached the tournament throughout the Ray Ray Parks era. In his rookie year, they let Parks loose and let the basketball world know that they have a star. Last year they surrounded him with troops to prove that they don't need the ball in Parks' hands to hurt you on the floor. This time, coach Eric Altamirano's core is back to prove that last season was no fluke, and that this pack of Bulldogs is more dangerous than ever.
[Check out the numbers of these two teams in our infographic]
This tournament has seen less of Emmanuel Mbe and more of Alfred Aroga, which has been surprisingly good for NU. Their new center has also matured in the span of 10 games, going from a point guard wannabe to a top-five rebounder and shot blocker, while showing an unpredictable face-up offensive game (which, admittedly, isn't an automatic plus for the Bulldogs). Briefly, it means that Parks has the best supporting cast in his collegiate career and it's on him to will his side to victory.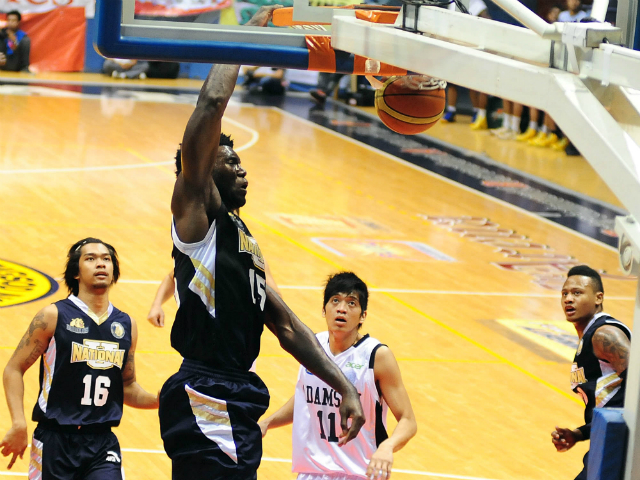 Alfred Aroga's (C) tourney-long improvement has seen him refine his game on both ends of the court.
KC Cruz
After a seventh-place finish in the last UAAP season, few could've predicted that coach Boysie Zamar would turn things around this quickly for the University of the East Red Warriors. We saw how UE shackled La Salle in their elimination round meeting, on the way to topping their bracket. But what isn't entirely captured by the win column are the better decisions the Warriors make on offense, their scrappy play on defense, and how, quite possibly, we can't ridicule Chris Javier anymore for telling us last year in Filipino that "the Warrior's blood flows through his veins." If anything, this year's FilOil run proves that anyone who crosses UE is in for a fight.
Apart from Roi Sumang, the Warriors individually are a largely unremarkable and streaky bunch. Their offensive rating of 91.79 (eighth overall against NU's league-leading 96.62) however belies how explosive they can be when all cylinders are firing. Credit goes to JR Sumido who has developed into an efficient scoring option from all over the floor. But the defensive end is where they distinguish themselves, with a defensive rating of 80.18 (second overall; NU is rated third at 83.26). UE's active defense, anchored by the hulking Charles Mammie in the center, has been a difference-maker for them throughout the tournament.
On one hand you could say that the Red Warriors deserve a pat on the back for just making it this far. But Zamar has repeatedly told the press that these Warriors have tasted sweet victory, and they're not ready to leave the feast.
The NU Bulldogs will win because...
The Bulldogs have the best front court in college basketball by a considerable margin. Aroga, Mbe and Troy Rosario are two-way players and bring varied skill sets on offense. Coach Eric Altamirano can play big or small without having to sacrifice speed or firepower. Individually, they should be able to outplay their UE counterparts in Mammie, Javier and Adi Santos.
Even if the Warriors are able to keep Parks in check, it'll be difficult to suppress the rest of the Bulldogs. Point guard Gelo Alolino is another player besides Parks who can create his own shot, while finding opportunities for others on the perimeter like Denice Villamor and JJ Alejandro, who can score from beyond the arc.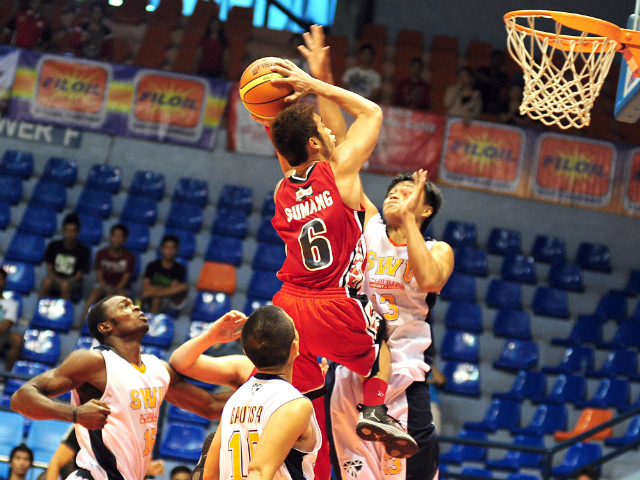 Roi Sumang (C) and the rest of the Red Warriors have a chance to shock the defending champs and announce themselves as UAAP-title contenders.
KC Cruz
The UE Red Warriors will win because...
The Warriors are playing defense on a whole other level than the Bulldogs are accustomed to facing so far in the tournament. UE is considerably better than the best defensive teams the Bulldogs have faced so far in the FilOil Cup, namely the Arellano Chiefs (DRTG 86.85) and the San Beda Red Lions (DRTG 88.67). What Chris Javier and company lack in skill, they make up for in team defense, as they clog the lane and deny opponents clean looks inside. UE also forces the second-most turnovers per game, and that provides opportunities for their quick wingmen like Ralf Olivarez and Gino Jumao-as to finish on the break.
Here's an example of what the Warriors can do to an opposing star: they booted Adamson out of the quarterfinals, 66-58, when they held Jericho Cruz, who averages 18.11 points on 38.78 shooting, to six points on a 2-of-13 clip from the field. UE also limited Ateneo's Kiefer Ravena to shoot 7-of-20 from the field (9-of-10 FTs) and could have won that game, 77-72, if it weren't for Von Pessumal's 5-of-8 three-point shooting. If Parks gets the same treatment, the Bulldogs will be forced to find another hero.
On the other end of the floor, Roi Sumang needs to come up big. He's skilled enough to take what the defense gives him, whether they sag off him for jumpers or blow past them in penetration. Offensive rebounds also play a considerable role in the Warriors' offense with 11 second-chance points per game, good for third in the league. That's a mark that will be tested against the trees of the NU line-up but the extra points can make the difference against the Bulldogs' more efficient offense.
The X-Factor:
Three point shooting:
The battle from beyond the arc will be an interesting one to watch in this championship match. On one hand the Bulldogs are the tournament's second-best three-point shooting team, knocking down treys at a 33.51 percent clip, and Denice Villamor and rookie JJ Alejandro are the primary contributors to that statistic.
On the other hand the UE Warriors have given up the most three-point attempts to their opponents by a significant margin (222 Opp 3PA), but hold them to 23.37 percent shooting, good for third in the league. The Warriors need to force the Bulldogs into misses, or better yet put the ball on the floor, where they can trap.
The Warriors also lead the league in three-pointers attempted (220 3PA), but rank last in three-point percentage at 21.82 percent. All their wingmen attempt to score from distance, but only Sumang and Sumido have been able to consistently drain multiple attempts in a game. It's quite a lot to ask the likes of Lord Casajeros and Mario Bonleon to become snipers overnight, but it'll be enough for them to hit big shots that will knock the wind out of NU's sails.
And the winner is...
The Warriors are going to need the game of their lives to snatch this from the Bulldogs' jaws. But it's not a big enough chance to bet against a sure thing. NU is the more seasoned, more consistent team in this matchup, backed by a proven go-to guy in Parks, and it's not hard to imagine them taking their second straight FilOil championship.
- AMD, GMA News