BRP Ramon Alcaraz stops in Florida to test-fire cannon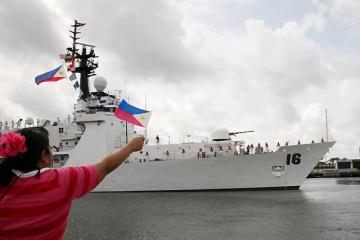 BRP Ramon Alcaraz sails for PHL. The newest warship of the Philippine Navy, the BRP Ramon Alcaraz (PF 16) with 14 officers and 74 enlisted personnel lead by Capt. Ernesto Baldovino, departs on Monday, June 10 from Charleston, South Carolina bound for the Philippines. The ship is expected to arrive in August after making port visits to San Diego, Hawaii and Guam for reprovisioning. The BRP Alcaraz will test fire its main gun off the coast of Florida. PN/DFA/Elmer Cato
The BRP Ramon Alcaraz, the Philippine Navy's second Hamilton-class ship, made a stop in Mayport, Florida in the US Tuesday evening (Philippine Standard Time), the Philippine Embassy in Washington said.
In
posts
on its Twitter account, the embassy said the BRP Ramon Alcaraz was to load and test-fire its 76-mm Oto Melara cannon while in Mayport.
According to
Italian manufacturer
Oto Melara, the 76-mm compact naval gun is a rapid-fire cannon that can be installed on relatively small warships. It shoots 76-mm, 62-caliber shells at selectable rates of either one round or a full rate of fire of 80 rounds per minute.
The
embassy
also said that Florida was the Alcaraz's first stop in its voyage to the Philippines. It would also pass through the Panama Canal.
The BRP Ramon Alcaraz started its journey to the Philippines from the United States Monday night (Philippine Standard Time). It was given an emotional send-off by the Filipino community of Charleston, South Carolina.
— DVM/KG, GMA News