Bayang Barrios' new album 'Malaya' bucks the times
What exactly is "Malaya?"

What does it mean to be free?

Are 21st century Pinoys finally free from a long history of opportunistic, corrupt and oppressive rulers?

Or are we only assuming we're free to do whatever we want, rules (including the golden one) and any authority be damned? (Especially when driving in Metro Manila roads...)

Have some of our freedom fighters from the First Quarter Storm era been successful in finally taking control of the resources and powers for turning our beloved bayan into a semblance of a promised land?

Or have they simply turned into the kind of authority they once despised?

Are our artists today free from the shackles of Dark Ages-style patronage politics and the dictates of art industries as business?

Or are they now more at the mercy of everyone else's freedoms, including those of poorly informed consumers, creativity pirates, and simple bad taste?

Are Pinoy citizens consuming "good" media products, considering we are well into the Internet age?

Or have we merely been using modern media technology to "assimilate" into our culture even more foreign idols from the ever-contracting global community, ironically to the detriment of our unending quest for identity and international recognition?

The word itself seems crystal clear as an unsullied lake, but being "malaya" is actually as complicated, deeply layered, and ironic as any body of water.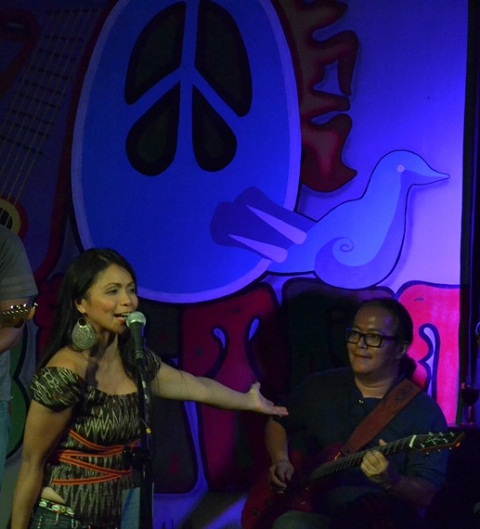 Bayang Barrios' new album entitled "Malaya," the live performances during its launch, and even the very people who supported and watched the birthing of this creation all mirror such qualities.

"Malaya" (referring here to Bayang's whole process, including the album itself) is deep, multi-leveled, and is successful in its namamangka sa dalawang ilog characteristics usually interpreted as dichotomies: serious and light-hearted, darkly brooding and very optimistic, classic and fresh, timeless and contemporary.

To simplify these into two words that can only be richly understood by someone from our social media-obsessed times: "It's complicated."

On the surface, "Malaya" the album is a collection of fresh takes on lesser-known Filipino folk and world music-based classics from Bayang's own heroes and previous collaborators.

But "Malaya" is far from being just a standard covers album -- a path that former fringe and break-out OPM artists are usually forced to take at some point, because of Pinoy preferences and other realities.

Instead, "Malaya" is a historical annotation, not only of Bayang's own musical journey, but also those of the local environmental and activist movements, the Pinoy's continuing struggle for sense of self, and the development of and challenges faced by local arts, including the OPM industry itself.

Malaya, as a theme, is a complex idea that cuts across 12 songs with diverse themes. Together they tell a bigger story: songs of people's struggles as well as much-deserved breaks; songs of faith and praise; songs of childhood, of parenthood and of mortality; songs of Mother Earth and the human condition. What is constant in all the songs chosen by Bayang for her fifth album is the interplay of the triad of dependence, independence, and interdependence.

This interplay is evident not just in the songs and their stories, but also in the characters of the song writers and storytellers themselves.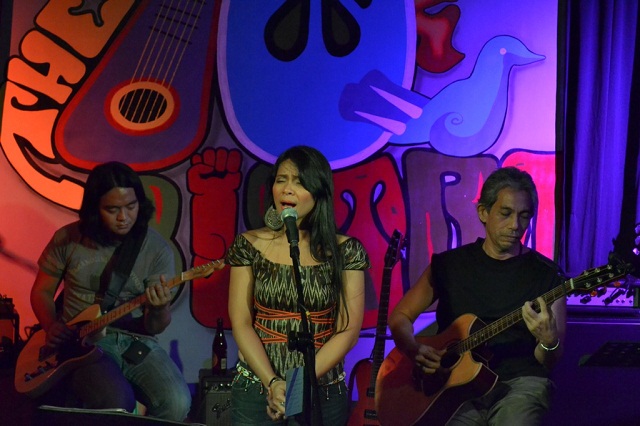 Bayang's mentors who contributed to the album -- Joey Ayala, Gary Granada, and Lolita Carbon -- are certified OPM heroes. And yet to this day, they maintain their non-mainstream credentials and still remain just a bit beyond the fringes of the local music industry.

Bayang's other collaborators in the album, a number of which also served as performers and instrumentalists during the launch at 70s Bistro, are veritable stars: Mike and Angelo Villegas, Kakoy Legaspi, Sammy Asuncion, Louie Talan, Wendell Garcia, Budeths Casinto, Mlou Matute, Nikki Cabardo, and Popong Landero. These are some of the most venerated names in the industry, looked up to and regularly tapped by those pop and rock stars with household names, and yet they themselves are not all names identifiable by all households.

The interplay spills over into the relationship between the performers and audiences that evening. Among the SRO crowd at the launch were fellow musicians who also continue to rock the fringes of OPM: Cookie Chua, Dong Abay, Myra Ruaro, Lynn Sherman, and Aiza Seguerra. Note that Aiza's journey has been made with gears in reverse, yet arriving at the same sweet spot.

Also among the audience was Ricky Lee, the revered screenwriter who has constantly been keeping the local movie industry on its toes. Present as well was Howie Severino, a name most households now associate with television and online media, but his byline as an investigative journalist continues to be kept close to the hearts of environmental activists. The songs from Malaya are as personal to their own stories as they are to Bayang herself.

The album was produced under Bayang's own "Mayumi" label, with distribution going the "guerrilla-style" route that most underground and "newly independent" acts now prefer. This route, coupled with the emergence of online distribution, is seen as a beacon by musicians in the fringe, who seek deliverance from the limitations brought about by prevailing practices within the local and international recording industries.

The kind of deliverance promised by such upheavals may just finally be a song for another generation and a story for another time. But no doubt the soundscapes painted by "Malaya" will resonate even then. For now, suffice it to say that a good answer to a question is another good question. Sort of like a really good song deserving a really good remake.

What is Malaya to you?

How would you like to be free?

– YA, GMA News

---
John-Pete Agcaoili, a writer and drummer, has constantly kept to the fringes of the local music scene, the environmental movement, national development efforts, and writing. In short he is a Fringe geek (although he hasn't actually moved on from Fringe season 3).