UE Red Warriors dethrone foul-stricken NU Bulldogs, claim FilOil crown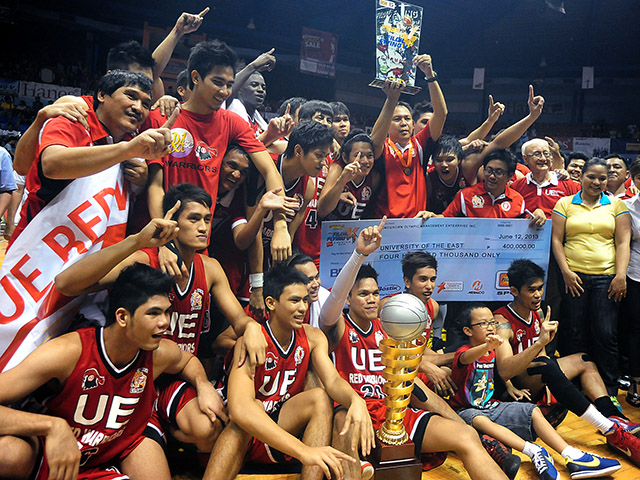 UE will head into Season 76 of the UAAP as 2013 FilOil Flying V Hanes Premier Cup champions.
KC Cruz
(Updated 6:54pm)
The University of the East Red Warriors dethroned the National University Bulldogs in resounding fashion, 81-68, to seize their second championship in the FilOil Flying V Hanes Premier Cup, Wednesday, at the FilOil Flying V Arena.
This is UE's third Finals appearance in the tournament's history, after winning the title in 2008, and then settling for second-place versus FEU a year later.
The Bulldogs took control early in the second half, getting stops and quick baskets in an 18-5 run to build a 55-47 lead heading into the fourth quarter. They join the 2006-2007 DLSU Green Archers as the only team to win more than one FilOil title.
However, the Warriors took things to a whole new level in the fourth quarter, as they held strong on defense and relentlessly attacked the rim. Role players Ralf Olivarez and Lord Casajeros stole the limelight in the ensuing 18-2 blitz that opened a 65-58 lead with under five minutes to play, while Ray Ray Parks and Emmanuel Mbe, having reached the foul limit, could only watch their teammates come up short from the sidelines.
Roi Sumang was named player of the game and tournament MVP for his 18-point, nine-rebound and six-assist performance. Olivarez led UE with 19 points and eight rebounds, while Casajeros tallied 16 points. Charles Mammie had a double-double with 10 points and 21 rebounds.
"Sabi lang samin na laruin lang namin ang laro namin, wag yung laro ng ibang tao," said Sumang after the game.
UE head coach Boysie Zamar welcomed the pressure that now comes with raised expectations for his squad in the upcoming UAAP season. "I'd rather have the pressure upstairs," he said.
Zamar added that their plans don't stop here just yet, and his team wants to achieve more. "I would say kung sa Latin honors ito, [a FilOil championship] is cum laude. Wala pa kami sa magna o summa. We just want to improve. Of course we're going to celebrate this win but tomorrow we'll go back to basics and prepare for the UAAP."
"Ang masasabi ko lang ay 'big heart,'" said Chris Javier, who commended his team for putting in a huge effort during the preseason. "From the start of the game yun lang ang laging sinasabi ng mga coach. 'Bring your big heart.'"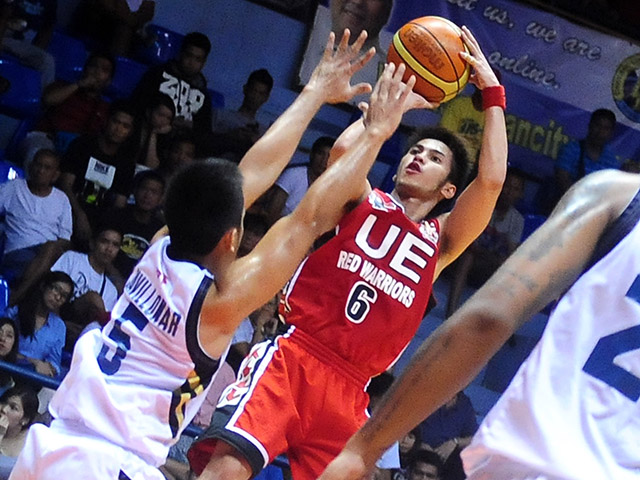 Roi Sumang (red) lines up a three-pointer over Jeoffrey Javillonar.
KC Cruz
The Warriors were held to perimeter attempts for the game's first five minutes, connecting only on a Roi Sumang triple. Parks was active early in the lane for the Bulldogs on the other end, rifling a triple to pad an 11-3 lead.
Charles Mammie gave UE their second basket of the game with under four minutes remaining, drawing a foul off Emmanuel Mbe for a three-point play. The Warriors then shifted to a 2-3 zone to stem the tide of National U's offense.
With Ralf Olivares and Sumang finishing in the paint, the Warriors caught up, 16-14, as Mammie scored over Mbe in the paint with 11 seconds left. But UE missed five straight free throws in the last minute, denying themselves a chance to overtake the Bulldogs' lead after the first quarter.
The Bulldogs rested Parks to start the second period and settled into a 2-3 formation on defense, but UE countered by pushing the ball off National U's misses. A Sumang triple complemented transition baskets by Olivarez and Gino Jumao-as, as UE took the lead, 21-19, after a 7-3 run.
Parks returned to the floor with five minutes and change on the clock against a Mammie-less UE five. He immediately knocked down his second triple, and both teams began scoring back and forth at the rim. The Warriors began to break away though as Sumang orchestrated an 11-2 run with Chris Javier and JM Noble cutting to the rim, capped by a Lord Casajeros trey with five seconds left, putting them ahead by six.
Parks however was determined to cut the deficit, racing to tip in his own miss on the other end, beating the clock to trail, 36-32, at halftime.
UE shot 15-of-36 (42 percent) from the floor throughout the first two quarters against Parks' 14 points on 4-of-8 shooting, bannering National U's 11-of-36 (31 percent) clip. The Warriors led 10-4 in second-chance points but made just 3-of-11 (27 percent) on free throws, while the Bulldogs were 7-of-9 (78 percent).
The Bulldogs looked for their offense early in the clock during the third quarter, as quick outlet passes led to Parks, Alolino and Mbe combining for 16 points in an 18-5 run, 50-41.
The Warriors couldn't get a rhythm on offense while Parks shadowed Sumang, limiting his ability to create opportunities on that end. But they caught a break when Mbe drew his fourth personal foul with three minutes to play. Olivarez then swiped a Parks inbounds for an easy two, and Casajeros buried a triple to draw within four, 50-46.
However, the Bulldogs put them down anew, replying with an Alfred Aroga-Parks alley-oop out of a timeout en route to widening the gap after three quarters, 55-47.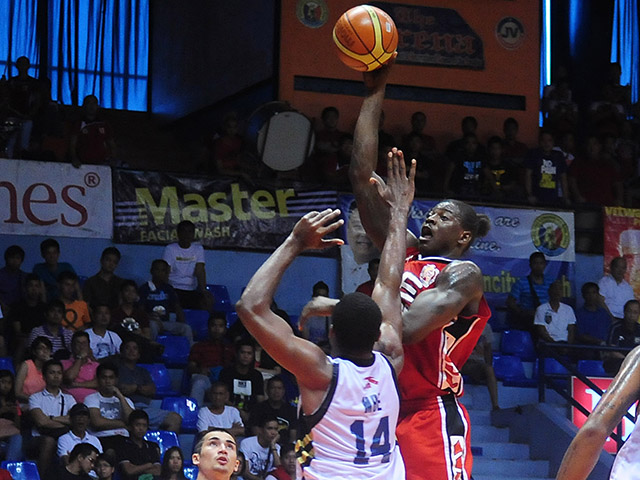 Charles Mammie (red) added Emmanuel Mbe to his list of vanquished centers.
KC Cruz
UE played strong defense at the onset of the fourth quarter, forcing the Bulldogs to go several minutes without a field goal. Olivarez and Casajeros provided the buckets, and the latter nabbed a pair of and-one's, combining for 16 points in an 18-2 surge, drawing Parks' sixth foul in the process, as UE went ahead 65-58.
Alolino made two from the line to cut the lead to five, but their woes piled on when Mammie caused Mbe to foul out with four and a half minutes to play. Players from both teams exchanged makes at the line, before Sumang buried a turnaround jumper in the lane, 70-61.
Jeoff Javillonar and Alolino scored to keep National U in the game, but fouls on their end allowed the Warriors to also counter from the charity stripe.
The Bulldogs closed in, 74-68, on charities by Robin Rono with two minutes to play, but they couldn't make further inroads. Villamor missed two charities off a follow-up attempt and an Aroga jumper sailed wide on the same possession. Mammie was then fouled and split from the line, 75-68, with a minute and change left on the clock.
The Warriors dominated the stats sheet as well, finishing the game shooting 27-of-66 (41 percent) from the floor, while the Bulldogs ended with a 22-of-73 mark (30 percent). UE converted 22-of-37 attempts from the line (59 percent) against National U's 20-of-30 clip (30 percent).
UE also managed their three-point attempts better, making 5-of-17 treys (29 percent) while the Bulldogs shot 4-of-30 (13 percent).
Furthermore, the Warriors controlled the boards (39-29) and second-chance points (12-8), while the Bulldogs had the advantage in points off turnovers, 14-6.
Parks led all scorers with 23 points, seven rebounds and five assists. Gelo Alolino was the only other Bulldog in double figures with 12 points and four assists.
- AMD, GMA News
The scores:
UE 81: Olivarez 19, Sumang 18, Casajeros 16, Mammie 10, Jumao-as 8, Javier 6, Noble 2, Hernandez 2, Santos 0, Sumido 0, Guion 0, Flores 0
NU 68: Parks 23, Alolino 12, Mbe 7, Villamor 6, Javillonar 5, Rosario 5, Aroga 5, Alejandro 3, Rono 2, Neypes 0, De Guzman 0
Quater scoring:
14-16, 36-32, 47-55, 81-68