Over 800 Metro Manila schools located in flood-prone areas
(Updated 2:13 p.m.) – For thousands of students in Metro Manila, commuting to school can mean plodding through hellish high water.

Over 800 large schools are found along flood-prone roads.
The Metro Manila Development Authority identified 113 flood-prone road segments, including Taft Avenue in Manila, Araneta Avenue in Quezon City, and General Luna in Malabon.
GMA News Research mapped out major schools within a one-kilometer distance from these road segments using the Geographic Information System.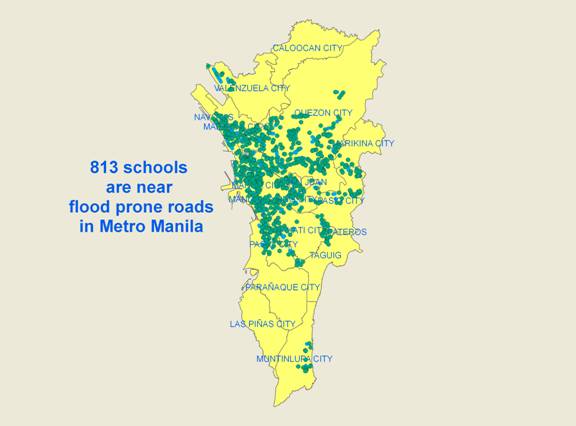 A map by GMA News Research shows there are 813 major schools within a one-kilometer distance from 113 flood-prone road segments identified by the Metro Manila Development Authority.
Manila had the most flood-prone schools, with 29 percent or 242 out of at least 813 major schools near flood-prone roads.
The city's flood-prone clusters include Taft Avenue, which is home to some 45 schools, including heavily populated major institutions of higher learning De La Salle University, Adamson University, Philippine Normal University, Philippine Christian University and Philippine Women's University.
When classes are suspended, some opt to wait it out, but it is common for students to wade through floods. After an hour of heavy rain last Thursday,
students of Araullo High School were seen braving the filthy floodwater
to get home.
Following Manila, Quezon City had 22 percent or 186 major schools near flood-prone areas, including 26 in the G. Araneta Avenue cluster.
In the España-Sampaloc cluster, there were 81 flood-prone schools, including University of Santo Tomas. In some cases,
stranded students spend the night on campus
. Plastic chairs serve as bridges, and benches and floors serve as beds, as seen in photos shared by UST's official campus publication The Varsitarian.
Also in the España-Sampaloc cluster is Legarda Elementary School, the fifth biggest public elementary school in Manila in terms of enrollment.

MMDA stats

In a separate report, the MMDA disclosed an even higher figure for flood-prone schools –
1,187 out
of 2,747 schools in Metro Manila. Schools in low-lying areas, such as Legarda, become catch basins during the rainy season.
"Ang drainage mula sa España umaapaw na rin, so at the same time (dito). Kasi ang alam ko umaapaw from España muna, tapos dito," Legarda Elementary School Principal Dr. Fe Medrano said in a report on News to Go on Tuesday.
Meanwhile, there were 26 flood-prone schools in the Malabon City cluster, including Malabon Elementary School, the third biggest school in the city in terms of enrolment. The cluster includes Sanciangco Street, Juan Luna Street and Gen. A. Luna Street.
To address the flooding along Gen. A. Luna street, the local government conducted digging operations to deepen the canal, GMA News' Kara David said on News to Go. Even three days of digging were not enough to remove all the mud and trash clogging the canal. "Pagka umuulan, talagang malaki ang tubig dito sa amin," a resident said in the report.
Apart from cleaning the drainage systems, MMDA said certain roads must also be made higher. Until this is done, MMDA appealed to schools to cooperate in order to avoid difficulty during the rainy season.
"Dahil identified sila as highly susceptible, siguro mas paiigtingin dito 'yung kanilang mga pagma-maintain natin ng mga drainage at flood control facilities ng MMDA," MMDA Assistant General Manager for Operations Atty. Emerson Carlos said in the report.
Anticipating another night of heavy rain and flooding,
MMDA Chairman Francis Tolentino on Tuesday urged offices and schools to allow employees and students to go home early
to avoid getting stranded.
Metro Manila not flood-resistant
"Metro Manila can never be flood-resistant but it can be flood resilient," Tolentino said.
On example can be found in Dampalit, Malabon, where the Department of Education built a new school designed to keep students safe from floods, GMA News' Pia Arcangel reported last June 4 on Balitanghali.


Even without heavy rain, high tide is enough to bring floods to the area. The solution was to
build a flood-free school
, which has classrooms on the second floor.
—Carmela G. Lapeña/KG/HS/TJD, GMA News