Chinese invent hairy stockings to ward off perverts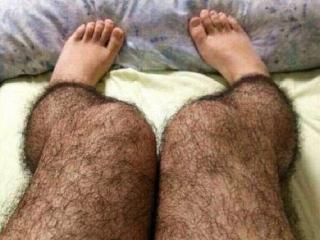 Anti-pervert stockings. These stockings, developed in China, are meant to ward off perverts by making it appear that the wearer's legs are covered with thick curly hairs. 'HappyZhangJiang' via Sina Weibo
This could be one of the more unusual but potentially effective ways for girls to get rid of perverts.
China has come up with stockings that make girls' legs appear hairy, to deter hot-blooded males from getting aggressive.
"Super sexy, summertime anti-pervert full-leg-of-hair stockings, essential for all young girls going out,"
The Huffington Post quoted @HappyZhangJiang
, a user of Chinese micro-blogging service Sina Weibo, as describing the stockings.
The Huffington Post said the stockings may be "the strangest way of keeping aggressive men at bay," but gave the inventors "major points for being clever."
"The idea behind the hair stockings, we're guessing, is that lewd gropers wouldn't come anywhere near you. Tongue-in-cheek, but inventive nonetheless," it said.
It also said this triggered comparisons with an anti-rape lingerie in India, where the garment is wired to give sexual attackers the shock of their lives.
Other than the shock, the anti-rape lingerie can also send an alert message complete with GPS coordinates to the wearer's relatives. — TJD, GMA News