Cobonpue group to design NAIA-1's interiors for free
(Updated 5:50 p.m., 27 June 2013)
The government has tasked the team of world-renowned designer Kenneth Cobonpue to give the interiors of the Ninoy Aquino International Airport Terminal 1 (NAIA-1) a facelift, a Malacañang spokesperson said Wednesday.
Quoting a text message from Transportation Secretary Joseph Emilio Abaya, presidential spokesman Edwin Lacierda said Cobonpue's group "will be allowed to do the interior of the NAIA 1 building" for free.
Lacierda added that the Leandro V. Locsin & Associates (LVL) architecture firm, ran by the son of national artist Leandro Locsin, will be in charge of the airport's architectural services after it was awarded the contract to redesign NAIA-1 two years ago.
"The Cobonpue group will help out with the interiors, but Architect Locsin will still be architect of record. The Cobonpue group has offered their services pro bono," the president's spokesman said.
Lacierda added that Locsin's group will still be doing the conceptual design of the airport's greeters' area.
Last week,
Lacierda revealed that Cobonpue's group was in talks with the Department of Transportation and Communications (DOTC) to help in the P1.1-billion NAIA-1 rehabilitation plan
.
In November 2011, Cobonpue and his colleagues had a falling out with the government after the DOTC favored Locsin's firm over them
.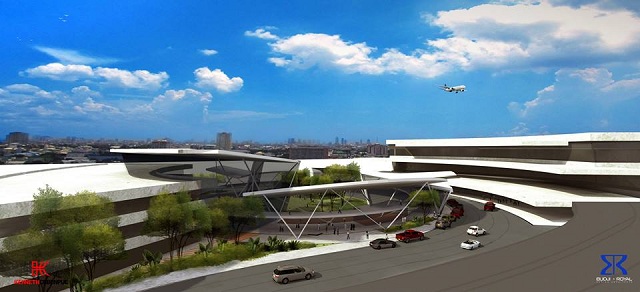 Cobonpue's proposed design for the NAIA renovation. Image from Kenneth Cobonpue's Facebook