Filipino middle class drives spending — Nielsen global survey
An expanding middle class made the Philippines one of the most confident markets globally, the latest Nielsen Consumer Confidence Index released on Tuesday revealed, noting that—at the same time— Filipinos were able to build a reputation as one of the world's biggest savers.
The Philippines' confidence index level reached 121 points in the second quarter, making it the highest point garnered by the country since the fourth quarter of 2010. The index also made the Philippines home to the second most confident consumers following Indonesia with 124 points or about 30 points above the global average of 94.
"Similar to its neighbors in Southeast Asia, foreign investments are coming in and a growing number of consumers are entering the middle class in the Philippines, driving the positive outlook we are observing," Stuart Jamieson, Nielsen Philippines managing director, noted in an e-mailed statement.
"The high confidence levels continue to sweep across Southeast Asian consumers compared to the rest of the world," he added, citing that Philippine neighbors Thailand and Malaysia were also featured among the world's most optimistic nations despite recording slight declines.
Although the Nielsen survey of consumer confidence and spending intentions showed Filipino respondents readiness to spend, it noted that seven out of 10—or 70 percent of respondents—were saving their spare cash, which makes Filipinos one of the world's biggest savers.
Indonesians topped the list with 71 percent of respondents saying that they save after covering essential items. Rounding up the Top 10 list were Hong Kong at 70 percent, Vietnam at 68 percent, Thailand at 63 percent, with China, Japan, Taiwan and Malaysia at 61 percent each, and Singapore at 60 percent.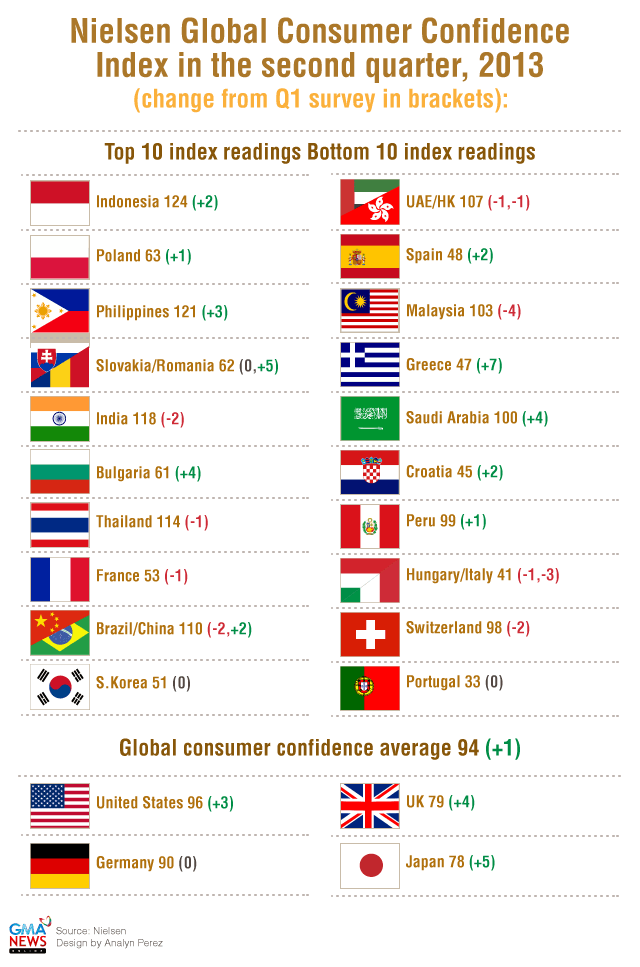 Behind Southeast Asian peers in investments
However, only 19 percent of Filipino respondents said they have invested in shares and mutual funds— well behind Southeast Asian peers, Nielsen noted.
"Despite the general optimism that Filipinos are feeling, they are still protecting themselves against future fluctuations in the global economy and other external factors. The increase in disposable income gives them opportunities to consider augmenting their savings and investing in mutual funds," said Jamieson.
New technology "holds strong appeal" for Filipino consumers as 31 percent of respondents are spending on new gadgets, the survey noted.
It also revealed that Filipinos were the most optimistic in local job prospects, followed by Indonesia and India. "Filipino respondents also feel the most positive about local job prospects over the next 12 months, with 77 percent saying that local job prospects are excellent/good."
Pinoy consumers likewise maintained a positive outlook on their personal finances, with 79 percent of respondents saying their personal finances were good to excellent.
The survey added that Filipino consumers have consciously changed their household spending by holding back on buying new clothes, paying for out-of-home entertainment, and using gas and electricity.
"The decision on Filipino consumers on how they will spend their cash will remain to be strongly influenced by caution as financial security continues to be a high priority," said Jamieson. —
Rouchelle Dinglasan/VS, GMA News