Gilas Pilipinas draws inspiration from Caloy Loyzaga's visit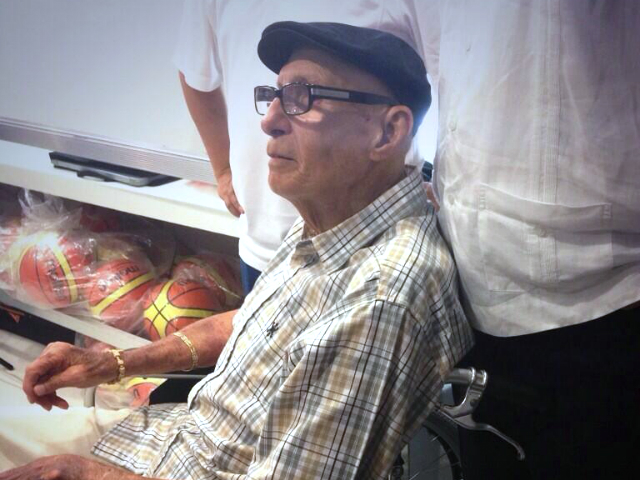 Caloy Loyzaga, in the dugout of the Gilas squad, prior to their game versus Kazakhstan.
Carlo Pamintuan, GMA News
Caloy Loyzaga was wheeled in by his son Chito into the Smart-Araneta Coliseum to watch the tune-up game between Gilas Pilipinas and Kazakhstan, Friday.
"Coach Chot [Reyes] talked to us before pa and asked if we can visit them in practice," Chito Loyzaga said. "Sakto merong tune-up game dito and it's closer to where he lives so we decided to go."
Caloy Loyzaga was the starting center for the Philippine team in the 1954 World Championship. Their team finished third behind the United States and Brazil. He was also named as a part of the mythical five that year.
When Caloy entered the dugout, the Gilas players were busy signing posters, but when they saw him, they all fell silent.
Caloy Loyzaga is a legend, a demi-god even, in Philippine basketball. The players knew that the Philippines was a world power during his time. They also knew it was largely because of him.
The Gilas players did not know how to react. At the age of 83, it was the legend who broke the silence. He extended his hand and muttered words too meek to comprehend. But as soon as it happened, the barrier was broken.
Caloy Loyzaga was the best center in the 1954 World Championship, but inside the dugout, he expressed his happiness like a child. He raised his hand and smiled to acknowledge the players.
Chito Loyzaga stepped in to offer some words of encouragement for Gilas on behalf of his father, who was too weak to talk.
The son held his father's hand to assure those listening that the words truly came from his father.
"Just seize the moment," Chito said. "Enjoy playing in front of your countrymen."
Throughout his son's speech, Caloy looked at the players with beaming eyes and a wide smile. He may have been thinking about his stint with the Philippine team. He may have been relishing being inside a basketball dugout again. No one knows for sure what was running through his mind, but no one can deny that Caloy Loyzaga looked genuinely happy.
"I hope my dad's presence inspires you. I know he'll be inspired to continue living because he saw you," Chito said to close his short message.
One by one the Gilas players approached the elder Loyzaga to shake his hand. The legend looked like an eager fan shaking the hands of his idols. What he didn't know is that he inspired the guys in a way no one else can.
- AMD, GMA News