AFP launches world's longest peace mural
After a two-month "bayanihan painting," the Armed forces of the Philippines, together with civilian volunteers, on Saturday inaugurated the world's longest peace mural.
The artwork dubbed "Lakbay Para sa Kapayapaan" stretches 3.7 kilometers along EDSA, from White Plains Avenue to Col. Bonny Serrano Avenue in Quezon City.
The art-for-peace project started on May 26, in a bid to beat the present record of one kilometer mural painting in Chile.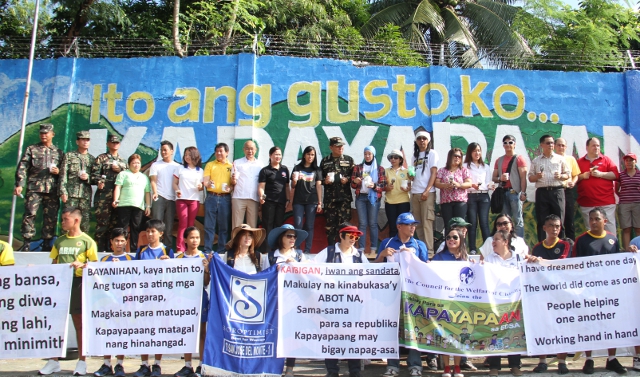 The AFP leads in the inauguration of the world's longest peace mural along EDSA on Saturday. Armed Forces of the Philippines photo
Apart from gaining recognition as the longest mural in the world, the joint project of AFP, Metro Manila Development Authority (MMDA), Office of the Presidential Adviser on the Peace Process (OPAPP), AsiaAmerica Initiative (AAI), and Dolphins Love freedom Network (DLFN), aimed to promote peace.
"This project is about breaking barriers that prevent us from moving forward. I was convinced of this when I saw soldiers painting alongside children of rebels," artist AG Sano of DLFN said in a statement.
"We saw art as a good venue to create better understanding and mainstreaming of the promotion of peace. This is a portrait of the Filipinos' aspiration for peace," Bai Rohaniza Sumndad-Usman of AAI said in the same statement.
For his part, AFP chief of staff Emmanuel Bautista said: "The four-decade insurgency and the increasing clamor for internal peace and security… lies in the Filipino practice of Bayanihan."
— Rouchelle R. Dinglasan /LBG, GMA News