Floods disrupt traffic in parts of NCR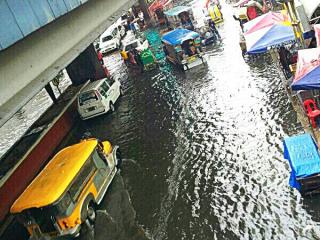 Flood along Taft Avenue in Manila. Flood disrupts traffic on Taft Avenue in Manila after Sunday afternoon's thunderstorm. GMA News
Floods brought by heavy rain disrupted traffic in parts of Metro Manila Sunday afternoon, rendering some roads impassable to vehicles.
Near the Manila City Hall, radio dzBB's Henry Herdillo reported some children were playing in floodwaters that reached knee-high levels.
A separate dzBB report quoted the Metropolitan Manila Development Authority as saying floodwaters reached up to 19 inches at Antipolo and Lacson Streets.
In a separate tweet, the MMDA said the flood at R. Papa Street in Manila had reached
27 inches
.
The MMDA also said that the floods at España Boulevard and Lacson Street reached 40 centimeters (16 inches) and floods at Antipolo Street reached 60 cm
as of 2:25 p.m.
Flood waters were also gutter-deep at the University of Santo Tomas area, the report said.
In Quezon City, the area at Victory Avenue and Araneta was knee-high and not passable to light vehicles,
the MMDA said
.
PAGASA forecaster Aldczar Aurelio said the rain was due to a thunderstorm that could last until 4 p.m.
— BM, GMA News