Cagayan de Oro blast death toll rises to 8, kin call for justice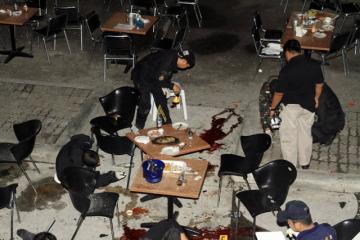 Cagayan de Oro blast kills six people. Bomb squad operatives inspect the area where the Friday night blast ripped through a crowded bistro in Cagayan de Oro City. Bobby Lagsa
PCP vice president and University of the Philippines Manila director for information Tony Leachon on Twitter identified the fatality as Dr. Marciano Agustin.
Breaking news : CDO 8 th victim succumbs - Dr. Marciano Jun Agustin at 615 am today in the ICU of CDO hospital - relayed by Dr.Tricia Obrero

— Tony Leachon MD (@LeachonTony) July 28, 2013
A tweet by GMA TV news reporter Hadji Rieta said the hospital "confirmed the eighth death of the Friday night blast."
JUST IN: Hospital confirms 8th death of the Friday night blast in Cagayan de Oro City. #cdoblast

— Hadji Rieta (@hadjirieta) July 29, 2013
Earlier Monday, Cagayan de Oro City police chief Senior Superintendent Graciano Mijares confirmed the
death of a seventh fatality
Sunday night.
On Friday night, an explosive went off at a bar at the Limketkai shopping complex in Cagayan de Oro City, initially killing at least six people.
President Benigno Aquino III condemned the incident and ordered a full investigation.
As of Monday, Mijares said they are examining what appeared to be a fragment from an 81-mm mortar. The fragment is with the Explosives and Ordnance Division, he said.
However, he declined to say what group or motive was behind the deadly explosion.
Victims' kin call for justice
The dzBB report also said relatives of the other fatalities are calling for justice.
It said the relatives of Emmanuel Palafox could not accept his death and are seeking justice.
Earlier, the remains of another fatality, Erwin Malanay, were brought to a funeral parlor in Pasig City.
Malanay's relatives condemned the incident, saying innocents were dragged into the perpetrators' motives. —KG, GMA News