Typhoon Labuyo gains power, with 140 - 170 kph winds, landfall seen over Aurora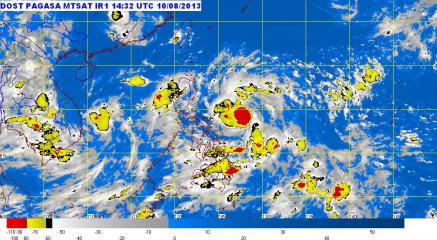 Labuyo now a typhoon with 150 kph gusts; Bicol, N. Luzon in path. Public Storm Signal No. 2 was raised over seven areas: Isabela, Aurora, Quirino, Polillo Is., Camarines Norte, Camarines Sur, and Catanduanes. Signal No. 1 was hoisted over much of the rest of Luzon. PAGASA
Typhoon Labuyo (Utor) intensified further and may make landfall over Aurora province on Monday, state weather forecasters said Sunday.
Catanduanes province was placed under Storm Signal No. 3 while nine areas were under Signal No. 2 and 26 areas including Metro Manila under Storm Signal No. 1.
"Bukas ng umaga inaasahan ito mag-landfall kung hindi magbabago ang kilos sa may Aurora province, halos gitna ng Aurora (By Monday morning it is expected to make landfall if it does not change course. It may make landfall over the central area of Aurora)," PAGASA forecaster Glaiza Escullar said in an interview on dzBB radio.
Escullar said Typhoon Labuyo was estimated at 375 km east of Daet in Camarines Norte as of 4 a.m., with maximum sustained winds of 140 kph near the center and gustiness of up to 170 kph.
Labuyo is moving west-northwest at 19 kph, she added.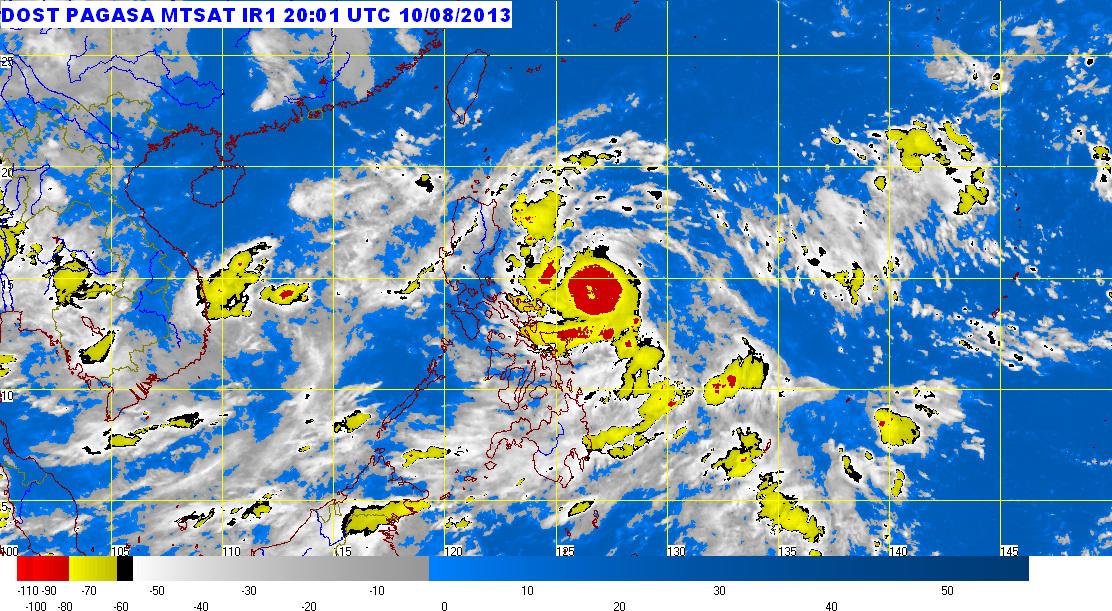 PAGASA raised Public Storm Warning Signal No. 3 over Catanduanes as Typhoon Labuyo moved closer to Luzon Sunday morning and is expected to make landfall in Aurora on Monday.
Storm signals
Under Storm Signal No. 3 is Catanduanes.
Areas under Storm Signal No. 2 include:
Isabela
Ifugao
Nueva Vizcaya
Nueva Ecija
Aurora
Quirino
Polilio Island
Camarines Norte
Camarines Sur
Under Signal No. 1 are:
Cagayan including Calayan and Babuyan Islands
Ilocos Norte
Ilocos Sur
Apayao
Kalinga
Abra
Mountain Province
Benguet
La Union
Pangasinan
Tarlac
Zambales
Pampanga
Bulacan
Bataan
Rizal
Quezon
Cavite
Laguna
Batangas
Marinduque
Albay
Sorsogon
Burias and Ticao Islands
Metro Manila
Northern Samar
Escullar said Labuyo may bring rain of 7.5 to 25 mm (heavy to intense) within its 600-km diameter.
She warned residents in coastal areas under Signals 3 and 2 to look out for big waves.
Also, she said Labuyo may enhance the southwest monsoon.
May get even stronger
Escullar also said Labuyo is likely to intensify further, as it is still at sea and can gather more strength.
"Maari pa ito lumakas dahil sa dagat pa ito (It may intensify further because it is still at sea)," she said.
She said Metro Manila expect to be under Storm Signal No. 2 if Labuyo does not change course. But she said PAGASA is not discounting the possibility of Metro Manila under Signal No. 3.
"Posible ito (Signal No. 3) sakaling magbago ang kilos pero kung hindi magbabago ang kilos hanggang Signal 2 sa Metro Manila (Signal No. 3 is possible over Metro Manila if Labuyo changes course but if not, Metro Manila can expect up to Signal No. 2)," she said. — ELR, GMA News