Modern ranger station in Tubbataha to be built with new P40M grant
PUERTO PRINCESA CITY -- In two years, the remote Tubbataha Reefs in Palawan is expected to have a new state-of-the-art ranger station after the government's Tourism Infrastructure and Enterprise Zone Authority (TIEZA) provided a P40-million grant for the project Sunday.
During the celebration marking the marine park's 25th anniversary, TIEZA chief Mark Lapid signed the grant agreement and handed over a symbolic check to the Tubbataha Protected Area Management Board and WWF-Philippines head Lory Tan, one of the TPAMB members.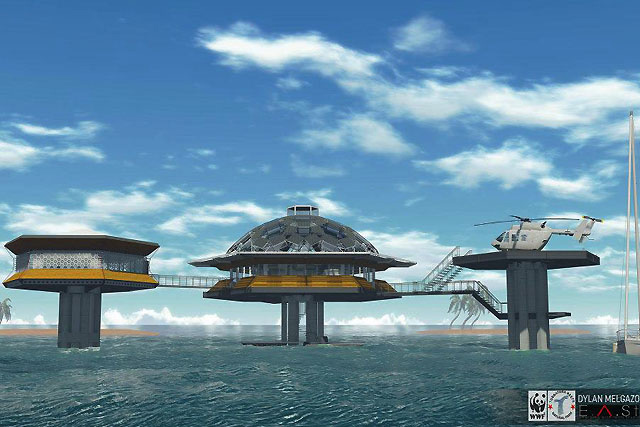 The proposed design for the new ranger station for Tubbataha Reef National Park is the result of a collaboration between Dylan Melgazo and Emerging Architects Studio.
WWF/EASt
The most controversial damage came from a US Navy minesweeper that had to be dismantled on site after it rammed into the reef last January.
Designed by WWF-Philippines consultant Dylan James Melgazo, the new station is envisioned to have three interconnected structures: the command center that will house the rangers, a research building, and a helipad.
Tan said they have raised the project cost of P50 million for the project, which will replace the aging, rickety shelter that the park's rangers have been using year-round to protect Tubbataha from intruders.

He said they expect the new ranger station to start operations in 2015.
"We have been asked by the Coast Guard if they can use the same design and we said, yes please do," said Tan, adding that it may also be freely utilized in other tourist attractions in the country.
The hexagon-shaped main center features a glass dome that will provide the rangers with a 360-degree view of the park, and overhanging troughs to collect rainwater. It will also house a visitor center, a mini-museum, and stepladder planters for growing vegetables.
Solar panels and micro wind turbines will be used to generate renewable energy for the station, which is located 150 kilometers from Palawan's capital city of Puerto Princesa, the nearest urban center.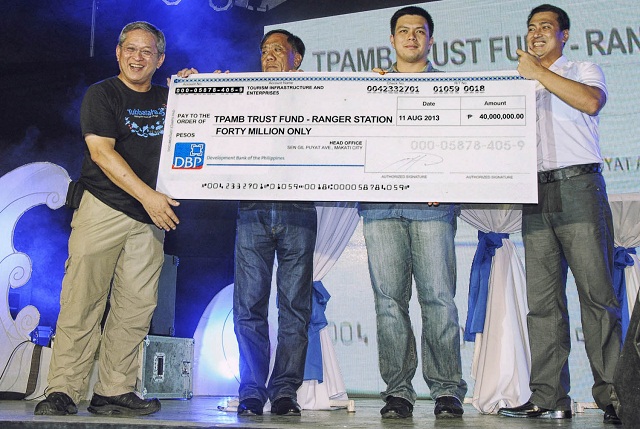 (L-R) Lory Tan of WWF-Philippines, DENR Region IV-B Executive Director Edgardo Galeon, Palawan 1st District Rep. Franz Josep George Alvarez, and TIEZA's Mark Lapid. Photo courtesy of Tubbataha Management Office

Meanwhile, the TIEZA chief pledged to provide more funds for the station if needed. He added that the agency will also assist infrastructure development in other tourism attractions in the province, such as the Long Beach in San Vicente town facing the West Philippine Sea.
"We will support Palawan, not only Tubbataha but the whole of Palawan," Lapid said.
TIEZA, the repository of travel taxes collected from Filipino tourists traveling abroad, is mandated to use the funds for tourism infrastructure projects in the country.
- Yasmin Arquiza/RSJ, GMA News