7-year-old liver transplant survivor gets a birthday surprise from the Cake Boss
It's common for children to get cake on their birthday, but one Filipino girl got a greeting from the Cake Boss when she turned seven last June.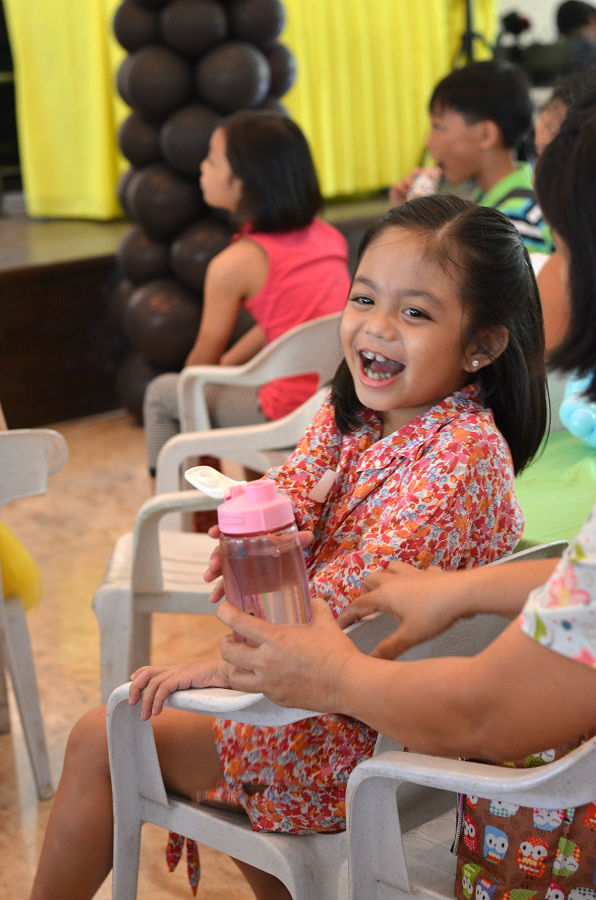 Seven-year-old liver transplant survivor Erin Pasamio got a special birthday surprise from the Cake Boss. Photo from TLC
An avid viewer of the TLC reality show "Cake Boss", it was Erin Pasimio's wish to meet its star, celebrity chef Buddy Valastro.
Erin's father Sonny knew it wouldn't be easy to make his daughter's wish come true, but that didn't stop him from reaching out to the New Jersey-based Valastro.
Sonny decided to post a message on Facebook: "I am Sonny, father to our beautiful miracle daughter Erin. She is your biggest fan and thinks you are the best baker in the universe, especially after watching you frost a cake and make a flower blindfolded!"
As a two-month-old baby, Erin was diagnosed with a rare disease called biliary atresia, in which there is the congenital absence of the ducts that drain the bile from liver.
Because pediatric liver transplant was not available in the Philippines, Erin had her liver transplant in Singapore.
"She was born with a defective liver and came very close to dying. But with God's blessing, Erin's fighting spirit and a liver donation from her mom, she miraculously bounced back after a transplant when she was one year old," wrote Sonny, telling Valastro about Erin's birthday wish to meet him.
"I promised her that I would save up to make her dream come true someday, but in the meantime, any greeting from you would mean the world to Erin. Hope you can grant our little request Buddy," he wrote.
The post was brought to the attention of Discovery Networks Asia Pacific (DNAP), which operates TLC, and DNAP made the request directly to Valastro's team, according to a press release from the network.
"It was a long shot, but one Erin believed can really happen. When she saw my letter in Facebook, she was so thrilled that we were chasing that dream together," Sonny said.
Around one month after her birthday, Erin got
a special video greeting on Facebook
.
Wearing his Cake Boss uniform, Valastro said, "Hey Erin, I hear you're a big fan of Cake Boss and I appreciate it so much."
"We love all the fans in the Philippines and I want to wish you a happy belated seventh birthday. Hope you feel better. Cake Boss loves you, Erin!" said Valastro, blowing Erin a kiss.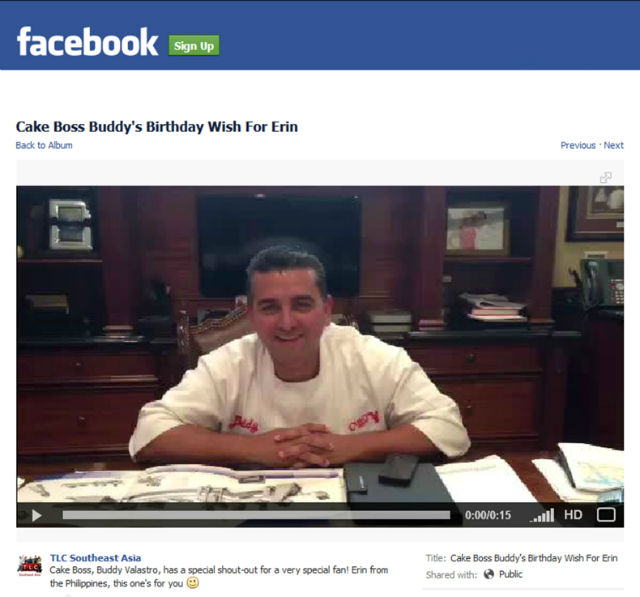 Cake Boss' Buddy Valastro shot a birthday greeting for his young fan in the Philippines. Facebook video screengrab
Erin's mother Ria was the first to comment on the post, thanking Valastro for granting their daughter's wish.

"She will be very happy to watch this birthday message from the Cake Boss. You are an inspiration to our little girl. More blessings to you and your family," she said.

Other Cake Boss fans were also delighted to see the video. "Whoa! That's so sweet!" said Sarah Magdasoc.

Another fan, Mizell Manzo, said she loved Buddy and the rest of the Valastro family. "Hope you can visit us here in the Philippines, more power to your show! Salamat!" she said. — Carmela G. Lapeña/BM, GMA News