Calamity loan available for members affected by Labuyo - Pag-IBIG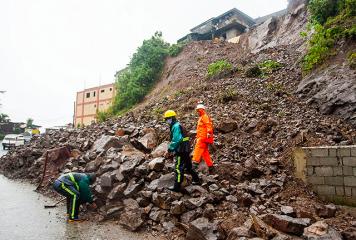 Labuyo causes landslides, flood in Baguio. Rescuers clear debris from a road after a landslide that occurred at the height of Typhoon Labuyo (Utor) in Baguio City on Monday, August 12. The strongest typhoon to hit the Philippines this year triggered landslides and floods, disrupting power and communication links, leaving one person dead and 13 fishermen missing. Reuters
Members of the Home Development Mutual Fund (Pag-IBIG) who were affected by Typhoon Labuyo can avail of calamity funds, Vice President and Pag-IBIG chairman Jejomar Binay said Tuesday.
In a
post
on his Facebook page, Binay said the calamity loan may amount to up to 80 percent of the affected members' savings in the fund.
However, Pag-IBIG members will have to make sure the address on their IDs will prove they reside in an area under a state of calamity.
A calamity loan is payable over a period of 24 months at an interest rate of 5.95 percent per annum.
Those who avail of the loan may defer the first payment up to three months from the release of the loan, and pay their first monthly amortization on the fourth month.
Pag-IBIG members applying for the calamity loan should submit an application along with two valid IDs at any of Pag-IBIG's branches.
Application forms can be download from the Pag-IBIG website or requested at Pag-IBIG branches.
Meanwhile, Pag-IBIG president Darlene Marie Berberabe said Pag-IBIG will deploy mobile offices to affected areas to receive members' applications for calamity loans.
The deployment to an area begins once declarations of a state of calamity are made by the appropriate local government offices and as soon as weather permits.
Berberabe said Pag-IBIG will accept applications for calamity loans up to 90 days from the time the area is declared under state of calamity.
— DVM, GMA News