Why Nico Salva and Terrence Romeo's Twitter spat is a good thing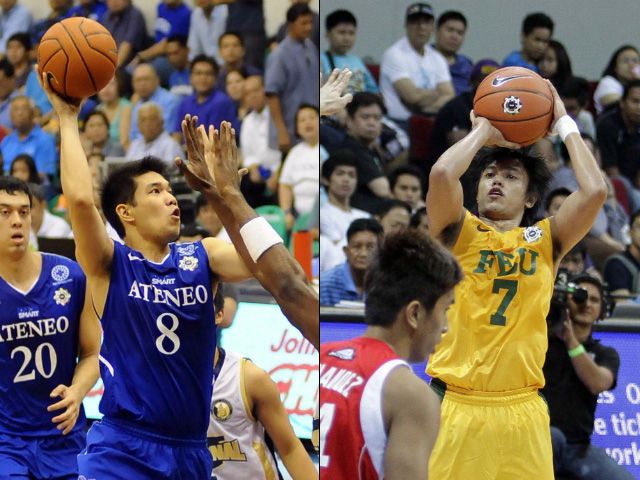 In an age of uneventful updates and scripted tweets for sponsors, the local basketball Twitter-verse seemed surprised, or at least caught off-guard, when Terrence Romeo of the FEU Tamaraws, and former Ateneo Blue Eagle Nico Salva, engaged in a little online back-and-forth, revealing that they have attitudes and feelings, even if they're the hostile kind. Now we know that Salva is not the type to keep his opinions to himself, and that Romeo isn't the type to silently grin and bear potshots forever. And that's a great thing for basketball.
On Wednesday, the NU Bulldogs handed the FEU Tamaraws their first loss of the season, ending what had been a seven-game winning streak. Romeo did not have a good outing there, scoring just eight points on 3-of-16 shooting. He also took some bad shots, in lieu of passing the ball to his teammate, former league MVP RR Garcia, who managed 20 points in 21 minutes, shooting an 8-of-15 clip. Romeo's reluctance to pass did not go unseen by Salva, which led to the following exchange:
Romeo is back to his old self. Why dont u just give the ball to RR?

— nico salva (@nickobesalva) August 14, 2013
Parks and romeo struggled in this game but parks opted to move the ball n help his team even w/o scoring.Shows his maturity over d other

— nico salva (@nickobesalva) August 14, 2013
@nickobesalva @ompongski bat di ikaw ang maglaro.

— Terrence Bill Romeo (@dReaLTRomeo) August 14, 2013
@dReaLTRomeo naka limang taon na ako bro e. sorry. Tuloy mo lang yan. Ayos yan haha

— nico salva (@nickobesalva) August 14, 2013
@nickobesalva hilig mo makasali e noh? Paki alam nalang yung game mo. Hindi naman kita pinapakialam e. bro???

— Terrence Bill Romeo (@dReaLTRomeo) August 14, 2013
Whoa! These are the most controversial tweets from UAAP players since, well, Salva's comments about a delayed PBA telecast to accommodate a live Azkals match.
Romeo has managed to keep mum with regards to thousands of naysayers and doubters until now, when he just couldn't hold his peace. Salva offered an apology of sorts, but Romeo just told Salva to get lost. The conversation ended right away, and that was the biggest letdown in the UAAP since, well, Romeo blew the Tamaraws' winning streak against the Bulldogs.
People began calling it a "Twitter war" right away, even though wars are supposed to mean a protracted series of conflicts between opposing entities. It seems though that wars have gotten a whole lot shorter since Israel repelled a Middle Eastern gang bang in six days in 1967.
But even so, a quick search through Twitter reveals 99 percent of the shots fired came from people who were Romeo/Salva fans or Romeo/Salva haters. So if anything, Twitter users fought among themselves. The whole affair was a brief hot flash and by the time the reports were up, much of the tension had already dissipated.
No one though answered this question: why, in the first place, did this get us all fired up? And why should we welcome it? Let's hazard an answer.
What just happened was a clash of personalities between two ex-competitors. Salva will go down in the UAAP's books as a legend for winning a championship in each of his five years, with two Finals MVPs to boot. He evolved from a tweener into an elite college forward, to the point that whether you perceived him as arrogant or not, you had to seriously consider him when you made an all-UAAP first five, especially in his last three years.
Meanwhile, Romeo is a phenom in his own right but his "selfish" tag has eclipsed his terrifying skill until very recently. A gifted scorer, he won the Rookie of the Year Award in Season 73 as the Tamaraws made the UAAP Finals. He played a bigger role the following year when they reached the Finals again in Season 74, but both times, FEU was swept by Salva and the Blue Eagles.
The fact that Salva easily could've said "championships" instead of "years" but deliberately didn't is frustratingly brilliant. It's so Salva of Salva to subtly get under someone's skin. Plus the fact that Romeo didn't back down from a diss is brilliantly frustrating, too. It's so Romeo of Romeo to burst into a proud, defiant fireball that burns everything in its path.
It's not surprising that a feud on Twitter happened. Anybody can start a fight without even meaning to, and for some people, starting fights is the only use for the internet.
Salva isn't a genius for saying what he thinks of Romeo. He's hardly the first one to point out Romeo and RR Garcia's tenuous relationship or the fact that sometimes, the Tams might be better if Romeo passed the ball more.
The great thing about yesterday was two great college players stood toe-to-toe and neither backed down. Think about it. Kobe Bryant prompts more intense feelings than LeBron James in people's minds because he neither hides his thoughts nor pulls any punches. He leaves it all out there to add fuel to the flame, and all the storylines between him, Dwight Howard, Mark Cuban, LeBron James, Michael Jordan and everybody else who crosses him are all the more better for it.
Gilas Pilipinas is a more recent example of players who leave it all out and make themselves vulnerable. The win over Korea at FIBA Asia is that much more meaningful because we saw Chot Reyes, Ranidel De Ocampo, Marc Pingris and all the others break down in tears. They won it for us, they said, and that makes the story that much richer than if it were about 12 random guys playing in some tournament.
Win-happy/lose-sad is a boring gradience of emotions to have, and it's the individual colors and nuances that that enhance the spirit of the sport.
What happens next? I don't care if the conversation pushes Romeo to lean towards being facilitator or sways him to cradle the ball even more. I don't mind if more people dislike Salva now or if some begin to appreciate his bluntness. Sports are equally about dreams and grudges and ambitions as they are about wins and percentages and statistics.
I realize this could be seen a long apology for me being a
kunsintidor
, or you can choose to enrich your experience as fans when the conflicts on the court turn personal. So in all earnestness, let them fire all the shots and drop all the bombs. Maybe we could use less of these LeBron-inspired "we're all pals" speeches, and more fire of the Michael Jordan versus the Detroit Bad Boys/Bird versus Magic/Kobe versus the world variety.
What I'm saying is, let the real wars begin.
- AMD, GMA News