"You cannot give what you
do not have."
This is what Jesse Robredo told his daughter Aika when she was 20, in a letter giving her career advice.
Aika shares with GMA News Online why she decided to post her father's letters to her on the web.
Read her answers to our questions here.
As Jesse Robredo's first death anniversary approaches, many are reminded anew that the most noble Filipinos tend to die young. However, the other side of patriotism is that many of our heroes didn't have much time for their families, with stories of neglect that somehow seep out of the memories of the departed.
Not so apparently Robredo, whose plane crashed off Masbate as he hurried home to Naga to spend the weekend with his family. Aside from his exemplary service to the nation, the former mayor and local governments secretary was a devoted family man who would not only write loving letters to his chidlren but would illustrate them.
His eldest daughter Aika, now 25, has been posting some of her Pops' letters to her on her Tumblog, some of them written to her when she was just four years old. She gave permission to GMA News Online to share the excerpts below.
August 11, 1992: Dear Aika, ...Papa will soon be home. After fourteen sleeps and stars, Papa will be in Manila... Mama told me that you miss me. Papa also misses you and Mama. But this is part of Papa's job as Mayor.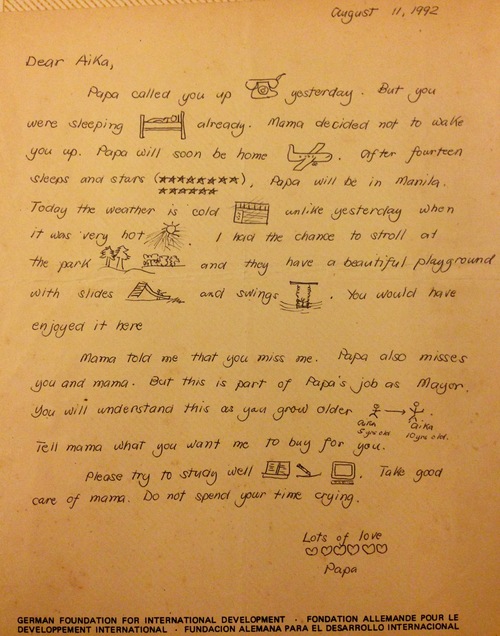 When Aika was 20, she got advice from her father that any young person searching for him/herself would do well to heed. "Kahit hindi mo gusto yung ginagawa mo, you are still expected to work hard and excel," he wrote.
To: AGR
Date: April 28, 2008, 12:54 PM
Subject: mga pangarap
hi aiks,
we did not have the chance to talk. pareho tayo occupied ng dalawang kids during vacation. i am glad we were able to go to UPENN. that is the kind of exposure that might help you work on what you want to do. do not worry, ipapangutang ko naman ang pang-aral. mag-umpisa tayo doon sa nakuha sa RM award ko. you are fortunate because you have the option to choose what you want to do. so plan it well. excel. work hard. kahit hindi mo gusto yung ginagawa mo, you are still expected to work hard and excel. i just hope that when you work you will be more enabling.
As Jesse looked forward to ending his time as Naga mayor, he shared with his daughter what his options were, always keeping his family at the center of his plans. But he also reflected on what life had given him. "Yan ang buhay ko. Masuwerte na rin. Overachieving (depending on who is giving the assessment) pero parang may kulang," he said.
To: AGR
Date: September 30, 2008, 12:02 AM
Subject: pampatulog
hi aiks,
i have around 21 months left before i end my term as mayor. i need to find something to do. parang ikaw but in a different and limited way. if i can find work in manila, palagay ko mas mabuti siguro. magkakasama uli tayo. tricia will be in college by then. i need to be able to move on from naga and sort of put it behind me, lahat ng bagay problema, sama ng loob, kasiyahan saka intriga na rin. i've always loved naga pero parang mahirap na andito right after I finish my term. baka lumabas na ang natural (ha.ha.ha.) seriously, i do not think i will be happy with that setup (kahit temporary). sana lahat ganoon din para we can move on.
i am even considering leaving the country. of course together with all of you. pag mag-aaral ka na, it would be the best time to do so. medyo mahirap lang maghanap ng gagawin. but at least tahimik na buhay at tahimik na isip na rin.
looking back mahirap din pala na naitulak ka lang ng unos sa ginagawa mo. in a way, you are fortunate that you are seeking what you want to be this early. mahirap yong walang benefit ang talent mo. not so many choices. you take what is given you. yan ang buhay ko. masuwerte na rin. overachieving (depending on who is giving the assessment) pero parang may kulang.
– HS, GMA News