Assets of two Napoles firms soared in 2012, SEC records show
"Ironically, their
business started sa pork: baboy
, baka, manok. Ironic that now, she is blamed for everything," lawyer Lorna Kapunan said in a television interview this week to explain the wealth of her client, embattled businesswoman Janet Lim-Napoles.
She said Napoles, who has been implicated in a P10-billion pork barrel scam, inherited "a small fortune" from her mother and invested it in a business venture. "Trading na ang company niya. The name here is JLN," Kapunan told GMA's News To Go host Howie Severino last Tuesday.
Government records show that JLN Corporation was registered with the Securities and Exchange Commission (SEC) in 1999 to engage in the business of trading marine supplies and construction materials. With a P5-million capital stock, the company lists Janet Napoles as one of its five incorporators and her husband, former military officer Jaime Napoles, as the company's board chair.
It is the same company that whistle-blower Bernard Luy, a cousin of Napoles and former employee of the firm, has implicated in anomalies involving the Priority Development Assistance Fund (PDAF), or pork barrel, of several lawmakers. The National Bureau of Investigation is looking into Luy's claim that the company was tapped as a conduit for funds allocated to government projects that turned out to be non-existent.
On paper, JLN Corporation appears to have hit the jackpot in the last two years or so, with its total assets in 2012 soaring to P92 million from P28.67 million in 2011. Based on available records at the SEC, the company's total equity also increased dramatically, from only P5.6 million the previous year to P33.66 million last year.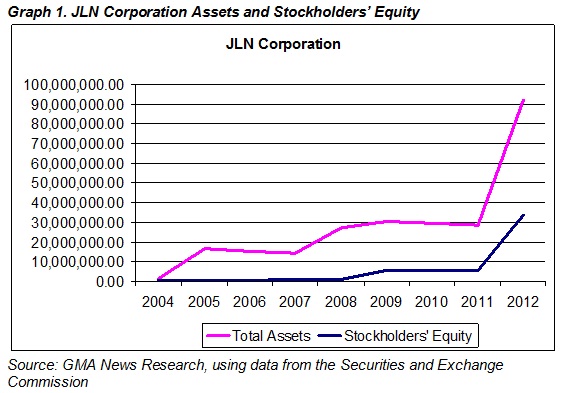 Another Napoles company, JCLN Global Properties Development Corporation, registered an even bigger spike in 2012. The total declared assets of the real estate company, whose president and board chair is Janet's son James Christopher, amounted to P180.69 million last year, more than eight times the amount in the previous year which was only valued at P21.04 million.
The acquisition of land and buildings accounted for the sudden increase in the company's fixed assets, based on its 2013 general information sheet (GIS). During the same period, JCLN Global's total stockholder's equity also jumped significantly, from only P10.87 million to P94.31 million.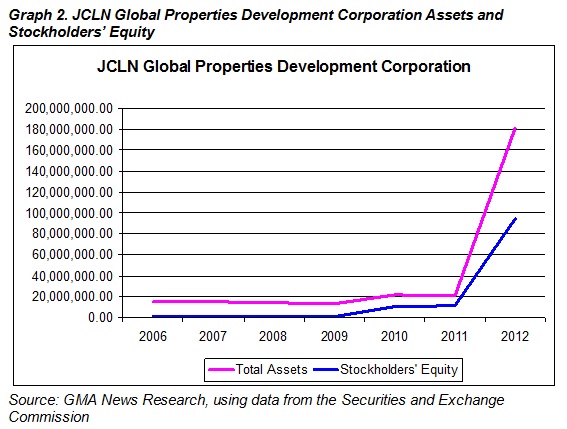 9 out of 24 companies non-operational
But the good fortune of the Napoles family appears to be limited to the two companies. Their other business ventures were not as lucky last year, based on their corporate records filed with the SEC.
Aside from Janet and her husband, their children Jo Christine, James Christopher, and Jeane are involved in at least 24 stock corporations, most of which are less than a decade old.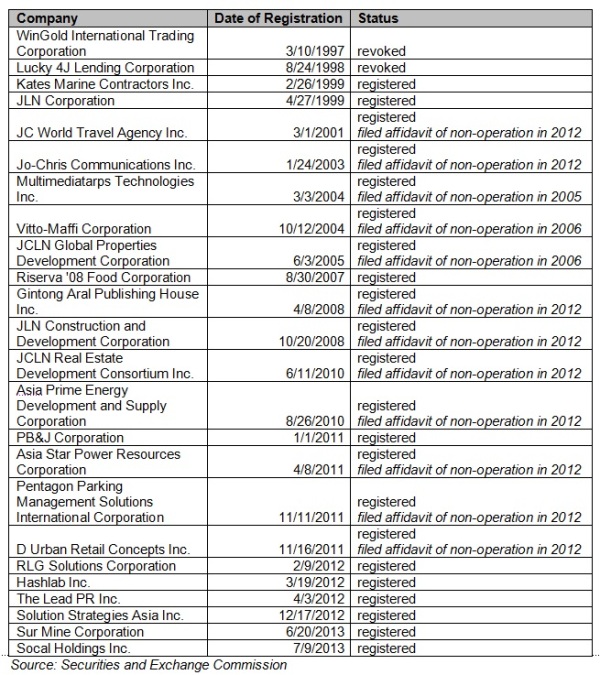 In what seems to be a flurry of corporate activity, half of the companies were only created starting in 2010. Based on SEC records, the family appears to be engaged in a wide variety of businesses -- from trading and lending to mining and quarrying, food, parking management, and even publishing and travel services.
Last year, however, nine of the 24 Napoles companies submitted affidavits of non-operation. Three other companies did the same early in their corporate existence but one of them, JCLN Global Properties, appears to have bounced back in spectacular fashion with its huge increase in assets last year.
Twelve of the companies have the same business address, at the Discovery Centre in the Ortigas Business District. A receptionist there told GMA News that only JLN Corporation used to have its office in the building.
Riches from coal business?
One of the companies that had no operations in 2012 is Asia Star Power Resources Corporation, which had retired AFP Chief of Staff General Hermogenes Esperon as one of its incorporators along with Jo Christine and James Christopher Napoles. Named as board chairman was Janet's husband Jaime.
Esperon told GMA News that Asia Star "was a legitimate business to trade coal from Indonesia" and that he was elected president and CEO when the company was set up in 2011. However, he resigned in July the same year despite his hard work in setting up the business, saying the coal venture fell apart when Janet Napoles failed to provide financing for the business.
"I sensed that the principal financiers would not take necessary risks and would not come out with the required capital and operating funds," Esperon said in an interview with GMA News, after his name came up in a list of former government officials that were involved in several Napoles companies.
In a previous interview with GMA News, Janet Lim-Napoles had said much of their wealth comes from a coal business in Indonesia. In her recent GMA News To Go interview, Kapunan refused to name the company, purportedly to protect its Indonesian shareholders.
But according to Esperon, if the Napoleses indeed succeeded in the coal venture, the company there could not have been more than two years in operation.
In an April 2012 filing, Asia Star stated that since its registration in 2011, the company has not conducted any business activity. Nevertheless, that has not stopped another military officer from taking on Esperon's former position.
The coal company's 2013 general information sheet shows that former Vice Commander of the Philippine Army Ricardo Brillantes has been named its president and CEO, while former AFP chief Efren Abu serves as director and vice president for operations. –
with reports from Jamaica Jane Pascual/YA, GMA News Research